Back to selection
Rome Film Festival 2013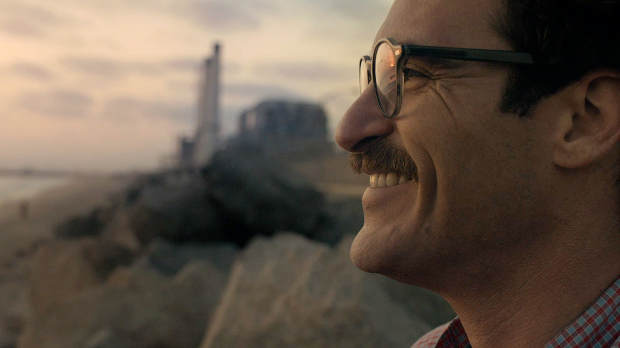 Her
Marco Müller, in his second year at the helm of the Rome International Film Festival, abandoned his insistence on all films being world premieres, but not the ability to program average films.
The main reason for the change of tact seems to be to allow higher profile American films to be programmed in competition. The beneficiaries this year were Dallas Buyers Club and Her which were rewarded for their Italian voyage with awards for their actors: Matthew McConaughey has been winning plaudits everywhere for his turn as a drug-peddling carrier of HIV, while one suspects that the competition jury had a little chuckle to himself when the best actress prize went to Scarlett Johansson, who does not really "appear" in the Spike Jonze film.
It will no doubt be argued that his jury was simply recognizing the difficulty of voiceover work. Indeed, while Her was being made, British actress Samantha Morton was on set and her voice was originally intended to be used for the machine.
In the Spike Jonze Masterclass, the director said that the performance delivered by the Minority Report star took the film in a completely different direction than when Johansson delivered the lines. It's a shame that we can't see the Morton version, as this would give a great benchmark to really judge the importance of voice, and the acting involved in delivering Johansson's performance, or was the difference one that is perceived by the audience because the blonde American is often high up on those terrible lists of the sexiest women alive, and as such the audience can't avoid projecting her face onto the operating system voice. If the latter is the case, then there is the danger that the acting has been awarded to Johansson because she is better looking than Morton, who is fobbed off with an Associate Producer credit. Difficult.
For my money, the award-winning performance delivered in Her came from Joaquin Phoenix anyway. The onetime rap star plays Theodore, whose job involves writing handwritten love letters for clients who want to impress their loved ones. Of course, computers are used to do the handwriting. Theodore's job helps Jonze quickly establish his main theme, that being authentic or "real" are lost arts, or at least they are in Los Angeles, where the film is set. It's not the home of Hollywood for nothing. We get to see Theodore's awkwardness in his "real" friendships with females, his ex-wife (Rooney Mara), his best female friend (Amy Adams), a blind date (Olivia Wilde) and a female admirer (Portia Doubleday). In fact he's only happy with the one woman who he is able to switch on and off.
The strength of Her is, as the title suggests, that it doesn't matter who the woman is. Theodore is just unable to cope with the opposite sex. He can wear a cool 1920s wardrobe, although the high waists are not as flattering as the bright colors on Phoenix's frame, but there is an objectifying of women and a desire for the gender to live up to his own (impossible) desires. So it's no surprise then that the only woman capable of doing that is his fantasy. The weakness is that everything is on point. Theodore's job, his relationships, his friends' relationships, the jokes about liberal lifestyle; Jonze doesn't really say anything new, or anything that he hasn't said before, and with more verve, in his music videos, Being John Malkovich or Adaptation.
There was a question mark as to why Dallas Buyers Club was in competition anyway. All the other films were at least international premieres, but an exception was made for the European premiere of Jean-Marc Vallée's latest film, despite it already being out stateside. There is much to admire about the film, the Ron Woodroof story is brilliant and pertinent about all things wrong with the health marketplace in America, but as a movie it's a little haphazard and it takes the misstep of trying too hard to create a strong dramatic arc by overegging his wild days that led to him catching the virus.
I was also disappointed with Out of the Furnace. This tale of brothers (Casey Affleck and Christian Bale) who can't stay out of trouble trots out all the clichés of America in its economic malaise: the lack of blue-collar work, and every genre cliché of Westerns, brothers protecting brothers and the need to take the law into your own hands.
The pre-credit sequence sees drug dealer Woody Harrelson establish his hard man credentials by brawling at a drive-in movie. We then jump to the tale of two brothers struggling in the Pennsylvanian steel town of Braddock. When things inevitably go wrong, Russell (Bale) is forced to come to the rescue of his brash younger brother Rodney (Affleck).
Italian film festivals have gone all out to reward Italian documentaries involving roads this year. After the very likable Gianfranco Rosi won the Golden Lion in Venice for Sacro Gra, set on the circular motorway around Rome, the Eternal City awarded its top prize to TIR, Alberto Fasulo's look at a Bosnian man who becomes a truck driver after failing to find work as a teacher. Sadly the film did not screen while I was in attendance.
Other competition entries I saw were the well-meaning Italian fiction Foreign Bodies that uses the illness of children to tell a tale about multiculturalism and peaceful co-existence. Japanese juggernaut Takashi Miike had a wacky comedy that showed off his undoubted ability to mix live-action with animation, The Mole Song: Undercover Agent Reiji. The most personal story came from Danish director Nils Malmros' Sorrow and Joy, which tells the true tale of how his wife suffering from psychological illness killed their nine month old baby.
Films I saw outside the competition included the genteel Italian comedy The Fifth Wheel. Director Giovanni Veronesi takes a light-hearted look at 30 years of Italian ups and downs through the eyes of Ernesto (Elio Germano), an Italian regular Joe. A lifetime achievement award was given to the recently deceased Russian Aleksei German, whose new film Hard to Be a God also screened. Gods were certainly on the agenda in Rome, but Gods Behaving Badly, starring Christopher Walken and Sharon Stone about Greek Gods living in present-day Manhattan, I wish I hadn't seen. Much better was Jonathan Demme's Fear of Falling, an adaptation of the Ibsen play The Master Builder that was filmed in one week in an old house in Manhattan. Great performances by Andre Gregory and Wallace Shawn carry the film through some of the plays more convoluted moments.
Now the festival is over, Müller and his team will need to decide whether their move away from purely world premieres was a success. No doubt the increase in ticket sales that the festival saw this year will be the deciding factor, but for cinephiles there was no discernible improvement in the quality of the programme. And that is a very bad thing indeed.