Back to selection
Medieval Masterwork: Marketa Lazarova at BAM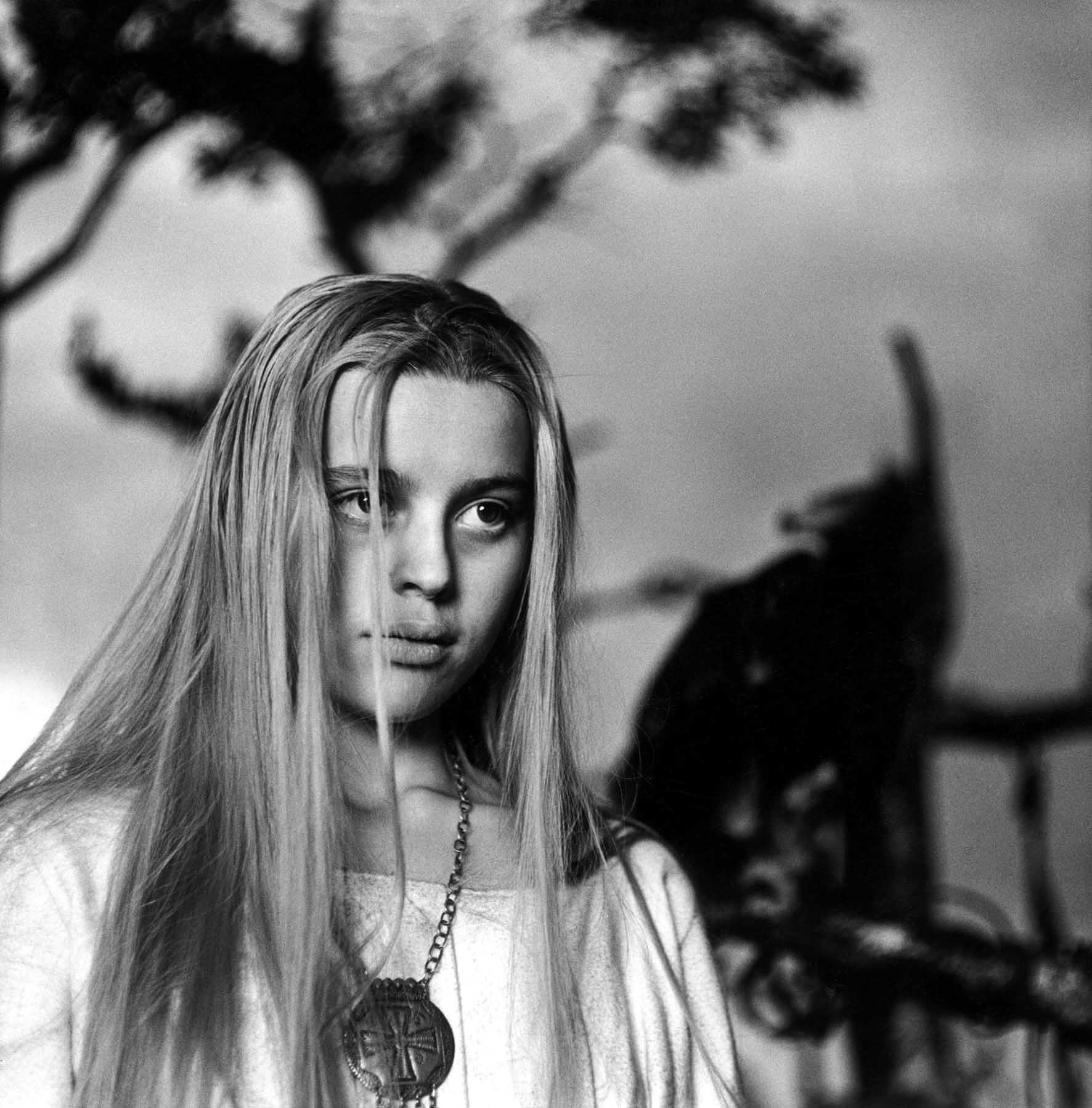 In memory of Elliott Stein, the purest film maven I've ever known and the friend who first drew my attention to this film.
The most familiar films of the Czech New Wave in the U.S. are most likely the dry dark comedies of Milos Forman and Ivan Passer; the diverse works of Jiri Menzel, Jan Kadar, Vera Chytilova and Juraj Jakubisko are recognized in more specialized circles. For Eastern and Central European cinephiles, however, the modernist historical drama Marketa Lazarova (1967), never lumped together with the movement, is not only the masterpiece of the era but also one of the greatest films ever made in the entire region. With the exception of early Tarkovsky, these movie aficionados consider it incomparable. I agree. Check out this rare sublime jewel yourself between February  28 and March 6 at the ever-enterprising BAMcinematek, which will screen a seductive restored print.
Frequent jumps in time and place and shifting points of view in Vladislav Vancura's 1931 novel about two warring brigand families in the forests of medieval Bohemia (not translated into English until 2013) relegated it to unfilmable status until Frantisek Vlacil took a stab. He used both conventional means in the most telling and stylized manner (posing the members of a ménage-a-trois in deep focus, for example), and techniques borrowed from avant-garde cinema and various Waves, in order to mimic the spatial and temporal dislocations of the book. As you might imagine, fantasy and reality are hard to distinguish.
The approach to narrative taken by Vlacil, who co-wrote the film with Frantisek Pavlicek, is pure genius. An unreliable narrator makes jokes and goes on tangents. The film is divided into two chapters, each broken down into segments, with title cards in medieval script anticipating the actions or events to follow. The first of these stresses the randomness of the storytelling, but the title card had already labeled the movie a rhapsody in film. Rarely inert — dollies, zooms, and fast pans accelerate the energy generated by horseback chases and sword and knife fights, gorgeously brutal against wide vistas in pristine black and white — Marketa Lazarova has a rhapsody's emotional crescendos.
It also has a rhapsody's requisite inconsistent pieces assembled into a coherent whole. Some shots are relatively still: a pack of staring, statue-like wolves, an imposing stag with strong symbolic meaning, falcons and buzzards gliding slowly overhead, the overlit nave of a convent's chapel, huge gnarled tree branches, snowflakes falling against white expanses. Vlacil was surely a gentleman: No matter how coarse or provocative a scene, he cuts away just before the horrifying moment of truth.
Sound, including dialog and music, plays an outsized role. The chants from a chorale on the soundtrack range from group harmonies to hums to tiny impressionistic sputterings, bass, falsetto and everything in between, all in synch with movement. A zoom out and in may parallel up-and-down volume, for example. Sound echoes, it makes mono sound like stereo. It shoots back at you almost as if you are a participant in the sensuous proceedings, ultimately affected more than are the on-screen shadows.
Anchoring the undulating rhythm are fabulous sets, large, heavy edifices that evoke the period with piled stone and thick wooden beams. So do Theodor Pistek's costumes, mostly fur and animal skin that aid in telling characters apart.
Here is a simplified version of an extremely convoluted plot: Old-school highway warrior Kozlik (Josef Kemr), in denial about his aging, is patriarch of a clan of robbers near the town of Mlada Boleslav. His children include the handsome Mikolas (Frantisek Velecky), his favorite and the film's ostensible hero, Adam (an outstanding Ivan Paluch), and Alexandra (Pavla Polaskova), the latter two involved in an incestuous relationship that cost Adam an arm on account of a mysterious snake bite. (The composite scenes of the attack and amputation are filmed as if out of time.) The other family is led by Lazar (Michal Kozuch), a smarmy scavenger who heads a vulgar brood with the exception of his prized Marketa (Magda Vasaryova), a stunning, pure young woman (see photo above) who has been educated and whom Lazar has promised to the local convent.
Kozlik's sons kidnap a young Saxon aristocrat, Christian, who turns out to be a future bishop and justification for the king to intervene in the two families' affairs. Alexandra abandons Adam for Christian, and after a few inter-clan battles, Mikolas abducts Marketa and rapes her. The king sends a man known as the Captain to rescue Christian, which means separating Marketa and Mikolas, who have fallen in love — remember, this is the Middle Ages — but the latter decides to try to rescue the captured Kozlik from the Captain's prison rather than to run off with his intended. Telling any more would be unfair. There are many more players in this epic, engaging in boisterous, unruly banquets, wildly choreographed battle sequences and strictly disciplined prayer scenes.
Marketa may be the titular character, and may get the extra lighting and carry a dove when she walks out the door of the convent, but she is otherwise unengaging, a prop or plot device at best. Even Mikolas, in spite of his animal magnetism and relatively strict code of conduct, is a two-dimensional construct, drawn to wield a sword, to bleed, and to screw the virginal spoils of war. The two do share ambivalent feelings about their fathers, defying them, then trying to get back in their good graces.
The most interesting ones are the amoral, sinful siblings Alexandra and Adam. She is liberated, a proto-feminist: No man tells her what to do, with whom to sleep. She makes her own choices to sate her desire. When she needs to, she acts the part of a praying mantis. What is strange is that this moustachioed dark-haired woman is such a magnet for blond pretty boys. Adam, full of youthful vigor in spite of his odd lope and easy on the eyes, honors no boundaries, whether on the road where he attacks passing coaches and reprimands soft Mikolas for not killing all the passengers, or in the courtyard of Lazar's home, where he kills indiscriminately, even a mentally defective son. His cunning is not without charm and positions him in good stead with the animals of the forest. His Achilles heel turns out to be his loyalty: His commitment to his father Kozlik is so fierce that it ends up costing him dearly.
Adam assumes a bizarre religious posture after he has acted his skuzziest, in accordance with a major theme of the film: the commingling of the sacred and the profane. We have seen it when the shameless Lazar drops to his knees in prayer in the middle of committing heinous acts. Or when one wretch gets crucified on a wooden door. In this lawless society of darkness and blood, the whiteness and light in the occasional shots of the small convent on a hill provide a few dabs of feminine consolation to a world of unevolved males bent on revenge, who fight because, like the stags that Mikolas shows Marketa, they are marking their turf, but even more so because they don't have anything better to do.