Back to selection
Vice City: The 31st Miami International Film Festival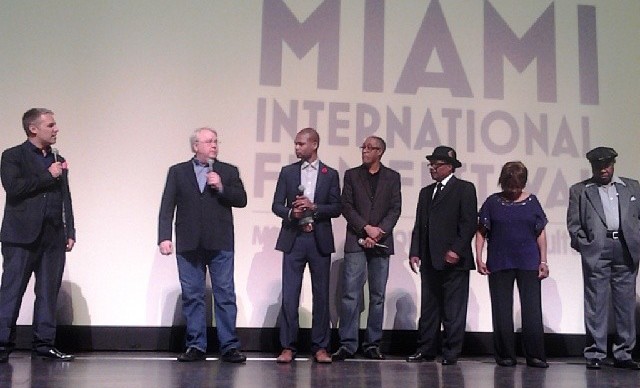 Like many so-called "regional" film festivals, the Miami International Film Festival might not be on the tip of every rising filmmaker's tongue when figuring out where they ought to submit. Struggles to get attention from the film world at large aren't new for festivals taking place in non-media hub cities that happen to be events where movies aren't bought and sold, just shown. Regardless of whether they're "regional" or not, such festivals often get stuck with that half derogatory term. Such is the case with Miami even though it's in a major city, is over 30 years old and has improved with great velocity in the past few years.
The fact that it overlaps with SXSW's bloated, bogus arbiter-of-cool, poorly programmed festival surely doesn't help its profile on the circuit. Neither does the fact that until recently the festival didn't go out of its way to cultivate much of an identity for itself. But that's changed in a major way thanks mainly to the stewardship of Jaie LaPlante, a cheerful, well-dressed Canadian with a flair for showmanship and strong curatorial eye. Also helpful: lavish sponsorship from the Knight Foundation, started by the scions of the media empire which once owned The Miami Herald and meant to fund strong thinking, journalistic integrity and artistic endeavors big and small.
A project of Miami Dade College's MDCulture program, the festival offers challenging fare in a variety of programs that speak to its host city's diversity and dynamism. MIFF unfurled over 120 films from 39 countries for ten days earlier this month at locations all over greater Miami, from multiplexes to microcinemas. Venues included the Olympia Theater, recently restored and famously the first building south of the Mason-Dixon line to have air conditioning, as well as the recently constructed, Knight Foundation-financed O Cinema, a pristine modern arthouse. The curtain on the fest rose with a screening of Michael Radford's senior romance Elsa & Fred, starring Christopher Plummer and Shirley Maclaine, both of whom were in attendance, and closed with the world premiere of Raymond De Felitta's Rob the Mob, a comedy dressed in thriller's clothing starring Michael Pitt, Andy Garcia and a host of strong character actors from a bygone era of gritty New York filmmaking (Burt Young, Cathy Moriarty, Griffin Dunne, the villain from Ghost Dog whose name I'm forgetting).
I missed the former but caught the latter, a world premiere which Millennium Films opened theatrically last Friday. Filled with period music and montages, the true crime story is set in the early '90s dying days of the New York mob's influence as the John Gotti and Sammy "The Bull" Gravano trials were helping to topple the entire Italian Mafia infrastructure like so many houses of cards. The film follows a couple of Queens nobodies, Tommy and Rosie Uva (Pitt and relative newcomer Nina Arianda), who learn that outer-borough Italian social clubs (the cards-and-booze lounges where old school mobsters hung out) don't allow firearms and embark on a series of heists. Spoiler alert: they don't make it out of this movie alive, but despite their climactic deaths in a sequence eerily reminiscent of the bravura shooting of Ray Liotta in Andrew Dominik's Killing Them Softly, this is a breezy comedy, well photographed by Chris Norr and carried by Pitt's dim-witted braggadaccio and a gallery of fantastic supporting turns.
Ray Romano plays the New York Daily News columnist who breaks news of the social club heists and the seemingly ordinary couple behind them. He's never been better in anything, including that sitcom that made him a hundred million dollars. As Uva's mother, Cathy Moriarty seems to inhabit another film entirely, perhaps a better one; she'll absolutely break your heart with a gravitas difficult to find elsewhere in the picture. Even if Miami native Garcia is by turns taciturn and hammy as gentle, grey-bearded mob boss Alphonse (and you can't quite figure out why they put that stupid mustache on Frank Whaley's immoral FBI agent), it's hard not to be charmed by the company of De Felitta's cast. His storytelling instincts run away from the dark currents the true crime tale offers up in abundance and the reliance on montage goes from acceptable to grating as the third act wears on to its obvious conclusion, but the movie is a enjoyable period romp for most of its running time.
Knight sponsors the festival's two signature competition categories: The Knight Competition for Latin American narratives, and The Knight Documentary Competition, which focuses on international documentary films covering many regions, themes and languages. The latter (programmed by TIFF's doc maestro Thom Powers) bestowed its $10,000 prize on a pair of standout American docs, Charlie Siskel's Finding Vivian Maier (opening Friday at New York's IFC Center) and Jesse Moss' heartbreaking The Overnighters, a favorite in these pages at the most recent Sundance.  Meanwhile, The Knight Competition was dominated by Fernando Coimbra's A Wolf at the Door, which took home the grand prize of $40,000 and the best director prize.
Among the Knight Competition films, my favorite was an offbeat coming-of-age tale from Mexico. Fernando Eimbcke's third feature Club Sandwich is a terse yet comedic indulgence in slow cinema about an increasingly surreal vacation taken by an attractive Mexican woman and her teenage son as his burgeoning sexuality begins to find outlets both funny and a bit sad. Eimbcke's 2005 debut Duck Season and 2008 follow-up Lake Tahoe were both festival favorites; here, he again milks pubescent awkwardness for all it's worth. The theme has grown commonplace in state-supported Latin American cinema (at least that which isn't being made by Pablo Larraín), but I found Eimbcke's take charming.
Other components of MIFF's 31st edition include retrospectives of contemporary German, Chinese and Mexican cinema, competitions for short films and first-time filmmakers, a Career Achievement fete for John Turturro (on hand to screen his newest directorial effort Fading Gigolo) and a series of themed programs revolving around Florida based productions (Florida Focus), movies about food (Culinary Cinema), stark genre fare (Mayhem), and American regional work with an independent flare (America the Beautiful). But everything paled in comparison to the festival's Friday night screening of (and party for) Deep City: The Birth of the Miami Sound. The doc doesn't reinvent the wheel aesthetically, mixing what little archival performance footage exists with contemporary interviews and wall-to-wall Deep City songs, but what results is more rousing than it has any right to be.
Co-directed by Dennis Scholl, Marlon Johnson and Chad Tingle, the film (which premiered with little fanfare at SXSW the week before) chronicles the little-known titular record label, which from the late '60s through the early '70s produced sounds with a Miami flavor all its own, rivaling the sounds emanating out of Memphis' Stax and Detroit's Motown. Like those better-remembered labels, Deep City had an organic mix of influences (Bahamian and Jamaican music, marching band style brass sections not unlike those found at Florida A&M, deep south church choirs) that could have only occurred in Miami. Many of the songs in Deep City (recently collected and reissued by Numero Group in their "Eccentric Soul" series) will resonate with those who encounter the film long after its credits end, as will the stories of working class negro entrepreneurship in an era and region distinctly bent against such efforts.
Betty Wright is perhaps the most famous product of the label, but the film focuses more on the entrepreneurial partnership of Willie Clarke and Johnny Pearsall, who met while students at Florida A&M, a historically black college with a legendary marching band located a stone's throw from north Florida's most notorious chapter of the Klu Klux Klan. Pearsall launched Johnny's Records in Miami and the label spun out from his store, launching forgotten but remarkably durable acts like The Moovers and Helene Smith, the later of whom is one of the great under-heralded voices in the history of black American music. Many surviving figures from the label, including Smith and Clarke, were on hand for a party on the stage of the Olympia Theater right after the screening. It was the type of event that only a thoughtfully designed film festival can provide, full of civic pride for a long forgotten product of the host town.