Back to selection
Made in Bolivia, Short-listed for the Oscars: The Story Behind Salar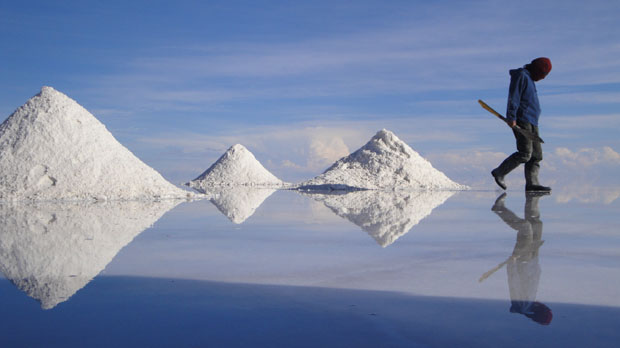 We had just lost all of our locations in one fell swoop the day before, and I was walking along the train tracks that cut through the sun-baked adobe village of Chita, pretending to measure the light, but really just trying to re-convince myself that coming all the way to Bolivia to make a short film was a good idea. Since arriving, we had somehow eased our lenses through airport customs, protected our camera from torrential rain and endless sun, teamed up with a film school, and learned to love rice and potatoes with every meal. But that was before the shooting started.
Salar began in earnest when Roberto Lanza, then head of La Fábrica film school in Cochabamba, replied to my unsolicited Facebook message saying he would like to help produce the film. But the story had its origins in a conversation with an old friend. We were reminiscing about traveling in South America, comparing his job as an assistant to a European bureaucrat to those adventurous times. I was struggling with a different script for what should have been my thesis film at Columbia, something about childhood and growing up, when he made the suggestion to write a story set in Bolivia. I'd been there in my late teens for a month, one of nine spent backpacking the continent after high school, and something about the southern region of the country had stuck — it was in the back of my mind whenever I saw a new skyscraper or read about the latest digital breakthrough — those adobe villages, built from the dust beneath them. My friend asked: "Surely there must be some story you heard there?" Then I remembered a story, about a doctor in a small village who was mugged by one of his own patients – the patient later suffered an illness and had to return to the same doctor for help.
I wrote at least seven drafts of the 15-page script, but who's counting. Aside from the mechanics of the story, I was trying to connect the lives of the characters to my own, an attempt to make the story resonate — most of the characters were from a far-flung world, and if I couldn't create a personal connection to them, then who would care to watch? The story seemed to work on paper, but something was missing. Nevertheless, Julie Buck, producer, committed to the project alongside Roberto, despite only speaking a few words of Spanish, and we scraped together a shoestring budget. With the naive idea that I could find the missing piece along the way, I immersed myself in Bolivia.
I spent a few days reacquainting myself with the chaos of La Paz, then took a bus down to Cochabamba and began to prepare. I made excursions with doctors from Medicines Sans Frontières to research Chagas disease — a.k.a the HIV of South America, referenced by the doctor in this story —  and exposed my nose to sunburn in Colchani, a two-street desert village near the Uyuni Salt Flats. Somehow this place embodied all the elements of the film direct from my imagination — the empty streets and parched houses, like a rustic village from an old western movie, silent before the shootout. But it would not solve the story.
Then I was introduced to Carlos Aduviri. Until recently, he was unknown. The son of a miner and a shepherdess, he had only auditioned for Even The Rain at the insistence of a friend – but scored a lead role opposite Gael Garcia Bernal, and was later nominated for a Goya Award. I was lucky enough to meet him during filming, and within a few minutes we both realized that we had experienced the same life-changing event – the sudden death of a parent – in the same year and at the same age.  Suddenly, the emotional core of the story came to life: this film would be about overcoming pain.
A few weeks later, the newly assembled crew stepped off the train and onto the platform at Uyuni, the closest town to Colchani, only an hour away by pot-holed road. We were a team of 16 Bolivians, 2 Americans, 1 Canadian, 1 Brit – and Peter Killy, who would play the doctor. Most were good friends and had recently worked together, and we had managed to secure the only RED camera in the country. We could even predict when the seasonal rains would transform the salt flats from a perfect white desert into an endless mirror. And the jenga tower of production was standing firm, until we decided to rehearse a fight scene in plain view.
The village council had given us permission to shoot, but at some point, probably just as Carlos thrust his foot into Peter's chest for a third or forth time, they changed their minds. Nobody found out until the shooting started, so our weeks of preparation were all but destroyed by the decision — we had planned to shoot at no fewer than six different places in the village, and work with the local salt miners and school kids to include them in the film. It was our polestar. We had craft services, transport plans and shot lists up to our eyeballs – but no means no in any language. Because they felt the scene gave a poor representation of their community – and taking the scene out of context, at face value, this was understandable.
These are the moments when you cling to that core truth of the story, the part you hope can reach beyond the screen, the reason you feel you have to make the film — beyond just because — the reason why you can ask the crew to work triple hard without feeling guilty, why you don't need to go to bed until you have a new plan. At least, that's the hope. Carlos understood.
We put our determined heads together, and the solution followed. The production manager heard from a truck driver that just an hour past Colchani stood another tiny village of parched streets and thatch-roof adobe cottages named Chita. Aside from a blind school teacher and a few railroad engineers, I don't think we met any other residents — the place seemed all but abandoned, and we were able to shoot all day in the sun without interruption from anyone but the thunderstorms. Our final shoot day was in Potosí, the silver capital of the Spanish empire, and far too suddenly, we were wrapped. Not even a festive water bomb launched from a scooter could shake the silver hard drive of footage from my arms. Julie and I returned to New York content just to have survived, but we had barely seen a frame of footage.
No description can account for the trials of editing, even a short film, but behind the heartbeat-skipping moments of despair there was something that we could not deny: Carlos is a remarkable actor. So piece by piece we shaped the story around him, and let the movie go out for a ride into the unknown. And, yes, luck was on our side – we played at Clermont-Ferrand, London, Palm Springs, Rio De Janeiro and a movie theatre made of snow in Finland. Months after finishing, we won at Austin and qualified for the Oscars. Staring down the barrel of a hefty conversion charge to create the required DCP file, a year after we had totally annihilated our budget, we almost decided to have a drink and call it a day. But thanks again to Facebook we found Simple DCP, an LA-based and DCI compliant facility that made this nail-biting final stage possible.
Not a frame has changed since we finished post-production, but I must have felt the entire range of critical emotions about the film ever since, through utter despair, dissatisfaction, false hope and, at last, a quiet calm. All for a short film. But I hope the emotional core, the feeling of overcoming pain, comes out in the story. I think I've overcome the pain of production, because we're planning to return to Bolivia for another. And Carlos is already signed up.