Back to selection
IFP Announces Filmmaker Conference Highlights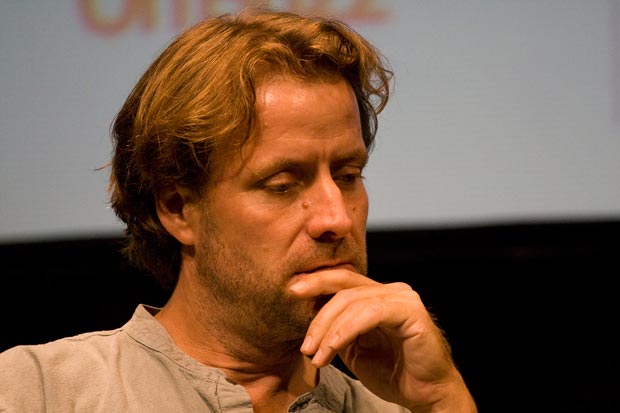 Leviathan director Lucien Castaing-Taylor
Independent Film Week is less than a month away, and today IFP announced some highlights of the event Filmmaker Conference, which will take place at Lincoln Center between September 15 and 19. The keynote speakers this year include Leviathan director Lucien Castaing-Taylor and musician and filmmaker DJ Spooky while there will be case studies of Ryan Coogler's Sundance-winning Fruitvale Station, Penny Lane's archival doc Our Nixon, Dave Grohl's Sound City and Elaine McMillion's web doc Hollow.
From the press release, here's the info that was unveiled today:
Each day of the conference guides filmmakers in the art, technology and business of independent filmmaking. Sunday 9/15 Future Forward is targeted to the next generation of filmmakers; Monday 9/16 The Truth About Non-Fiction focuses on hottest issues in documentary; Tuesday 9/17 Crafting a Career programming provides A-Z on career sustainability; Wednesday 9/18 presents two concurrent programs connecting participants with leaders and industry trends through Meet the Decision Makers & #ArtistServices NYC presented by Sundance Institute; Thursday 9/19 Re:Invent is focused on new technologies and alternative storytelling platforms.

This year's Filmmaker Conference program highlights include Keynotes from Oscar-nominated producer Jon Kilik (Diving Bell and the Butterfly, The Hunger Games), filmmaker Lucien Castaing-Taylor (Leviathan), and multimedia musician DJ Spooky, plus case studies of Fruitvale Station, Our Nixon, Sound City, and web-based doc Hollow – with more to come.

Among the panels touching on the hottest issues in filmmaking is "Documentaries that Disturb the Power Structure," a conversation with Oscar nominees Tia Lessin & Carl Deal, directors of Citizen Koch; Mette Hoffman Meyer, executive producer of Alex Gibney's Park Avenue; and Claire Aguilar of ITVS. Centerpiece panels include "New Black Voices," presented with the Time Warner Foundation, exploring the state of the industry and featuring Nekisa Cooper (producer, Pariah), Shaka King (Newlyweeds), and Yoruba Richen (The New Black) as well as "Making your Film(s): Video Content Strategies for Building Buzz", presented with Vimeo. There will also be conversations on understanding investors' motivations, documentary director-subject relationships, the power of Social Capital, filmmaking outside of NY & LA, and latest trends in web comedies.

In an effort to ensure interactivity, idea expansion and community collaborations at the Conference, new additions to this year's Conference include:

IFP and Sundance Institute present the first-ever #ArtistServices NYC workshop on Wednesday, September 18, revolving around the latest technology and trends including a crash course on DCP, creative financing, guerrilla marketing, and independent theatrical distribution.
Blitz Presentations from those telling stories across many platforms such as street photographer Jamel Shabazz, animator Dash Shaw, composer Peter Nashel, big data pioneers at the Harmony Institute, game designer Nick Fortugno, distribution advisor Peter Broderick, and the Walker Art Center's #CatVidFest.
IFP partners with comedy incubator Upright Citizens Brigade to produce daily "Creativity Games," an opportunity for participants to play and create on the fly, sparking ideas for future projects.
Pitch Workshops, presented in partnership with Filmmaker Magazine, will also give participants the chance to describe projects to a panel of experts and get real-time feedback to hone their skills and success rates. Applications open now for screenplays, documentaries, and web-native content at http://www.ifp.org/conferences/filmmaker-conference
Launched last year, the expanded Meet the Decision Makers sessions provides small group meetings with top distributors, agents, and grantors including: Bond360, Chicken & Egg Pictures, Cinedigm, Cinereach, Creative Capital, Energy Entertainment, Fandor, Film Collaborative, Firelight Media Producers' Lab, Nantucket Screenwriters Colony, Oscilloscope, Sony Pictures Classics, Sundance Documentary Fund, Tribeca Film Institute, VHX, Vimeo Pro, WGAE and more.

IFP's assists filmmakers to cultivate and build audiences for their work in development, post, and in the marketplace.  Opportunities for film lovers and media industry to discover tomorrow's great storytellers today during Film Week include:

New Voices! Screenplay Reading Series, presented by SAGIndie, attendees will hear excerpts from four screenplays participating in RBC's Emerging Storytellers program at Independent Film Week performed live by actors cast by Zoe E. Rotter (casting associate, X-Men: First Class, Kick Ass). The Tuesday, September 17 event features excerpts from J. Todd Walker's The Highway Kind, Jac Schaeffer's I Like You Like You, Christina Choe's Nancy, and Jeremiah Zagar and Dan Kitrosser's We the Animals.
IFP's annual free and open to the public party and screening, the Independent Filmmaker Labs "Sneak Preview" Showcase, presented with Rooftop Films, convenes again September 16. The Labs Showcase gives audiences a first-look at exciting new films, before their festival premieres. This outdoor screening features excerpts from the 20 new films from the emerging talent of the 2013 IFP Labs, the nation's only program that supports diverse feature filmmakers when they need it most: through the completion, marketing and distribution of their first features. IFP's Labs are presented in partnership with the Time Warner Foundation. Past films first showcased here include Dee Rees' Pariah (Focus Features), David Lowery's (Ain't Them Bodies Saints) first feature St. Nick, Alexandre Moors' Blue Caprice (Sundance Selects, opens 9/13), Lucy Mulloy's Una Noche (IFC, opens 8/23), Stacie Passon's Concussion (Radius TWC, opens 10/4),  Michael Collins' Give Up Tomorrow (P.O.V.) and Penny Lane's Our Nixon (CNN Films/Cinedigm, opens 8/30).