Back to selection
Hot Docs: Growing Crowds Amid Shrinking Funds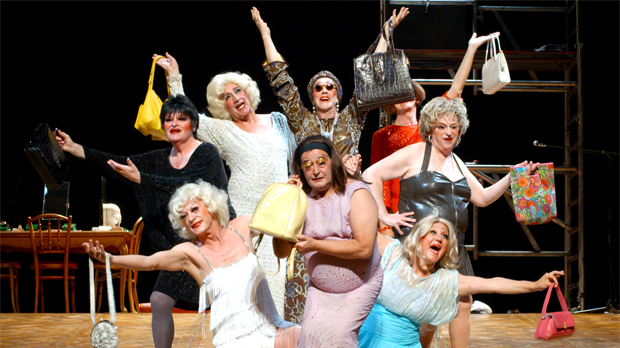 Before The Curtain Falls
"There are more people here this year, but less money."
That's how one veteran Canadian documentarian summed up the market at Hot Docs, North America's largest documentary festival, which just wrapped in Toronto. At workshops and cocktail receptions, the chatter was as dark as the skies outside. Broadcasters here and abroad continue to slash their development and production budgets, and that's forced doc directors to crowdfund on Indiegogo and Kickstarter to make up (part of) the shortfall, while others just leave the business.
Sure, there were great films unveiled over the past 10 days at Hot Docs. Thomas Wallner's Before The Last Curtain Falls picked up the special jury prize for Best Canadian Film. It follows the off-stage lives of six aging Belgian transvestite and transsexual performers "who bare their scars and joys with grace and humor," as the jury's praise observed.
Grant Baldwin made audiences laugh as well as think with Just Eat It: A Food Waste Story, where he and producer Jenny Rustemeyer literally dine on a "junk" food diet they fish out of garbage. Baldwin picked up the Emerging Canadian award for his second feature, which follows the acclaimed Clean Bin Project in 2010. In the same category, Amar Wala received an honorable mention for The Secret Trial 5, which exposes Canada's "Guantanamo North" of illegally detaining suspected terrorists under the shameful security certificate system.
Australia's Kelly Hucker and James Fleming took home the Best Short Documentary Award for Ghost Train, about an 84-year-old who enters the fantasy world of a vampire-themed cabaret to offset the stress of caring for his ailing wife. Emil Langballe's Beach Boy, about sex tourism in Kenya, received an honorable mention.
This year's audiences embraced Indian subjects. Madeleine Grant's The Backward Class, about students in India who make history by becoming the first from their "untouchable" caste to take high-school graduation exams, captured the Audience Award. The second-favorite film was Meet The Patels, a funny yet poignant adventure about a first generation Indian-American who dumps his perfect white American girlfriend to search for another Patel in India.
Most international buyers attend Hot Docs specifically to attend the two-day Forum, where 20 filmmaking teams from 13 countries pitch their projects before a paid audience — and an intimidating table of commissioning editors. Nimisha Mukerji and Kaitlyn Regehr won this year's Best Pitch at the Forum for Tempest Storm, a profile about America's 84-year-old reigning queen of burlesque.
Predictably, audiences went nuts for Alice Cooper and Star Trek's George Takei when they appeared at their respective screenings of Super Duper Alice Cooper and To Be Takei. It helped that both films are well-researched, funny, personal, and entertaining. But audiences didn't flock to Hot Docs just to glimpse celebrities. Attendance jumped to 192,000 this year, extending a decade-long upwards streak for a festival which used to dispense its awards in a university lecture hall, not a hotel ballroom. 
The capacity crowds prove that filmgoers want to see docs — so why are networks slashing budgets and the government-funded National Film Board and CBC gutting their offices? Corporate consolidation has shifted funds into producing cheaper (but dumber) reality TV. Last year, the Documentary Organization of Canada (DOC) confirmed what many were suspecting: doc production in English-Canada has fallen 25% since 2008-09, while total French-language production dropped nearly 12%. The Walrus, Canada's version of The Atlantic, recently asked why it's nearly impossible to make a documentary in this country, a place that boasts a long, award-winning tradition. It would be like Russia forsaking its ballet.
"I thought that reality television would be our sister media," sighs Toronto documentarian John Kastner, who's made both fictional and factual movies for over 30 years. "They discovered something that documentarians knew for generations: the great power of real life over scripted drama. This was going to be a golden age of documentaries when in fact the opposite has happened."
Kastner's own film, Out of Mind, Out of Sight, took audiences into a mental health center where he profiled several violent patients and the people who treat them. His powerful film captured the Best Canadian Documentary Award last week. Reality TV is manufactured and largely fake, Kastner thinks, but its success has undermined documentaries, because it's no longer a fresh experience to see real people.
"Short term, it's very depressing," Kastner concludes about docs, but he remains hopeful for the long term. "These trends come and go," he explains, citing the slump in American sitcoms until The Cosby Show revived the genre in the mid-80s. "I think that's what will happen with documentaries. We're going through a dip. Are people ever going to get bored about discovering a hidden world? Are people bored with real life? That's what it would take to kill the documentary. People will never be bored with real life."