Back to selection
Winter Sleep, The Wonder, Dolan and Godard Take Top Prizes at the 2014 Cannes Film Festival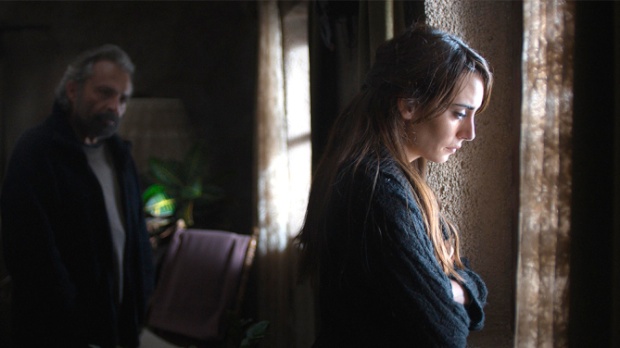 Winter Sleep
Turkish filmmaker Nuri Bilge Ceylan won the Palme d'Or at the 2014 Cannes Film Festival today for, Winter Sleep, his discursive tale of ethics, love and relationships set in and around a small inn in central Anatolia. The prize was awarded by Quentin Tarantino and Uma Thurman in a ceremony that saw nearly all of the most critically-praised films emerge with some award or another. (Interestingly, this was the second year in a row Cannes awarded its top prize to a film over three hours in length.) Earlier in the week, Winter Sleep was also awarded the FIPRESCI prize for the Competition's Best Feature.
With Cannes topper Thierry Fremaux still being criticized for the number of female filmmakers in the main competition, Italian filmmaker Alice Rohrwacher, who previously played in Directors Fortnight three years ago, won the festival's second prize, the Grand Prix, for her heartfelt coming-of-age story The Wonders.
The Jury Prize was given to two enfants terribles on opposite ends of the age spectrum: 83-year-old Jean-Luc Godard for his alternately playful and mournful Goodbye to Language and 25-year-old Xavier Dolan for his explosive melodrama Mommy. Notably, both films radically explored film formats, with Godard literally inventing a new shot in 3D while Dolan shot in a boxy Instagram format. ("I've seen maybe two Godard films, and I really don't like them," Dolan said in an interview with Calum Marsh last year.) In the press room after the awards, jury president Jane Campion said it was a "conscious" decision to pair the two directors for the award.
Bennett Miller picked up Best Director for Foxcatcher, his long-gestating true-life tale of the murder of an Olympic wrestler by an heir to the DuPont chemical fortune. The Screenplay prize went to Andrey Zvyagintsev and Oleg Negin for the late-screening Leviathan, a tale of one man's Jobs-like battle against local government which many had tipped for the Palme d'Or after its Friday screening.
Actor prizes went to Timothy Spall and Julianne Moore for, respectively, Mike Leigh's Mr. Turner and David Cronenberg's Maps to the Stars.
Jane Campion served as president of the jury, which also included Willem Dafoe, Carole Bouquet, Gael Garcia Bernal, Jeon Do-yeon, Jia Zhangke, Leila Hatami and Nicolas Winding Refn. A complete list of winners follows.
COMPETITION PRIZES
Palme d'Or: Winter Sleep (Nuri Bilge Ceylan)
Grand Prix: The Wonders, (Alice Rohrwacher)
Director: Bennett Miller, Foxcatcher.
Actor: Timothy Spall, Mr. Turner.
Actress: Julianne Moore, Maps to the Stars.
Jury Prize: Goodbye to Language (Jean-Luc Godard) and Mommy (Xavier Dolan)
Screenplay: Andrey Zvyagintsev and Oleg Negin, Leviathan.
OTHER PRIZES
Camera d'Or: Party Girl (Marie Amachoukeli, Claire Burger, Samuel Theis)
Short Films Palme d'Or: Leidi (Simon Mesa Soto)
Short Films Special Mention: Aissa (Clement Trehin-Lalanne)
Ecumenical Jury Prize: Timbuktu (Abderrahmane Sissako, Mauritania-France)
UN CERTAIN REGARD PRIZES
Un Certain Regard Prize: White God (Kornel Mundruczo, Hungary-Germany-Sweden)
Jury prize: Force Majeure (Ruben Ostlund, Sweden-France-Denmark-Norway)
Special Prize: The Salt of the Earth (Wim Wenders and Juliano Ribeiro Salgado, France-Italy)
Ensemble: Party Girl (Marie Amachoukeli, Claire Burger, Samuel Theis, France)
Actor: David Gulpilil, Charlie's Country (Rolf de Heer, Australia)
DIRECTORS' FORTNIGHT PRIZES
Art Cinema Award: Les Combattants (Thomas Cailley, France)
Society of Dramatic Authors and Composers Prize: Les Combattants
Europa Cinemas Label: Les Combattants
CRITICS' WEEK PRIZES
Grand Prize: The Tribe (Myroslav Slaboshpytskiy, Ukraine)
Visionary Prize: The Tribe
Society of Dramatic Authors and Composers Prize: Hope (Boris Lojkine, France)
FIPRESCI PRIZES
Competition: Winter Sleep (Nuri Bilge Ceylan, Turkey-Germany-France)
Un Certain Regard: Jauja (Lisandro Alonso, Denmark-U.S.-Argentina)
Directors' Fortnight: Les Combattants