Back to selection
TIFF 2015, Critic's Notebook #4: Unexpected Pleasures from Corneliu Porumboiu, Yermek Tursunov, and Pietro Marcello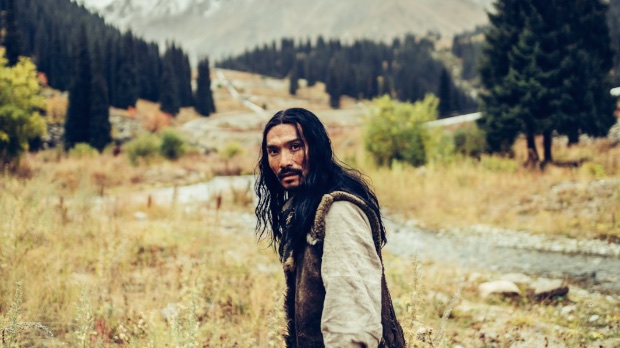 Stranger
There's a sense of disappointment in the air. At the parties, people have been whispering, maybe this year's just not a good year. Maybe next year will be better, they forecast in hushed tones. It's true, many of the much-hyped films were somewhat of a letdown, but the best part of a film festival is when you walk out into a theater with zero expectations and you walk out enamored by what you just saw. There have still been moments like that for me at TIFF this year.
A highlight of the fest for me has been Romanian director Corneliu Porumboiu's The Treasure, an intimate and economical story about two neighbors on a treasure hunt. After his business folds during the recession and he falls behind on his mortgage payment, Adrian is approached by a neighbor seeking help. The two rent a metal detector to search for valuables that, accordingly to family lore, were buried by the neighbor's great-grandfather to avoid repossession by the Communists decades ago.
Porumboiu's latest has all the expected qualities of a Romanian New Wave film — it's realist, minimalist and rife with deadpan humor. It also has something reminiscent of a specific French New Wave film: Le Bonheur, by Agnes Varda. Just like Le Bonheur, the lead's real-life wife and kids play his wife and kids in the film, granting the film a certain familiar texture. Also Porumboiu is unafraid of bold cut-ins, and his work recalls a similar stylistic editing as Varda's film.

 Much of the story takes place during the rural backyard treasure hunt, and the metal detecting and digging lend themselves to a dry slapstick physical humor. The metal detector's beeps also punctuate the scenes to hilarious effect. The restricted scenario also feels a bit like theater, in a good way. But perhaps most impressive is Porumboiu's ability to weave in a sense of both the contemporary political situation and the nation's recent history without it feeling forced.
Kazakh director Yermek Tursunov's Stranger also works to explain to viewers how the 20th-century spread of communism affected a particular community. In this case, through traditional historical fiction, chronicling the Soviet occupation in the 1930s through to the aftermath following Stalin's death in the '50s. Where Porumboiu's film is small, Tursunov's is grand, even epic, including a few sequences obviously shot from a helicopter — a particularly awesome one pans down a waterfall to find our protagonist at the bottom showering in the stream.
The film begins as early mass collectivization efforts have left everyone starving in one particular Kazakh village. Our protagonist, Ilya, is a young boy whose father is taken away by officers in the middle of the night. Out of desperation the next morning, the neighbors then take his family's horse to feed their children. Instead of moving in with the neighbors, Ilya instead takes to the mountains, using the traditional hunting skills his father taught him, living in a cave guarded by dogs and hunting his own food. He grows into a long-haired wildman but stays in touch with the village, periodically making brief visits to give them furs to exchange for gunpowder. When most of the men in the village leave for war, he starts an affair with one of his childhood friends from the village.
The strength of Tursunov's film comes from its sincerity and beauty but also its unpredictability. Sometimes, it's a romantic melodrama; part-way through there's a chapter that falls into an odd-couple routine; and near the end there's a beautiful surreal dream sequence. This combination doesn't feel inconsistent, only original. At its best moments, the film recalls Tarkovsky's work with beautiful landscape sequences and poetically tragic lines like one about the cost of freedom.
Italian director Pietro Marcello's Lost and Beautiful, playing in the experimental Wavelengths section, also uses beautiful landscape sequences to capture a certain lyrical existentialism. The film, shot on expired 16mm, is part documentary, part fantastical fiction, and it totally eschews traditional narrative. The real-life part of the film focuses on a shepherd Tommaso Cestrone who was voluntarily acting as caretaker of an abandoned palace, now surrounded by several landfills and garbage. There were bureaucratic obstacles in the way of making the newly-restored palace accessible to the people. The government's impotence as well as the mafia's threats added to Cestrone's stress and during the film's production he died of a heart attack.
This unexpected event caused Marcello to change the course of his film. He responds to and internalizes the sadness of Cestrone's passing. The director added fairy-tale figures, including an anthromoporphic buffalo calf and men with traditional masks and pointy hats. The opening scene has these theatrically masked figures going through some absurd bureaucratic routine complete with documents and stamps and rows of desks, most likely commenting on the process that stalled the palace's opening. But the film also cautions against interpreting anything too literally. It's a film you feel more than think about, and its power comes from the way the camera traces natural and bovine beauty to evoke a certain melancholic cynicism.