Back to selection
Atlanta Film Festival Announces First Six Features for its 2016 Edition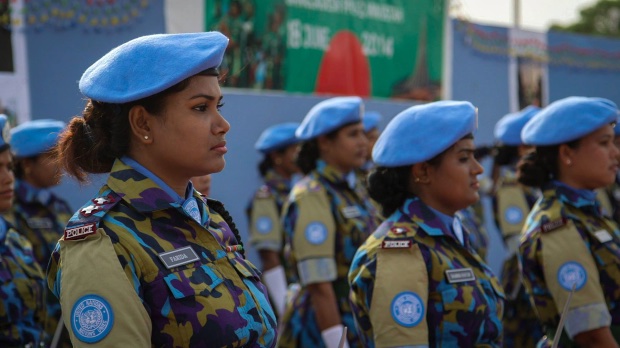 Peacekeepers
Two narrative films and four documentaries, hailing from Bangladesh, Canada, India, Pakistan, Palestine, South Africa, and the United States, were announced today by the Atlanta Film Festival, which unfolds April 1 – 10, 2016. Currently in the midst of a Kickstarter campaign to support filmmaker travel to the festival, the '16 edition is also its first within the Atlanta Film Society, "a fortified organization title" birthed in October of this year.
From the press release:
The ATLFS name reflects a year-round mission to lead the community in creative and cultural discovery through the moving image. Connection with a filmmaker dramatically magnifies the impact of his or her moving images, and ATLFF strives to bring our filmmakers to Atlanta no matter where they are in the world. This objective introduces a story's audience to its storyteller, enriching the audience experience with access to the source of passion, context, and craft.
The six films listed below were chosen from a total of 4,750 submissions. Said Kristy Breneman, ATLFF Creative Director and Features Programmer, "As the U.S. approaches a pivotal election year, this 40th anniversary lineup builds upon six feature films whose subjects, communities, and conflicts resonate with Atlanta and the world beyond."
Check out the first group of films below.
Driving With Selvi — directed by Elisa Paloschi. Canada/India, 2015, Tamil, 74 minutes.
Selvi, like so many girls living in India, is forced to marry at 14, only to find herself in a violent marriage. One day in deep despair, she chooses to escape, going on to become South India's first female taxi driver. We first meet Selvi at a girls' shelter in 2004—timid, soft-spoken, a fresh runaway from a difficult life. Over a ten-year journey, we see a remarkable transformation as Selvi finds her voice and defies all expectations—learning to drive, starting her own taxi company, leading educational seminars, and much more. This character-driven story highlights the challenges that millions of devalued women and girls in India face. In a society where women are often considered expendable or worthless, Selvi is exceptional—a charming, strong, and utterly courageous young woman who moves beyond the pain she's experienced to create a new life. #Documentary #International #NewMavericks
A Journey of A Thousand Miles: Peacekeepers — directed by Geeta Gandbhir, Sharmeed Obaid-Chinoy. USA/Bangladesh/Pakistan, 2015, Bengali/English/Creek, 95 minutes.
A Journey of A Thousand Miles follows a unit of one hundred and sixty women who, between June 2013 and July 2014, travel far from their families, friends and all that is familiar at home in Bangladesh to join the United Nations Stabilizing Mission in Haiti (MINUSTAH). They form one of the world's first all female, predominantly Muslim peacekeeping units; shattering every stereotype the world holds about the capabilities of Muslim women. The women—young and old, married and single, mothers and daughters—come from every corner of Bangladesh. The film focuses on three women in this unit as they grapple with the harsh realities of becoming foot soldiers in a United Nations Peacekeeping Mission. #Documentary #International #NewMavericks
Like Lambs — directed by Ted Marcus USA, 2016, English, 83 minutes.
When economic Apocalypse strikes America, students at the elite Hopkins House Academy take matters into their own hands by launching an anarchist plot to halt the collapse and save the country.Starring: Liam Aiken, Connor Paolo, Justin Chon, David Dayan Fisher, Godfrey, Chanelle Peloso, Kale Browne. #Narrative
Romeo is Bleeding — directed by Jason Zeldes. USA, 2015, English, 93 minutes
A fatal turf war between neighborhoods haunts the city of Richmond, CA. Donté Clark transcends the violence in his hometown by writing poetry about his experiences. Using his voice to inspire those around him, he and the like-minded youth of the city mount an urban adaptation of Shakespeare's Romeo and Juliet, with the hope of starting a real dialogue about violence in the city. Will Richmond force Donté to compromise his idealistic ambitions? Or will Donté end Richmond's cycle of trauma? #Documentary
Sink — directed by Brett Michael Innes. South Africa, 2015, Afrikaans, 115 minutes.
Sink tells the story of Rachel, a Mozambican domestic worker living in Johannesburg, is forced to make a life-changing decision after her daughter dies while under the care of her South African employer; return to poverty stricken Mozambique or continue working for the people responsible for the death of her child so that she can keep her home, her visa and continue to support her family. Things become even more complicated when she finds out that her employers are expecting their first child and the story follows the journey of all three as they try to find a way to live with the tragic accident that has brought them together. Starring: Anel Alexander, James Alexander, Leandie du Randt. #Narrative #International.
Speed Sisters — directed by Amber Fares. Palestine/USA, 2015, Arabic/English, 80 minutes.
The Speed Sisters are the first all-woman race car driving team in the Middle East. Grabbing headlines and turning heads at improvised tracks across the West Bank, these five women have sped their way into the heart of the gritty, male-dominated Palestinian street car-racing scene. Weaving together their lives on and off the track, Speed Sisters takes you on a surprising journey into the drive to go further and faster than anyone thought you could. #Documentary #International #NewMavericks