25 NEW FACES OF INDEPENDENT FILM 2002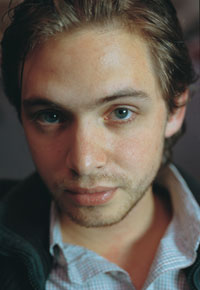 PHOTO: MIGUEL VILLALOBOS
01 Aaron Stanford
THERE IS nothing in Aaron Stanford's past to predict his eminent fame as the preppy and precocious Romeo of Gary Winick's Sundance hit Tadpole. The son of a professor mom and a dad who worked in publishing, Stanford grew up in a decidedly un-theatrical town in western Massachusetts. According to the young thespian, "There was a theater in school, but it was the sort of thing where we just turned the cafeteria into a theater, where we would bring out the red plastic folding chairs, and the American flag would still be on stage the entire time. All the kids in the town pretty much either did sports or got up to no good." Stanford nevertheless persevered, telling his parents at an early age that he wanted to pursue acting.
After spending a year unsuccessfully trying to be accepted into the selective theater department at SUNY Purchase, Stanford transferred to Rutgers where he entered the theater department at the Mason Gross School of Arts. Having done some university and Off-Broadway productions, Stanford took the next logical step: He got cast as the star of an independent comedy, Tadpole, seducing the likes of Bebe Neuwirth and Sigourney Weaver. Winick's farce reflected for Stanford what draws him to acting: "I like comedy a lot and drama a lot and like the two mixed together. There is screwball comedy and gut-wrenching drama – I don't find those extremes to be true to life. Every story has an element of comedy and an element of drama mixed together."
His first film and first professional gig lauded him critical praise and cleared the path to new projects. Stanford appears in Woody Allen's new comedy Hollywood Ending and was recently cast as Pyro, a different type of flame, in Bryan Singer's X-Men 2. – Peter Bowen
Contact: Manager, (212) 496-8175.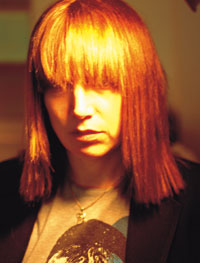 PHOTO: MIGUEL VILLALOBOS
02 Judy Becker
LAST YEAR was a busy one for production designer Judy Becker. After having left the film world in the mid '90s for law school and a planned legal career, Becker found herself at the 2002 Sundance Film Festival having production designed three films: Frank Whaley's The Jimmy Show, Rebecca Miller's Personal Velocity and Austin Chick's XX/XY. And her recent work for Peter Sollett's Long Way Home showed at the 2002 Cannes Film Festival.
For Becker, it has been a long journey from doing underground comics at Columbia University in the '80s to her recent success as a production designer. Rather than follow the architect-goes-to-the-movies path, Becker moved into film through a love of art and, of course, a family member in the business. Her cousin who worked in an art department got her a job as prop master on the Tales from the Crypt—like television show Monsters. From there she started designing student films – or as Becker says, "more decorating than designing" – leading to such independent features as Chus Gutiérrez's Sublet and Temístocles López's Chain of Desire.
But as film productions dried up in the early '90s, Becker turned to law school, only to be dragged back into the business when she ended up marrying a script supervisor. For Becker, the last few years have paid off in allowing her to get projects that let her work at her best. "I am not interested in flashy sets," she says. "Most of my work tends to be very naturalistic. I really enjoy developing characters through color and making backgrounds psychologically real and trying to integrate all aspects of the production into the design."
For example, when production designing Rebecca Miller's Personal Velocity, Becker designed both for the story and for the DV aspect of the film: "We had to transform every location by changing tones, but we also had to separate each of the [three] stories, avoiding at anytime bareness or pale background. But also, because it was digital video, we needed to keep within colors that were video friendly." – Peter Bowen
Contact: Kara Baker-Young, The Gersh Agency, (212) 997-1818.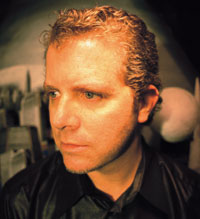 PHOTO: MIGUEL VILLALOBOS
03 Steven Lippman
IN THE EARLY '90s, after dropping out of Northwestern University, Steven Lippman landed a job as a video marketing consultant at the classical music record labels of Teldec and Erato overseeing the companies' home videos. "The promotional pieces that came in from Europe for their clients were horrible," Lippman remembers. "I thought, I can do these a lot better."
Over the next four years, Lippman began to do just that, directing short music promos for a diverse group of pop, classical and jazz artists "with the same care the musicians took in composing." Eventually, says Lippman, "I ended up doing this one thing and kind of got pegged for it."
He began to look for a new challenge. In 1996, he secured a commission to direct Of Rage and Remembrance, based on a modern classical composition by Oscar-winning composer John Corigliano and playwright William Hoffman. The film, which screened in Washington D.C. during the 1996 presentation of the AIDS Quilt, convinced Lippman it was time to develop a feature.
He soon purchased the rights to Ain Gordon's Obie award-winning play, Wally's Ghost, and began to collaborate with Gordon on the screenplay. "We talked a lot about the logic of musicals," says Lippman, "and how they suck you in and you're swept away by the emotions."
Now called The History of Everything, the film is an ensemble piece set in NYC that focuses on a character in his mid-30s haunted by the past and searching for his place in the world. "It's not so much a linear story as a character study with fantasy elements," says Lippman, and is currently in development with Ruth Charny attached as producer, Therese DePrez as production designer, Teodoro Maniaci as d.p, and Mychael Danna as composer.
Lippman, meanwhile, has stayed busy, completing a series of documentaries for the 2001 "Live from Lincoln Center Festival of the Arts" – on Philip Glass, Harold Pinter, Trisha Brown, Cirque Plume and Youssou N'Dour – and directing more short music films. "They're more adaptations of music to the screen," he explains," much like adapting a play." The most recent of these films, Life on a String, set to a suite of songs by Laurie Anderson, was selected for the Berlin, Tribeca and Cannes film festivals.
Lippman plans to continue to work on music projects until the feature's done, and one day he hopes to merge the two. "I'd love to direct a musical like Umbrellas of Cherbourg," he says wistfully. – Steve Gallagher
Contact: FlipProds@aol.com
04 Geoff Haley
GEOFF HALEY was shooting a commercial when he got a call. The voice in the receiver wanted to know, "Are you the guy that did the bag?" Soon, the caller, a commercial producer, was offering Haley an unheard-of day rate just for the privilege of working with "the bag man."
The bag in question – a plastic Chinese take-out sack – achieved cinematic immortality when Haley, who was working for legendary d.p. Conrad Hall, gathered a two-person second-unit crew and a windblower and shot the bag floating along a city sidewalk. The footage, of course, formed a poetic masterstroke in Sam Mendes's American Beauty. And while Mendes may have walked away with the Academy Award, the metaphorical efficiency of that footage inspired Haley, who has worked as a camera operator and video shooter for Hall, Clint Eastwood, Steven Soderbergh (he shot all the video monitor footage in Ocean's 11) and the television show Six Feet Under, to write and direct himself. With help from Six Feet Under exec producer Alan Ball and Muse Productions, Haley filmed The Parlor, a deviously entertaining short about personal relationships in the Internet age. The film was a Sundance hit and its popularity recently caused it to crash the servers at Hypnotic.com.
"I had a six-month stint when I was really into chat rooms," Haley explains of the idea behind his film. "But soon I got intensely bored. In chat rooms, you go to the extremes of your personality very quickly. But once you go to those extremes, it gets dull and you want to go back to your normal life."
Those who have been lucky enough to be surprised by the cybernetic twists of The Parlor can perhaps look forward to Haley's next project, an original idea he's pitching in Hollywood which multiplies the short film's identity-switching premise 10-fold. – Scott Macaulay
Contact: pontus@4link.net
PHOTO: DOUG NEAL
05 Brian To
TAKING 10 YEARS after graduating film school to make your first short may seem a bit excessive to most young filmmakers, but director Brian To found waiting was the only way to go.
"After UCLA, I sort of fell into photography. I didn't feel ready to make a film for some reason," he laughs. "It's very difficult to have a philosophy when you really don't know who you are and you haven't really lived or traveled… so it was important to do that first before I attempted a real narrative film."
His first short, the 27-minute Audit, shot on 16mm in and around Los Angeles, is a classic black comedy. To takes an all-too-familiar situation – a tax audit – and peppers it with absurdist moments and intimate revelation. "I liked the idea of going into an audit and realizing the person auditing you is an ex-lover, and what a nightmare situation that would be." With an impressive cast (including Alexis Arquette and Sally Kirkland) that never strays over the fine line to camp, Audit is very much about human interaction. "For my first narrative film, I wanted to tackle something simple, intimate and character-driven. I was more interested in the characters, and subtext, the internal… showcasing myself as a director who can illicit genuine performances."
As Audit makes the festival rounds to positive notices, To continues his work in both film and photography with a solo gallery show of nude self-portraits and a feature-length screenplay about the art world in development. – Andre Salas
Contact: brianfilm@aol.com