Naz Riahi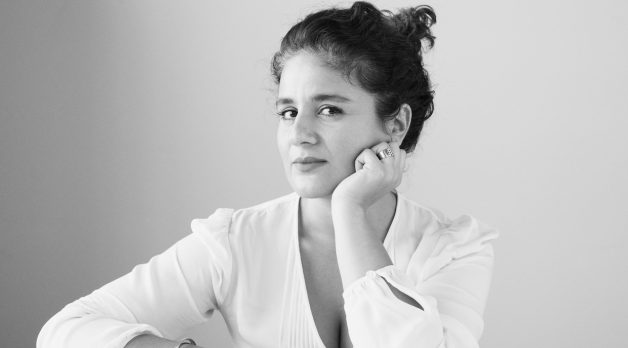 Naz Riahi

The two shorts Naz Riahi released on Vimeo during the pandemic—Sincerely, Erik and Andros in the City—are in a boxy aspect ratio because the format reminded her of the tube TV she'd watch growing up in Iran. The sound mixes are basic and, she says, "not intentional": "I literally didn't have the money, but the films came out during the pandemic when everybody was just watching on their computer, and they work fine on that." "Intentional," however, was the barely graded color correct, which gives the films a relaxed, low-contrast vibe. "My DP, Alec [Cohen], was like, 'Please let me color this,'" but, she says, "I like the muted look—there's an intimacy that comes with the rawness that's really important to me." 
Indeed, despite—or, really, partly because of—these limitations, Riahi's two debut shorts are beautifully melancholy lo-fi gems mining pandemic anxieties and struggles to connect. In Sincerely, Erik, a Vimeo Best of the Year, the titular protagonist travels the empty streets and subways, masked and gloved, to his bookstore (NYC's Left Bank Books) to service the shop's small business-supporting mail-order customers. Into each shipment, he places a medium-length note—a reflection on their purchase and, obliquely, life, the election or, to a customer named Suzanne, Leonard Cohen and his muses. Drama arrives in the form of an attractive customer's Instagram unfollow; what happens next is a testament to the value of good friends, a well-stocked home bar and dancing.
Describing Erik as "a morphing" of herself and the character, Riahi says she relates to "the isolation he's feeling and the need to reach out. And it's funny, people who have seen the short have come up to him and said, 'I love the letters you write.' He does write little thank you notes, but he doesn't write letters. So, I'm like, 'I wrote those letters! You liked me!'" 
Erik—played by Left Bank's real owner, Erik DuRon—also appears in Riahi's second short, Andros in the City, in which he makes a home delivery and winds up in a low-key hang with a choreographer (Andros Zins-Browne, another non-actor friend of Riahi's) depressed over the sudden halt of his touring career. She describes it as "a quiet, sparse film about performance, hope and gentleness between men," and it too ends with a lovely moment of movement. 
Born just after the revolution, Riahi grew up in Iran where, as young as six, she'd watch black market DVDs her dad would purchase: The Omen, Flashdance, The Godfather. At 10, she moved to the States. "There was a lot of assimilation I had to do," she says. "I didn't speak any English, and I didn't know anything really about the culture, aside from what I had seen on the films I was watching." Feeling self-imposed pressure to "be practical" about her career, she studied journalism at Western Washington University, even though she really wanted to be a filmmaker. But, despite some initial assignments from music mag The FADER, "journalism never really worked out." A New School MFA in creative writing followed, after which Riahi worked creative and brand strategy jobs. She also founded and curated the food conference Bitten, which over four years looked at food through "the lens of creativity, justice, art and technology." But when the pandemic hit, she says, "I lost all of my consulting clients, I wasn't doing Bitten anymore, and I thought I might as well see if I could make a film." Inspired by "raw films" like Variety, Smithereens and By Hook or by Crook, she wrote Sincerely, Erik in a week and self-funded its $700 production. And what attracts Riahi to these male-centered stories? Citing The Last Black Man in San Francisco as another inspiration, she says, "We live in a culture of toxic masculinity, and it's had negative impacts on every aspect of our culture. There is the possibility and the potential of gentle masculinity. I think the more we see something, the more comfortable we become with it."
Next up for Riahi are three music videos for actress and singer Ella Hunt, as well as two TV shows and three feature scripts: "When I commit to something, I go all in." Then, there's one new short with "a strange male protagonist, an older man, in a strange place doing strange things."—SM