Back to selection
Daniel Raim on Something's Gonna Live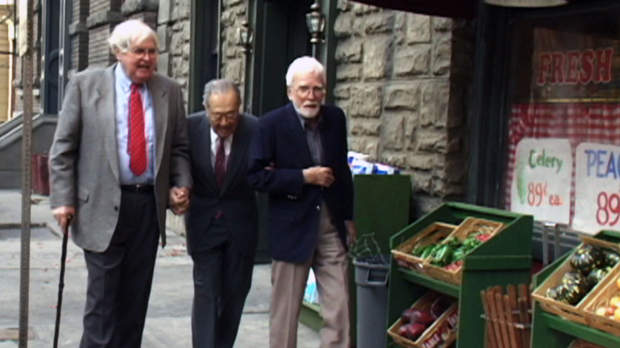 The Man on Lincoln's Nose (2000), Daniel Raim's short documentary about legendary production designer Robert Boyle (North by Northwest, The Birds), was nominated for an Oscar; Boyle himself received an honorary Oscar in 2008 at the age of 98. Over the course of several years, Raim continued to film Boyle in candid interviews and conversations with his production design colleagues (Henry Bumstead, Albert Nozaki, Harold Michelson) and cinematographers Haskell Wexler and Conrad Hall, and produced an equally engaging follow-up feature, Something's Gonna Live (2010).
The film is a warm and contemplative portrait of the aging Boyle and his friends as they visit their old stomping grounds at Paramount Studios and converse about ways the industry has changed, and most importantly, the creative values they learned over the years and hope to preserve. Full of indelible clips, it's an engrossing movie for movie lovers, and it has recently been released on DVD and streaming sites such as Amazon and Netflix.
Filmmaker: It's amazing to think that the production designers featured in Something's Gonna Live, who contributed to films from the 1930s to the 2000s, met each other before they even began their careers.
Raim: Robert Boyle, Henry Bumstead, and Albert Nozaki graduated from the same class at the University of Southern California's school of architecture and it was at the height of the Depression, so there wasn't a lot of work in their field. They ended up rising in the ranks together at Paramount starting off as draftsmen and eventually became pioneering giants of production design. It was the early days of cinema and they invented the art form as they went along.
Filmmaker: They continued to teach or work in some fashion well into advanced ages; their profession is obviously a passion for them.
Raim: Boyle always said he got his start in Hollywood by the generosity of others, and talked about how they brought him in under their wings and taught him the trade. He often lamented that there really isn't that kind of apprentice system anymore. He was very dedicated to the community.
Filmmaker: What does a production designer do?
Raim: I always refer to Robert Boyle's definition: a production designer is responsible for the physical environment in which the action and the meaning of a film takes place, interpreting the psychology and emotion of a screenplay and relaying that in visual form.
Filmmaker: That sounds like a central concern of every narrative film. Why do you think production designers are less well known than directors or even some cinematographers and editors?
Raim: Good production design is invisible, because if a film has good design it appears as if it has been shot on location. Even if it's a science fiction film, the viewer believes he or she is there, they believe in that world fully. It's the first level of the suspension of disbelief. And within that comes all these layers that Bumstead talks about in Something's Gonna Live, such as the aging of sets and making them feel lived in. It also creates an inspiring world for the actors to respond to.
For example, Bumstead talks about his sets for Vertigo (1958), in which he made the protagonist, Scotty, a stamp collector with a complete stamp collecting setup in his desk; I'm sure that kind of detail helped James Stewart enter the psychology of his character.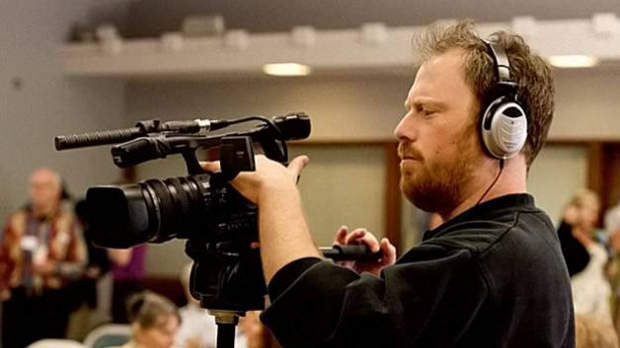 Filmmaker: We think of how production design affects the viewer, but not often about how it affects the actors.
Raim: I was talking to production designer Jim Bissell (Good Night, and Good Luck; E.T. the Extra-Terrestrial) recently, and he said he builds sets so the actors can see them. He was talking about 300 (2006), and said everyone thinks it was made with greenscreen or digital mattes, but that a lot of the sets were physically built with carefully planned foregrounds, midgrounds, and backgrounds. He talked about the design being "front-loaded" because everyone on the set understood the visual content of each shot, as opposed to the shots being designed in post-production.
That's something that Boyle often talked about. In North by Northwest (1959), when Eva Marie Saint looked down, she could actually see the photographic backing depicting Mount Rushmore. He felt that the actor should be able to respond to his or her environment as much as possible.
Filmmaker: How did you meet Robert Boyle?
Raim: He founded the production design program at the American Film Institute in the early 1980s. In 1997, I went to look at some David Lynch student films at the AFI library, and someone mentioned Boyle as a legendary figure who taught there. That day I went to the admissions office and they scheduled an interview with Boyle.
Filmmaker: Were you already a student?
Raim: No, I hadn't dreamed of joining the AFI Conservatory; I was only two weeks out of the Israeli army, where I was a documentary filmmaker. I had a kind of vision one night that I'd come to America and learn from some white-bearded, wizard-like, classical Hollywood filmmaker. And I met Boyle, who was already 89 years old, and I was really struck by how down to earth he was. There was no air of pretension about him. He was really interested in the life I'd lived up to that point, and especially interested in the fact that I had "seen the world."
Boyle was a World War II combat cameraman himself; there's a story (confirmed to me by actor-director Norman Lloyd) about Boyle sneaking into Berlin before the American troops arrived in order to film their entrance. Boyle said to me, "I think you're ready to be a filmmaker because you've licked the streets." Then and there I decided I'd like to join the AFI Conservatory as a production design fellow, not because I wanted to be a production designer but because I wanted to hang out with Robert Boyle.
Years later, after The Man on Lincoln's Nose, Boyle and I became friends, and we used to attend Foreign Language Film Oscar-qualifying screenings together. He would avidly watch films by Tsai Ming-liang or Nuri Bilge Ceylan. His favorite director (after Hitchcock) was Aki Kaurismäki, who he thought was telling stories through images rather than words and therefore followed the ideal Hitchcock taught him.
Filmmaker: Did he apply that ideal to production design?
Raim: What Boyle talked about at length in his classes was that a good production designer needs to think like a director. Boyle saw all of the major production roles as "co-directors." He always described his process in terms of telling stories about human beings and our need to have an understanding of them: how they live, where they live, how much they earn, their sexual preferences, their cultural life, etc. His Production Checklist (included as a PDF on the DVD of Something's Gonna Live) included about 15 or 20 categories of such questions that he went through for each character so that he could interpret the screenplay, its psychological and emotional needs, and ultimately determine what the story was about.
In his AFI master class (also included on the DVD), he talks about how Hitchcock asked him to photograph the homes of school teachers in order to get a sense of what Northern California teachers' apartments were like at the time. Boyle hoped to reflect real people's lives.
Another concern of his was how the camera was positioned within each space and its relationship to the actors. He would break it down: Is the camera close to the actors?  Is it far away? At what point in the script do we need to be close?
Very early in his career, Boyle began working with Hitchcock. He entered Hollywood in the 1930s, and by 1941 was asked to design a Hitchcock picture, Saboteur. The day of the bombing of Pearl Harbor was the day he actually sat down with Hitchcock at a table, and Hitchcock (who had been a production designer himself) sketched little drawings, teaching Boyle how to think like a director, or at least how to think like Hitchcock—to never let the camera get ahead of the actors, to focus on the emotions, and so forth.
In Something's Gonna Live, Boyle tells the story of how Hitchcock gave him the Daphne Du Maurier book that inspired The Birds (1963) and asked him a) whether they could do it mechanically, and b) to make drawings so that Hitchcock can make sense of it. Boyle thought of Edvard Munch's "The Scream," and based a lot of his early drawings on that. If you look at those drawings, it's basically a man protecting his daughter from incoming birds, so Boyle felt that it was the emotion of protection, of fear of the outside.  And he designed that emotion, he drew it—it's not just about building walls.
Hitchcock gave Boyle and storyboard artist Harold Michelson a lot of room to interpret his ideas. He would conduct a symphony in that sense by taking these drawings and rearranging them until it suited his vision.
Filmmaker: In addition to production designers, Something's Gonna Live focuses on two famous cinematographers, Haskell Wexler and Conrad Hall. How did they get involved with the film?
Raim: Towards the end of my first year at AFI Conservatory, I was moved by something very funny that Boyle said: "The only thing guns are good for are blowing locks off of liquor cabinets." I thought then and there that somebody should be rolling film, that this guy was great.
So after about a year of recording one-on-one conversations with him hoping to build a foundation for understanding his work, Boyle started insisting that my film should not be about him. He had gotten so worked up over the past year by talking about his creative values that he started feeling disconnected by then-contemporary Hollywood; he felt he didn't recognize movies anymore. He wanted to decode it, to go backwards and talk about Keaton, Chaplin, Hitchcock or even directors like Sacha Guitry and how they worked organically and what it meant to be a storyteller. He started insisting, on a daily basis for a couple of years, that this project should not be about him. "Call Haskell Wexler.  Call Conrad Hall.  These are the truth tellers," he would say.
Filmmaker: In your film, Boyle talks about the importance of "searching for essential truths."
Raim: It was something he often talked about, but I was 23 and coming out of film school, and I was like, 'What is truth?' It sounded pretentious—what does it mean to be searching for truth?
We shot interviews with Haskell and Hall, and both of them were very moved to talk with Bob about their creative process. It was a challenge to take all this footage of these guys and their philosophies about filmmaking and edit it into something engaging that people could sit through and be touched by and not feel like they're being lectured.
Another thing that attracted me to these guys is that yes, they were a dying breed of a craft, but they were also a dying breed of an era, a way of thinking and regarding life that included humor and wit. You don't find that kind of wit so often anymore. We can read books about that era, but these were living, breathing characters. For me that was another quality that makes the film compelling.