Video on Demand — April 2013
Video pick of the month
Silver Linings Playbook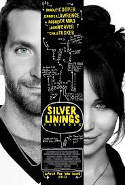 In 2010, David O. Russell had the biggest movie of his career with The Fighter, his biopic of boxer Micky Ward, starring Mark Wahlberg and Amy Adams. The film took almost $100 million in stateside receipts, won Christian Bale and Melissa Leo awards in the supporting categories at both the Oscars and the Golden Globes, and earned Russell his first Academy Award nomination, for Best Director.
Now Russell has returned to the realm of complex, sophisticated and seriously funny comedies, where he first made his name.
Silver Linings Playbook is that rare thing – an intelligent, grown-up date movie. Beautifully written and directed by Russell, it's a redemption tale that uses football as an analogy but then weaves a nuanced, sweet and deeply human narrative that transcends the simplicity of sports' measures of success and failure. Its two leads shine – Cooper proves he's much more than just a pretty face, and Lawrence is electric as the raw, tender Tiffany. And the supporting cast, from De Niro and Animal Kingdom's Weaver to Chris Tucker playing Cooper's fellow psych ward inmate, bring to life the richly drawn characters in Russell's screenplay.
Comedy Drama
The Weinstein Company
4/30/2013
MOD
Join our newsletter