Back to selection
Bringing the Short Film The Quarry to the Tribeca Film Institute's Through Her Lens Program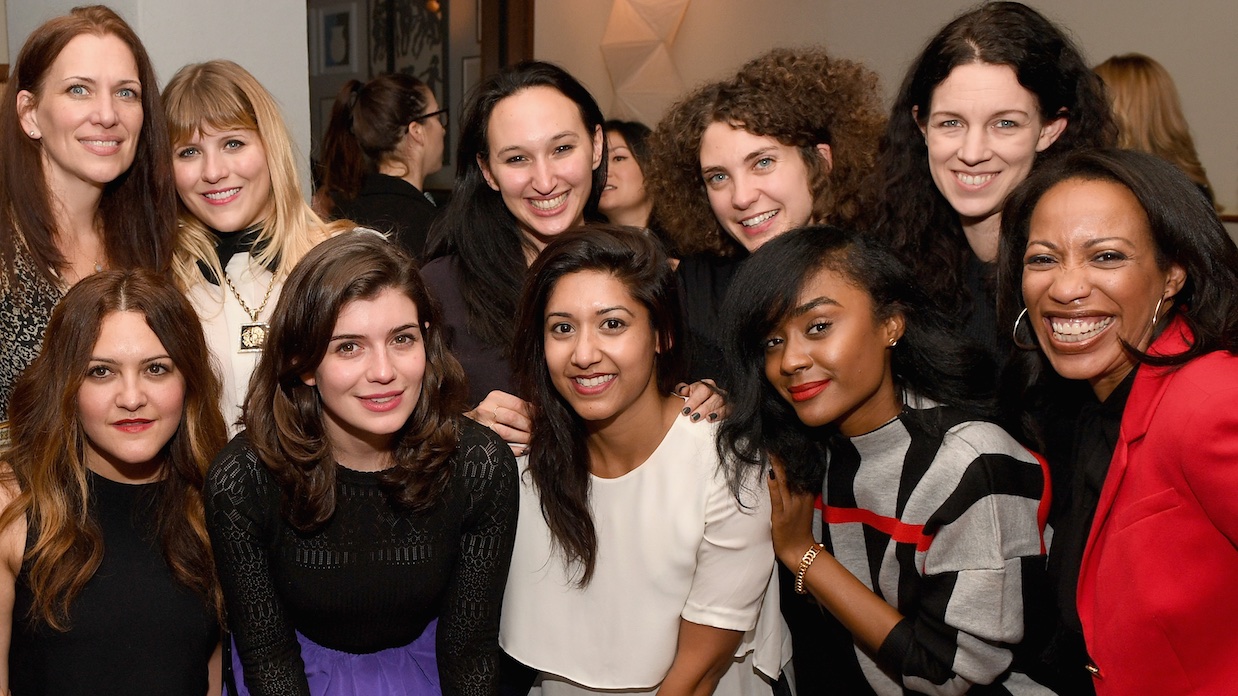 (Photo by Dimitrios Kambouris/WireImage)
Sonejuhi Suha is an award-winning filmmaker, working in both narrative and documentary storytelling. Her narrative short film, Love Comes Later, premiered in competition at the Cannes Film Festival and screened at over 60 film festivals internationally, garnering awards at festivals. Below is her guest blog post on her experience with Tribeca's Through Her Lens Program. Her short film script The Quarry, selected for THL, is a psychological drama about a gynecologist and abortion provider, Reese, who practices in a remote town in America. When a threat emerges in town and Reese finds herself drawn into a rabbit hole of paranoia, she takes matters into her own hands.
Tribeca Film Institute alerted me that I was accepted into Tribeca's Through Her Lens: The Tribeca Chanel Women's Filmmaker Program in early September. It's a program that TFI does with Tribeca Enterprises and Chanel to mentor, support and fund women filmmakers around narrative filmmaking. I was one of five filmmakers, chosen for my short film The Quarry, alongside Catherine Eaton, Joey Alley, A.V. Rockwell and Ani Simon Kennedy. My first meeting and consultation on my script was with the illustrious Paula Weinstein, an exec at Tribeca Enterprises and producer of Blood Diamond, The Perfect Storm and dozens of other Hollywood films. Then, I was told my writing mentors were Catherine Hardwicke and Dee Rees. Their notes trickled in shortly thereafter. I could tell both had spent a lot of time reading my short and compiling detailed notes that were encouraging while pushing me in new directions. They probed me to rethink the central character's arc and what I was trying to say. This was followed by a long call with Catherine Hardwicke. She encouraged me to dig deeper, sharing personal anecdotes about her own process that were both inspiring and galvanizing. The script was already starting to feel so much stronger and, dare I say, I felt I had improved as writer.
The official program started with an editing masterclass with Sarah Flack, Sofia Coppola's long time editor and collaborator, followed with a kick-off luncheon at Locanda Verde. The luncheon was hosted by Paula Weinstein, Jane Rosenthal and Chanel and was jam packed with a who's who of leading women in narrative storytelling in N.Y. and a way to introduce myself and the other ladies in the program to them. At the luncheon, Jane and Paula gave a stirring speech on the importance of this program and of women in the industry.
Then began a series of one on one mentor sessions with Tanya Wexler, Jenni Konner, Rachel Winter, Rashida Jones and Shari Springer Berman. We spent time getting notes on the script but also getting to know each other. The days were also peppered with a casting masterclass with Avy Kaufman, a director session with Shari Springer Berman, a producing masterclass with Amy Herman and a costume design masterclass with Arianne Phillips. All were incredibly timely for me as I am starting pre-production on my first feature, Love Comes Later. The final day was packed with network meetings and a composing masterclass with Laura Karpman. We were able to share clips of our films where the score was problematic and Laura offered brilliant solutions to each of our issues.
At the end of the program, we each pitched our short films in front of an eminent jury made up of Anne Carey, Dakota Fanning, Tamara Jenkins, Jennifer Westfeldt and So Yong Kim. At the cocktail reception, the winning short was announced, to be fully funded by Chanel and produced by Tribeca Studios and Pulse Films. A.V. Rockwell's Feathers was the winning short and all five filmmakers were awarded a $5,000 development grant to further develop our projects.
What was evident in my week at Through Her Lens was that the tides are changing in favor of gender equality on the independent level and also in Hollywood. The week left me inspired by all my mentors and, most importantly, inspired by my fellow filmmakers. We are a mighty tribe of undeterred storytellers. I am excited to take all this growth and use it to expand The Quarry into a feature. I also feel that the casting, directing, editing and composing masterclasses were particularly timely, as I am in pre-production on my first feature Love Comes Later.
(Above photo. Top row, L-R, Catherine Eaton, Joey Ally, Carly Hugo, Ani Simon-Kennedy, Jessica Vale, Leah Natasha Thomas; (bottom row, L-R, Costanza Castro, Charlotte Rabate, Sonejuhi Sinha, and A.V. Rockwell attend Through Her Lens: The Tribeca CHANEL Women's Filmmaker Program cocktail on October 27, 2016 in New York City.)