Back to selection
Sundance: David Lowery's A Ghost Story is a Major Achievement and A Curious NEXT Entry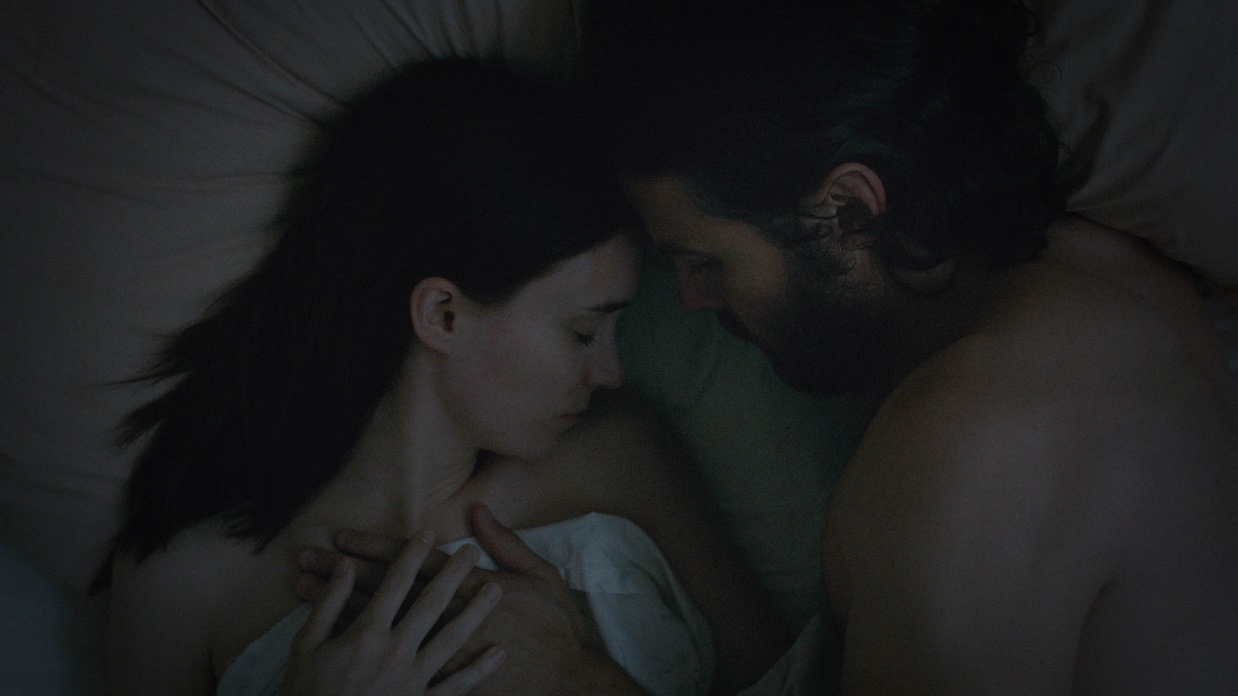 (Photo: Andrew Droz Palermo.)
It's a rare privilege to see a contemporary American film as ambitious, emotionally honest, and just-plain-breathtaking as David Lowery's Sundance entry A Ghost Story. Even from his microbudget beginnings, Lowery's work has displayed a consistent fascination with American folklore and mythmaking. His films, whether big-budget Disney blockbusters like last year's Pete's Dragon, 2013's love story Ain't Them Bodies Saints, or his masterful 2011 short Pioneer, concern themselves with the notion of storytelling, its allure and its limitations.
With A Ghost Story, Lowery continues to explore this fascination, now through the lens of the haunting genre, a tradition that stretches from Virginia Woolf all the way down to Paranormal Activity 4. But Lowery is less interested in telling a traditional ghost story or scaring his audience. His aim here is to explore how the ghost story as a genre and storytelling tradition masks cultural anxieties about time and mortality.
I won't give too much away about the film's plot, not because the film is best experienced without expectation or preconception (though of course it is), but more because it works from a place of visual poetry instead of narrative drive. I believe the thesis of the film is inspired by that now famous David Foster Wallace quote: "Every love story is a ghost story." Lowery introduces us to a fleeting relationship in the opening minutes of his film, then branches outwards into the afterlife and beyond. As we drift through his hazy, evocative fable, we explore the transience of love, of art, of life, the way a song can be everything in one moment and nothing in the next. In aesthetic and ambition, A Ghost Story is the conscious offspring of Malick's The Tree of Life. You'll hear it described as "quiet," perhaps even "near silent." But this is incorrect: Lowery is shouting at the top of his lungs from frame one.
All said, this is a major work, and thanks to distributor A24, it'll have a major release later this year. Upon release it is sure to evoke confusion and impatience from less adventurous audiences. But for those who give themselves over to it, it will bring a flood of tears, and perhaps even an impassioned online ramble like the one you're reading right now.
But I want to do something more here than just ramble (deserving) praise onto one of the year's best films. I want to pose a question about the film's Sundance premiere:
Why is the finest work by one of our finest filmmakers — one that stars two major Hollywood actors, and one that serves as the director's followup to a $65 million Disney movie — premiering in Sundance's NEXT section?
I pose this question less to defend the film and argue that it deserved a better, more high-profile premiere at Sundance. A Ghost Story hardly needs defending, and I have little worry that it will reach a huge and lasting audience regardless of the Sundance section it premieres within. No — I ask this question because I believe the potential answers raise some interesting, larger questions not only about Sundance, but about our industry and our film culture.
For those of you who don't follow the Sundance lineup and sections as closely as the industry does each January, let me summarize: American narrative features premiering at the festivals are divided into a number of different sections, each with a specific focus. Leaving aside genre sections like Midnight and New Frontiers, the three main homes for narrative features premiering at the festival are NEXT, US Dramatic Competition, and Premieres.
Generally, the industry perceive these three sections as a ladder, leading upwards in terms of profile and budget from NEXT to Competition to Premieres. Lowery's previous entry premiered in Competition, so placing his new one in NEXT rather than Premieres is a bit of an eyebrow raiser.
It's true that there are no firm qualifications about what types of films can or should play in NEXT. But it's a category typically associated with emerging filmmakers, those who have not yet made it big but are hoping for a breakout at the festival. There are other filmmakers in the NEXT section this year who have made feature films before, but none who have worked with anywhere near the kinds of budgets or enjoyed the kind of high-profile success that Lowery has over the past few years. It is much more typical for a filmmaker of his level of experience to share new work in the Premiere section, which is described on the Sundance website as a section for "highly anticipated narrative films of the coming year." Meanwhile, NEXT is described as for, "pure, bold works distinguished by an innovative, forward-thinking approach to storytelling."
A Ghost Story fits both of these descriptions. And by opting to slot the film into NEXT rather than Premieres, Sundance is making a statement about the NEXT section. That this is not just the minor leagues, or a training ground for filmmakers who will go on to make bigger films. That filmmakers can return here throughout their careers. And yes — there is something admirable about this sentiment.
But the problem is that by placing an unconventional film by a major filmmaker in NEXT, the film industry understands another message. The implication that many financiers and agents will take away from this placement is that when you make a film that is narratively unconventional and cinematically bold, you are inherently making a NEXT film rather than a Competition or Premiere film (and just take it from Amazon, those films are generally worth less).
Now obviously it is not the festival's intention to penalize or ghettoize Lowery by sending him back "down the ladder" to NEXT, but this is the message that many in the industry will perceive. As I waited in line for the film's premiere, a guy next to me warned his friends: "Well it stars Casey Affleck and Rooney Mara, but it's in NEXT, so it's probably going to be difficult." As filmmakers develop their 2018 projects, I can already imagine agents encouraging their clients to make a "Premiere" film, not a NEXT entry.
But Lowery's choice to drop down in budget, to make something imaginative and original and daring in between more commercial films, should not be viewed as a detour or as a descent. It should be praised as the main attraction, a wonderful artistic achievement, and the full realization of a promise that his previous films only hinted at.
Now let's return to those category descriptions, because they are deceptively vague. Like, shouldn't every single film that plays at Sundance be what the NEXT category is purported to feature? "Pure, bold work distinguished by an innovative, forward-thinking approach to storytelling?" I mean, what is the alternative? "Cynical, unadventurous work distinguished by an unimaginative, backwards-thinking approach to storytelling?"
And further, shouldn't great work from one of our country's notable filmmakers be deserving of a spot in Premieres? Shouldn't it be viewed by the festival as one of the most "highly anticipated narrative films of the coming year?"
I am of the belief that Lowery's achievement here, which is an achievement not just related to the film he made but also the fact that he managed to make it at this point in his career, is deserving of our highest anticipation, our highest praise, and almost certainly of a spot in Sundance's highest-profile section.