Back to selection
Race, Robbery and Going Viral: Eight Short Films from Sundance 2017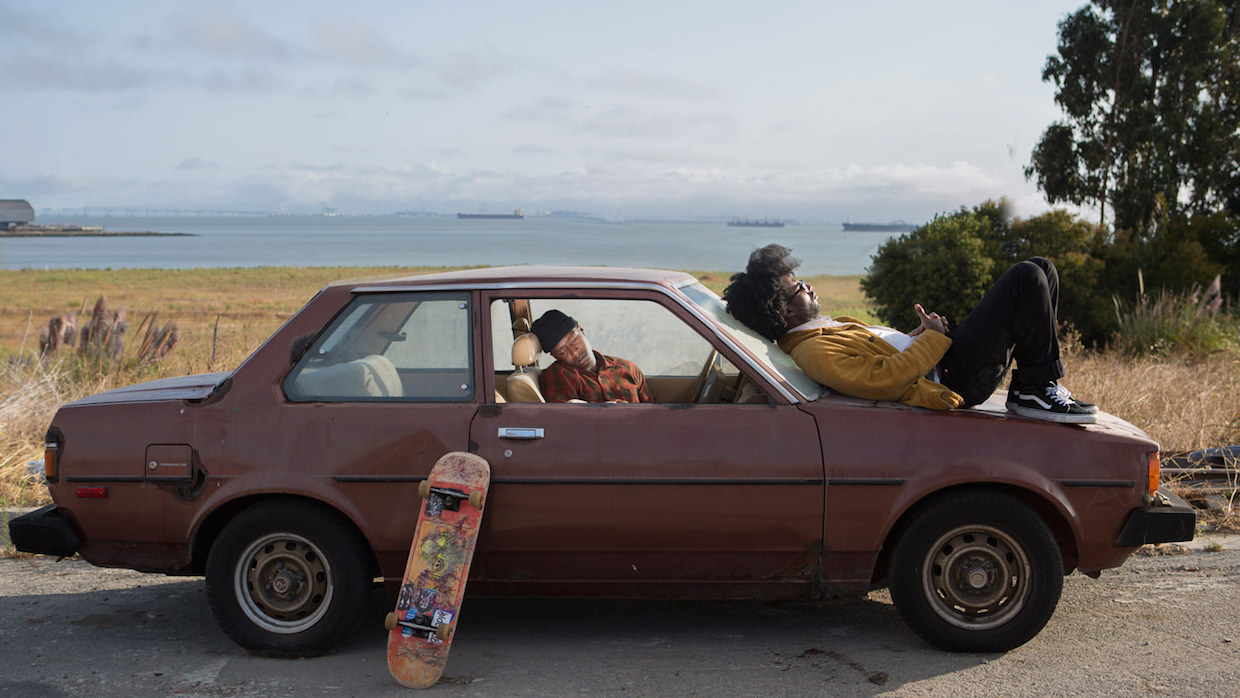 American Paradise
As the 2017 Sundance Film Festival wraps up another edition of high-profile features with notable stars, secret screenings and exorbitant sales, attention must be paid to the less-covered but no less worthy shorts that premiered in Park City last week. Brought together in eight blocks (Animation, Documentary, Midnight, and Shorts Programs 1-5), these films represent an equal mix of prolonged, thought-out narratives and fleeting moments of inspiration discovered on the fly.
For better or worse, shorts are often seen as a director's calling card for upcoming feature work. While that's all well and good (and I hope further success comes their way!), it dismisses the work these men and women are currently shedding blood, sweat, tears, time and money over. In some capacity, the eight shorts reviewed below feature memorable performances, exciting style, powerful individual moments and worthwhile hints at some bright futures just ahead.
American Paradise
The first thing you come away thinking after having watched American Paradise is that writer/director Joe Talbot has found an appropriate muse in oddball leading man Sky Elobar. Last seen in the intentionally absurd gross-out The Greasy Strangler, Elobar has a fascinating presence that calls to mind John C. Reilly as Travis Bickle — a quirky loner who could be your best friend one minute and a dangerously creepy psychopath the next. As Albert, a middle-age loner who communicates less with the outside world than with with re-runs of old television sitcoms like The Jeffersons — and who wastes his life away sentimentally fawning over photographs of people he's never met — Elobar is clearly in his comfort zone work with Talbot. Describing the plot would be an asinine experiment if not for the fact that it's based on a true story: a middle-aged white man dons an African-American mask, robs a bank at gunpoint, has troubling getting the mask off (sweat and latex don't mix), and is pursued by an idiot cop who thinks crazy Albert is a black repeat offender. In its own unique way, the film makes a profound statement on racial prejudice while staying true to its dry, straight-faced comedic delivery. The wraparound story, involving three African-American fishermen, only further amplifies the break-from-ennui scenarios Talbot excels at.
Bayard & Me
When a notable figure in history dies, we tend to praise them for their grandest accomplishments without giving too much thought to their personal lives. Bayard & Me, a moving remembrance of an interracial, intergenerational romance between Civil Rights activist Bayard Rustin and the considerably younger Walter Naegle, is a film about the more private side of a public force. Naegle's narration contextualizes the time in which the relationship took place: with gay marriage a non-starter, Rustin legally adopted Naegle to ensure that all belongings, including his apartment, would be left to his younger lover. Matt Wolf's sprawling documentary is as much about a leader's undying impact as it is about a movement demanding equality for all via peaceful marches and protests. Funny how relevant that belief remains.
Cecile on the Phone
A tense situational comedy in which nothing and everything is simultaneously on the literal line, Cecile on the Phone is a celluloid-loving throwback of soft imagery, chatty characters, and landline phones. Directed and co-written by Annabelle Dexter-Jones, who also stars as the title character, this amusing short focuses on a thirtysomething who stresses out over news of her ex-boyfriend's return to town. Via a series of phone calls with friends and colleagues, apartment-ridden Cecile analyzes her past relationship while scrutinizing a gigantic sore that's growing around her mouth (she suspects it could be herpes). With DP Deering Regan employing an ample amount of split-screen, De Palma-inspired symmetrical compositions, Cecile on the Phone makes the most of its dialogue-heavy back-and-forths, and shots of New York in the closing credits, complete with original music by Mark Ronson, offer a tranquil reflection of a woman attaining momentary solace.
I Know You From Somewhere
Viral fame is rarely gratifying or long-lasting. Andrew Fitzgerald's I Know You From Somewhere, a darkly humorous and brief summation of where insta-fame is headed, notes the toxicity fueled by the anonymity of the internet. A shoddily recorded cellphone video involving an argument goes viral when a series of remarks wrongfully perceived as racist are uploaded and shared digitally at lightening speed. The lead character (Angela Trimbur, last seen in Richard Bates Jr.'s Trash Fire) becomes the subject of misplaced hatred, ridicule, and mysonigistic sexual desire. Along with Trimbur's voiceover narration, Fitzergald's tonal-shifting short first gives the impression that we're in for a lighthearted romantic retelling of a woman immersed in superficial friendships and bad Tinder dates. That it becomes a study of our "fake news era" and need to dehumanize a stranger enables the work to be a more timely and chilling exposé.
Laps
Sexual assault, no matter however subtly depicted, is difficult to show on-screen without feeling exploitative. To avoid this trap, Laps, a nearly wordless film about a woman who is sexually abused on a packed New York City subway train, highlights the uncomfortable intimacy an attack presents. Rather than providing us with the POV of the woman, director Charlotte Wells — a graduate student currently in her final year at Tisch — relies on close-ups that provide a sliver of the situation unfolding. The viewer is an onlooker either sitting down or standing right next to the victim as the assault takes place. Maybe you notice the man's arms getting uncomfortably close to hers as he reaches for the arm rail, or you passively observe as the man approaches from behind and begins rubbing up against the woman's backside. As Wells' camera lingers on the uncomfortable closeness subway riders experience on a daily basis, your eyes look for more clues, and subsequently, some help from a noble onlooker. That that never comes (and that you never see the assaulter's face) only furthers the impactful dread evoked by the situation. The film expertly shows how a daily routine can be laced with lingering dread in a sea of anonymity.
Legal Smuggling with Christine Choy
The title character steals the show in Legal Smuggling with Christine Choy, a charming animated retelling of an amusing experience from Academy Award-nominated filmmaker Christine Choy's life. Over four minutes, Choy, a professor at NYU's Tisch School of the Arts (where director Lewie Kloster is currently pursuing his BFA), recounts attempting to fly six cartons of a particular brand of cigarettes from New York to Toronto and back to the United States. Why did Choy purchase cigarettes in a New York airport, take a trip to Toronto, and immediately come back? Well, in order to purchase cigarettes in an airport, you have to have a plane ticket (and apparently you actually have to use it). Working with his brother Noah, the Klosters' use of animation — primarily stop-motion work involving papier-mâché, cardboard, and real-life photographs — and eccentric sound bytes enhances Choy's story.
Night Shift
There are a number of films about men and women who work odd jobs to make ends meet, but Marshall Tyler's Night Shift may be the first to shed light on an oft-invisible figure: a bathroom attendant working evenings in a Los Angeles nightclub. Focusing on an occupation in which all the necessary tools can be packed up and carried back home, Tyler excels at setting up his characters' workplace and routines, the camera trailing as his leading actor makes his way through the club and to the men's bathroom to begin his shift. Tyler nails a sense of place for what is primarily a one-set story, a grungy, tile-laced bathroom where muffled pop music blares and obnoxious customers make their presence known by relieving themselves, taking drugs, and having sex. While a subplot involving the impending signing of divorce papers feels somewhat tacked on, the film has humorous fun exaggerating the unpleasantness of a job that gets no respect. The film was executive produced by Viola Davis' Los Angeles-based JuVee Productions.
The Robbery
We've seen the scenario before: a down-on-their-luck delinquent takes to crime to raise funds for what appears to be an unimaginable sum. With the misguided youth in over their head, the viewer is given permission to sit back and wallow in the schadenfreude of it all. Classic storytelling informs us that the youth will be rescued, redeemed, and brought home, having learned a very valuable lesson in the process. Jim Cummings' The Robbery (his follow-up to last year's Jury Prize-winning Thunder Road), featuring a hilariously fearless lead performance by Rae Gray, takes that grim premise and turns it on its head. In a single take, we follow a young woman who, in a drastic impromptu decision, decides to hop out of her Uber and rob a liquor store for a paltry $200. What she doesn't plan on are the occupants of the store fighting back. Choosing to film the short in real time does wonders for both the sustained tension and comedy on display; as our lead receives a barrage of phone calls related to her tragic personal life, arrows are shot directly into her midsection courtesy of the store owner, the result of a very bad decision gone just a little more wrong.