Back to selection
The General, By Sidney Lumet and Postcards From the Edge: Jim Hemphill's Home Video Recommendations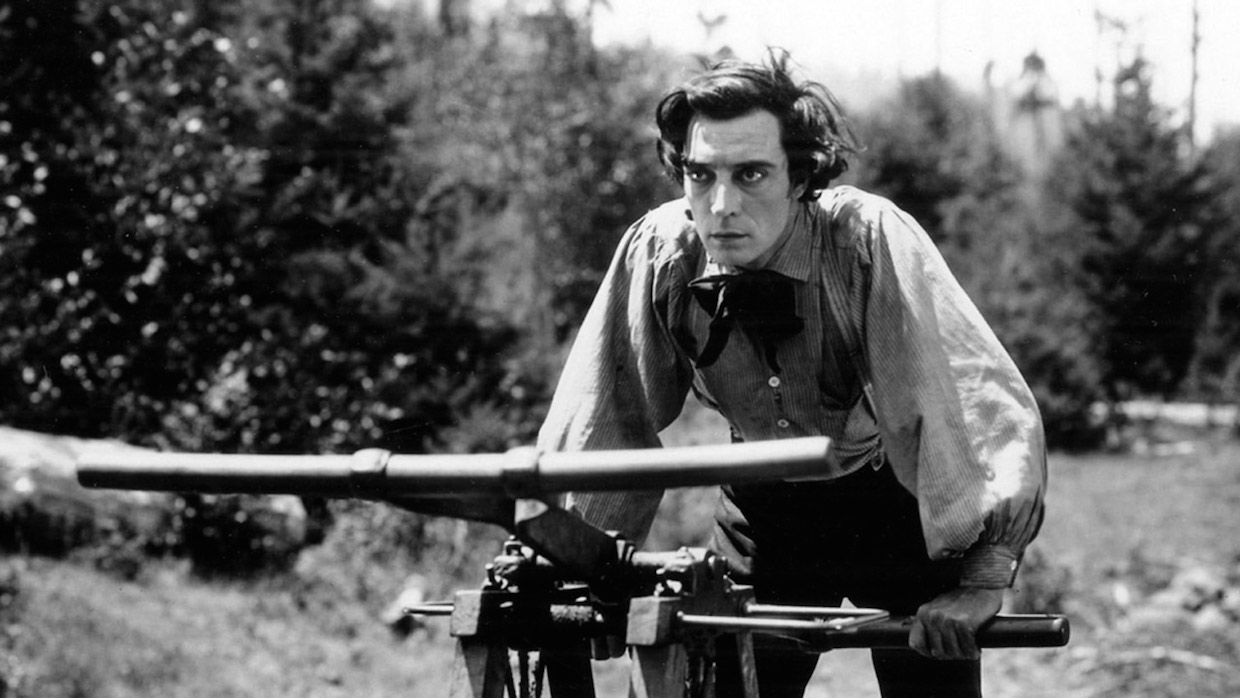 The General
This week sees the Blu-ray release of one of the greatest of all silent comedies via Kino's exceptional high-def transfer of Buster Keaton's The General (1926) – though to categorize it as a mere comedy is a bit limiting. The film contains wall-to-wall laughs to be sure, but it's also the most enduring action film of its era, a chase movie that still, over ninety years later, has the ability to awe the viewer with its flawless intersection of conceptual ambition, meticulously executed stunts, and visual elegance. Following essentially the same structure as Mad Max: Fury Road, the movie consists of two long chase scenes in opposite directions separated by a brief section of repose in the middle. Keaton plays a Southern engineer whose locomotive is stolen by Union spies in the early days of the Civil War; mistaken for a coward by his girlfriend and community due to his failure to enlist, he springs into action to retrieve his train, pursuing the spies (and then being pursued by them) in a series of jaw-droppingly elaborate set pieces. The General's influence is undeniable, not only on the aforementioned Fury Road but on movies as disparate as Speed, The Wild Bunch, and Disney's The Great Locomotive Chase, among many, many others. Yet for all the imitations and all the advances in technology, The General is as thrilling as it ever was – maybe more so, since Keaton's life-risking stunts and spectacular pyrotechnics provide a visceral ecstasy no digital effects can possibly replicate. Kino's Blu-ray contains a 2K restoration far superior to any previous home video release of the movie that I've seen, and is packaged as a double feature with another Keaton gem, Three Ages (1923). Two more Keaton restorations, College (1927) and Steamboat Bill, Jr. (1928), are available in a separate set, and both double bills include a generous supply of extra features. My personal favorite is the engaging commentary track on The General by film historians Michael Schlesinger and Stan Taffel, preservationists who have devoted their lives to restoring and drawing attention to the masterpieces of Hollywood's past. (Schlesinger is also a hell of a filmmaker in his own right – check out The Adventures of Biffle and Shooster, his delightful 2015 homage to the comedies of the 1930s.) They, and everyone involved in these four exemplary Keaton restorations, deserve the unending gratitude of cinephiles everywhere.
Another American master gets his due in By Sidney Lumet, Nancy Buirski's delightful feature-length documentary newly available on Blu-ray. Following a format similar to Noah Baumbach and Jake Paltrow's De Palma, By Sidney Lumet consists solely of film clips and an extended interview with Lumet about his life and work. Luckily, that life and work are so rich that nothing more is needed – in fact, if anything the only problem with By Sidney Lumet is that it feels woefully incomplete, a problem somewhat solved by the presence of additional interview material in the Blu-ray's special features section. The documentary focuses largely on those films – 12 Angry Men, Serpico, Daniel, Prince of the City, Before the Devil Knows You're Dead, The Verdict – that highlight Lumet's obsession with justice and the law, with a few detours for oddities like The Wiz and The Fugitive Kind. The moral and aesthetic complexity of the films combined with the historical context of Lumet's life (he lived through the depression, the blacklist, both wars in Iraq and more) gives By Sidney Lumet a breadth and depth that are different from what one finds in Baumbach and Paltrow's documentary. That film is a terrific portrait of one director and of the film industry in his era; By Sidney Lumet is a snapshot of an entire country and its contradictions. The interviews with Lumet were conducted in 2008 and the movies discussed were made between 1957 and 2007, yet the documentary contains countless observations that are startling in their relevance and immediacy – Lumet's insights into the class system in America, or about the prevalence of corporate philosophies and agendas in our media and politics, are more applicable now than they were when he made them forty years ago in Network, or even nine years ago in these interviews. The result, in By Sidney Lumet, is a sort of epic sweep in spite of the fact that the format – a guy in a chair talking about his career – couldn't be more intimate. Add to that a wealth of incisive remarks about the filmmaking process itself and Lumet's penetrating understanding of the entire human condition, and you've got a movie that's essential viewing whether or not you're interested in Lumet's work in particular – though after watching this film, I can't imagine who wouldn't be.
One of Lumet's peers, Mike Nichols, is also nicely represented on home video this week, as his 1990 gem Postcards from the Edge gets the Blu-ray treatment from Mill Creek. Adapted by Carrie Fisher from her novel of the same name, Postcards represented a reinvention not only for Fisher (who used it as a springboard for a highly successful new life as a Hollywood script doctor) but for Nichols, whose late-career second wind (The Birdcage, Primary Colors, Closer) kicked off with this film and 1988's Working Girl after fifteen years or so of middling work. Among Nichols's lesser efforts in that interim was Heartburn, the Nora Ephron-scripted dramedy that first united Nichols with his Postcards star Meryl Streep. Heartburn is better than its reputation would suggest, thanks to intermittent flashes of Ephron's wit and a pair of terrific lead performances by Streep and Jack Nicholson, but Postcards from the Edge is the movie Heartburn should have been – it's all wit, and the wit is scalding from beginning to end. Streep is superb in the second of four great comedies that she would make between 1989 and 1992 (the other three being She-Devil, Defending Your Life, and Death Becomes Her); she plays Fisher's surrogate, a substance-abusing actress who, as Dave Kehr noted in his original review of the movie, uses sarcasm the way Schwarzenegger uses machine-gun fire. The crux of the film is the actress's contentious relationship with her self-absorbed mother, played to delicious perfection by Shirley MacLaine in one of the greatest performances ever committed to celluloid. MacLaine's character is pure ego, a fading star whose carefully cultivated ability to attract all the attention in a room becomes increasingly desperate as that attention starts to wane. Yet for all the savagery of Fisher's conception, MacLaine plays her role with subtle restraint, finding the humanity and poignancy in her character without soft-pedaling the hysteria. Her performance is spectacularly funny, devastatingly touching, and all the more remarkable for how completely unforced it is – it's the best thing in a movie that has a lot of things to recommend it.
Jim Hemphill is the writer and director of the award-winning film The Trouble with the Truth, which is currently available on DVD, iTunes, and Amazon Prime. His website is www.jimhemphillfilms.com.