Back to selection
Networking Can Kill You: Meeting a Murderer at IDFA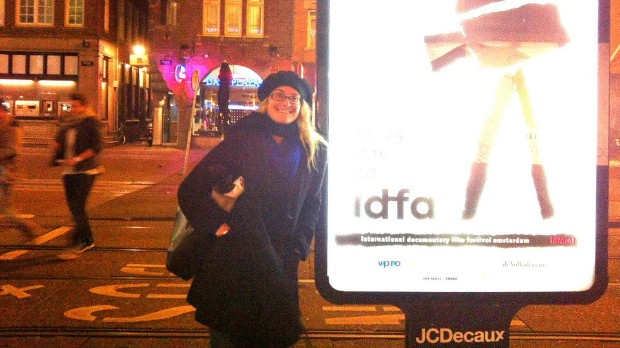 The end of the year is nigh. But in 2013 the film festival circuit will continue, contrary the Mayan calendar. So I'm glad I learned an important lesson from a cocktail party at IDFA. As we celebrate a wrap on 2012 and reflect on what we've achieved and learned over the course of the year, my mind flies back to one of the festival's most memorable moments:
I was sitting in IDFA's official "writing room," just a little stunned. Not just because I was in Amsterdam at the world's largest documentary film festival, hearing the "Sinterklaas" Christmas parade outside and enjoying complimentary beverages and biscuits while I tried to take in the first five overwhelming days and the world premiere of my new film, December 25. But because I'd also just got an email back from a new contact at Cinelan's "Guests Meet Guests" cocktail reception.
I was so happy to meet someone owning up to the title of journalist, let alone find he'd just replied to my email inviting him to my IDFA film premiere. The only problem: I couldn't recall who he actually worked for. So I Googled him.
The first thing that came up: "[Name deleted] is a convicted murderer who killed five-year-old [name deleted] in California in July 2002. He has been sentenced to death, over charges of kidnapping, sexually molestation and asphyxiation."
Thank god for Murderpedia for keeping me informed!
No doubt it's simply an unfortunate example of the fact that Murderpedia ranks higher than Wikipedia – which also attributes the same name to a Mexican telenovela actor – and the journalist's name is likely buried in in lowly Google rankings befitting a documentary film critic, not a convicted murderer.
But maybe in future I should first ask everyone I meet at documentary film festivals not "where are you from" but "are you one of the filmmakers or one of the subjects?" After all, you never know who'll you meet at a documentary film festival. Maybe even your next subject for a film?
WENDY DENT is an award winning Australian writer-director-producer, currently serving as Visiting Scholar at University of Southern California (USC) School of Cinematic Arts, who has wrapped a break-out year with acclaim for the IDFA world-premiere of her film December 25. In 2012 Wendy Dent has also been guest-speaking at Harvard, USC, University of California Berkeley, Stanford and Columbia University with special screenings of her Zimbabwe human rights documentary No News From Harare. Further information on Wendy Dent can be found at her website.