Back to selection
Silver Linings Dominates Spirit Awards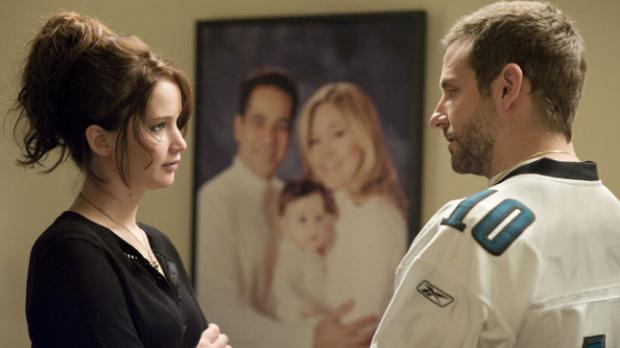 In what may be an indicator of the direction tonight's Oscars will take, David O. Russell's Silver Linings Playbook dominated the proceedings at yesterday's Independent Spirit Awards. The film, which was Filmmaker's cover movie for the magazine's Fall 2012 issue, won big in the major categories, taking Best Feature, Best Director, Best Screenplay and Best Actress (for Jennifer Lawrence).
The awards show was ultimately a rather curious affair. Best First Feature was won by Stephen Chbosky's The Perks of Being a Wallflower, which is actually Chbosky's second film as director. Derek Connolly, screenwriter of Safety Not Guaranteed, won Best First Screenplay and then proceeded to give an acceptance speech that literally lasted over five minutes, and was capped by Bryan Cranston coming onstage to give Connolly (already very clearly quite drunk) a drink of whiskey.
The dominance of the $21m Playbook — at the expense, most notably, of Beasts of the Southern Wild ($1m) — also lead to considerable discussion about the awards' focus on bigger budget movies that aren't actually strictly independent productions. It will be interesting to see whether there will be some measure of adjustment in 2014, in terms of what films qualify for consideration, in response to the widespread dissatisfaction with this year's event.
A full list of the winner's is below:
Best Feature: SILVER LININGS PLAYBOOK
Producers: Bruce Cohen, Donna Gigliotti, Jonathan Gordon (The Weinstein Company)
Best Director: DAVID O. RUSSELL, Silver Linings Playbook
(The Weinstein Company)
Best Screenplay: DAVID O. RUSSELL, Silver Linings Playbook
(The Weinstein Company)
Best First Feature: THE PERKS OF BEING A WALLFLOWER
Writer/Director: Stephen Chbosky / Producers: Lianne Halfon, John Malkovich, Russell Smith (Summit Entertainment)
Best First Screenplay: DEREK CONNOLLY, Safety Not Guaranteed
(FilmDistrict)
John Cassavetes Award: MIDDLE OF NOWHERE
Writer/Director/Producer: Ava DuVernay / Producers: Howard Barish, Paul Garnes (AFFRM in partnership with Participant Media)
Best Supporting Female: HELEN HUNT, The Sessions
(Fox Searchlight)
Best Supporting Male: MATTHEW MCCONAUGHEY, Magic Mike
(Warner Bros.Pictures)
Best Female Lead: JENNIFER LAWRENCE, Silver Linings Playbook
(The Weinstein Company)
Best Male Lead: JOHN HAWKES, The Sessions
(Fox Searchlight)
Robert Altman Award: STARLET
Director: Sean Baker / Casting Director: Julia Kim / Ensemble Cast: Dree Hemingway, Besedka Johnson, Karren Karagulian, Stella Maeve, James Ransone (Music Box Films)
Best Cinematography: BEN RICHARDSON, Beasts of the Southern Wild
(Fox Searchlight)
Best International Film: AMOUR (France)
Director: Michael Haneke (Sony Pictures Classics)
Best Documentary: THE INVISIBLE WAR
Director: Kirby Dick / Producers: Amy Ziering, Tanner King Barklow (Cinedigm Entertainment Group)
Special Distinction: HARRIS SAVIDES