Back to selection
10 Lessons from the Film Festival Circuit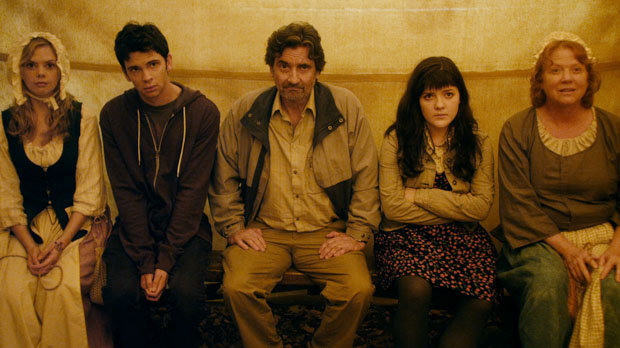 The Discoverers
I just got back from eight film festivals in less than four weeks with my first feature, The Discoverers. We've been fortunate to win a few awards, get great press and meet new friends this past month. I'm sharing a few things I've learned to hopefully help fellow filmmakers on their own unique journeys.
1. Embrace your audience
Festivals can be a lot of things: a market where distributors see your film, or an opportunity to get press, but they are also your first time to connect with an audience. Embrace the experience of sharing your work in a theater and remember why you made a film in the first place — to share a story with an audience. I've had many moving conversations with strangers who connected with our film and shared their personal stories about how and why it resonated with them. These are memorable experiences to savor.
2. Leverage the festival experience
Festivals are a unique opportunity to share your film, meet potential collaborators, get press, connect with fans, and win awards. We never planned on going to eight film festivals in one month, but we knew we had to take advantage of the opportunity to connect with so many new fans. We launched a Kickstarter campaign to support our theatrical release so we could partner with these fans and our existing ones to help bring our film to theaters nationwide. We have less than a week left in our campaign; perhaps you might join in as well?
3. Invite new fans onto your team
Each screening is an opportunity to invite your audience to join your team and capture their enthusiasm to support the project. When you intro your film, tell them your social media addresses, and during your Q&A, pass around clipboards to collect email addresses. To further incentivize people to connect with us, we give away movie swag. Aldo Puicon, our title designer and friend, designed very cool buttons that people love to wear, and we also raffle off Field Notes donated by the fine folks at Coudal Partners after our Q&A to reward our new fans. The supporters you gather through festivals will help throughout your film's remaining lifecycle, including the critical push to get people into the theater on opening weekend.
4. Walk the line
Whenever possible, I like to walk the line at festivals and talk to my audience in the queue. It's a great opportunity to do audience research, see what's connecting with your fans, and how you may want to adapt your marketing. It's also just kind of interesting to find out what draws people to movies in a time of infinite entertainment choices. I ask why they chose to see our film? Who chose the film? Was it the actors? The story? A review they read in the local paper?
5. Festivals open people up
Festivals are a unique venue for filmmakers, industry, press, and patrons of the arts to connect. People who might not take your calls during their daily grind will want to meet you and hear about your projects. Maybe it's all the free-flowing booze, but agents soften, producers want to learn about your next project, reporters will tell you about their families, and you might even meet your next investor. I sat next to a producer I've long admired on an airplane to Berlin, shared a ride with a distributor whose work I love on the ride from the airport to RiverRun, partied with critics, and met tons of great filmmakers who've become friends.
6. Extend your filmmaker family
Once you begin the circuit, you start to see the same filmmakers who become familiar faces for the next few months. You root for each other, trade war stories, and share information about how to navigate the waters ahead. I met Will Slocombe, who just premiered his third feature, Pasadena; the Nelms brothers, who are also doing a Kickstarter for their film Lost on Purpose; Rola Nashef, who's doing an Indiegogo campaign for Detroit Unleaded; fellow New Yorker Amos Posner, who just premiered his first feature B-Side; and so many other great people I hope to keep in touch with.
7. Not all festivals are equal
It feels good getting that festival invite, but it's only worth playing at festivals that align with your goals — every festival is work for the filmmakers, and your time is a valuable commodity. Will the festival help you get exposure and connect with new fans? Will you get press? Are you up for awards? Will they help fill the house, or do they expect you to market to their audience? Once invited, ask the programmer or festival director so you know who they provide travel for, if you are in competition, if they offer a screening fee, and what will they do to promote your film. We declined invitations from some festivals that didn't seem able to provide us with the kind of welcome and support we needed.
8. Use festival programmers and filmmakers as your guide
Festival directors know each other and they know the other festivals. Ask the programmers where you should go next and if they can connect you with programmers who would be a good fit for your film. Also ask filmmakers where they had a good experience, who had good audiences, who cared about filmmakers.
9. Blend work and life
A filmmaker's career is unpredictable and requires long hours, which can make it hard to get quality time with your loved ones. Unlike a film set, or the editing suite, festivals are a welcoming work environment for family to join in. When possible, I try to bring along my wife (who is also one of my producers) and our baby, and take advantage of the opportunity to travel to new places as a family. Our son was born 10 days before our film premiered and came along with grandparents in tow while we walked the red carpet. He's had a lot of firsts on the festival circuit — first airplane ride, first dip in the ocean, first glide through a swimming pool, first hotel pack and play, first movie (until he squawked back at the screen), first fever, and his first time sleeping through the night!
10. Get a good overnight bag
Schlepping around the country in support of this film has given me a new appreciation of travel tools. My bag of choice is the Northface small base camp duffle. It's waterproof, easily fits in an overhead (even on small regional flights), and holds your clothes, postcards, clipboards, and more.
About The Discoverers
3 Generations, 2 Centuries Remixed, 1 Dysfunctional Family: The Discoverers is a bittersweet comedy about a family forced on a Lewis and Clark historical reenactment trek who discover themselves and each other as they make their own passage across America. The Discoverers stars Oscar and Emmy nominee Griffin Dunne (After Hours), Madeleine Martin (Californication), Emmy-nominee Cara Buono (Mad Men), Emmy-winner Stuart Margolin (Arbitrage), Ann Dowd (Compliance), Dreama Walker (Compliance), Devon Graye (American Horror Story), David Rasche (In the Loop), Becky Ann Baker (Girls), Scott Adsit (30 Rock), and John C. McGinley (Scrubs).
Learn more at
Facebook.com/TheDiscoverersMovie
Twitter.com/TheDiscoverers
Discoverersmovie.com
Kickstarter