Back to selection
How the IFP Screen Forward Lab Saved My Life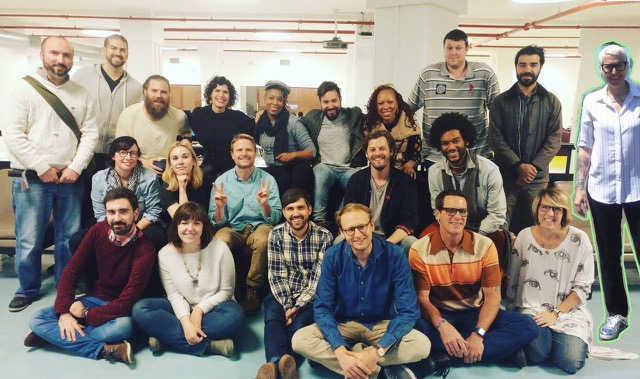 It's 8:45 am on a drizzly Monday morning, day one of the 2017 IFP Screen Forward labs. We arrive early enough to get coffee across the street and stumble onto one of the strangest things I have ever seen: a small temperature-controlled vacuum-sealed doghouse to seal your dog inside while you grab a coffee. Is this a New York thing? I don't know how I feel about it.
9:00 am. We cross the threshold of the Made in New York Media Center by IFP for the very first time. I clutch the shoulder straps of my dorky new backpack while my heart pounds a million beats per minute. Is it the first day of kindergarten? I'm wide-eyed and clumsy. Why can't I breathe? Suddenly, a sharply dressed man comes running towards us with open arms. "Welcome, Cleaner Daze!" It's Gabriele Capolino, Programming and Special Projects Coordinator for IFP. We have a group-hug moment and I ask, "How did you know?" With a mischievous smile, he replies, "Of course I know" and shoos us into the café to meet the other lab attendees.
The first team we meet is Camp Abercorn, a series about coming out gay in the Boy Scouts. We bond instantly. As they rattle on excitedly about where they are in the process, I find that I can't stop smiling. We have everything in common: empty pockets, big dreams, and "teen" cast members who are aging out of their roles as we wait indefinitely to shoot more of our series. As others start to arrive, I beeline for the mini-pastries and scarf down the tiniest cheese danish I've ever seen. As I'm reaching for an equally tiny cinnamon bun, I run into the creator/performer team who are the geniuses behind the comedy series Angry Black Women. They finish each other's sentences and have me laughing so hard I really have to make an effort to keep coffee from shooting out of my nose. Right about then, it hits me. This isn't a competition; it's summer camp. I already don't want to go home.
At 10:00 am, we move into the theater to watch everybody's projects. It's the first time we've seen our pilot on the big screen and I'm nervous our rough cut may look a little too rough. Each team is invited to introduce themselves briefly, screen five minutes of their show, and give an example of one of the weirdest things that happened during production. I'm surprisingly nervous. I mumble something about how weird it felt to teach a couple of my actors how to cook heroin in a flashback scene. I am happy to sit back down and watch the others.
We break for lunch. While everyone files out of the theater, I find myself unable to move. A smile is frozen on my face. I look around at the lush velvety walls, the perfect rows of red fabric seats. My mind wanders to David Byrne lyrics: you may find yourself in another part of the world… and you may ask yourself, well, how did I get here?
The truth is, I am pretty sure I'm more excited than anybody here. Why? Because I live in Santa Cruz. And the thing about Santa Cruz is that while yes, it's beautiful, it's got great surf, yada yada yada, there isn't much of a film community there. If you want to join a drum circle, move to Santa Cruz. If you want to shoot a series, you will be very very alone.
Rewind.
When I met my husband at Burning Man in 2009, I had to make a very difficult decision. Love or Hollywood. I chose love. And that meant stuffing my fresh-off-the-press MFA from UCLA film school into a duffel bag, loading up my van, and moving to the Santa Cruz Mountains — where I almost died. Although I love my husband/writing partner with all my heart, I quickly came to realize that you can take the woman out of Hollywood but you can't take Hollywood out of the heart of a woman. A couple months after the novelty of having chickens and an organic garden wore off, I was alone on a mountaintop. I googled student loan debt and suicide.
I stayed alive by writing a feature and dreaming about making it. But after three years of writing, rewriting, look-booking, and vision boarding a feature film I loved but couldn't possibly get off the ground, my cinematographer friend Dagmar Weaver-Madsen told me about a little web series she had worked on with a friend in New York. That little series was called High Maintenance. She told me I should consider writing a web series, something doable with the resources I have. Taking her advice to heart, I did.
Cleaner Daze is a raw, dark comedy series about drug addiction, set in a rehab for teens. Since I'm a recovering heroin addict and I know rehab all too well, it's the tragedy-plus-time-equals-comedy story I was born to make. We wrote two seasons, held casting sessions at the community center and made a pitch video. We crowd-funded to shoot a pilot. We forced ourselves to learn Twitter and Instagram. Our "local teens in recovery" story made the front page of the weekly. It seemed like it was all happening as it should.
And then we applied to Sundance New Voices and got rejected. Then we applied to IFP No Borders — and got rejected. The rejections were starting to take a toll. Is my heart turning black? I stare up at the sky and beg for the answer to the cosmic question we all battle with: "Why waste another 50 dollars on a submission fee?" Mom has to remind me that I can't fail if I don't stop trying. We keep going and shoot five kick-ass episodes in January.
Suddenly, it's time to apply to IFP again. I call my mom for a pep talk and she reminds me of her version of that famous Winston Churchill quote, "I go from one failure to another with great enthusiasm!" I know she's right. Everyone knows these labs are game changing. So I put on my big girl pants, pull out my credit card, sum up my everything into 500 words or less, and send our pilot off to IFP.
As we wait to hear back, I am alone in my bedroom/office/bedroom editing episodes two and three of Cleaner Daze, obsessively checking my email a million times a day. Meanwhile, friends and family plead from the sidelines daily: "When can we watch it on Netflix?" I swallow hard and promise it will be someday soon. But the truth is, I have no fucking idea. How can I pitch an original series to Netflix or get a meeting with a development executive at Vimeo when I'm sitting here in my footie pajamas a million miles from anywhere?
And then everything changes. On March 24, 2017, an email from Gabriele at IFP arrives informing us that Cleaner Daze has been selected for the 2017 IFP Screen Forward Labs. I scream out loud and run down the stairs screaming. I find Dan, my writing partner/producer/firefighter/husband, welding in the garage and throw my arms around him. "We got in! We're going to New York City!" I put on the first New York-themed song I can think of (Beastie Boys' "No Sleep Till Brooklyn") and call my mother.
We always knew the IFP Lab would be a game changer if we got in. And it was, beyond our wildest dreams. Every day, all day, for the most exciting and creative week of my life, we were supported, challenged, inspired, and wowed. The IFP team scooped us out of the fuck-its and dragged us out into the glorious sunshine of we got this. During the day two morning session, I ask, "How can we get through the gatekeepers to pitch our series?" Amy Dotson, programming director/superhero of IFP looks over and smiles. "Oh, it'll all be different now." she says. "You're with IFP!" Did I just join a gang?
Day two, 12:30 pm. I am so excited to be in our IFP lab class picture, I run into the bathroom to put lipstick on, and miss it. (See photo above – #fixedit) We have until 2 pm to figure out an intelligent list of questions for the afternoon session "Working with Platforms and Brands," where Cleaner Daze will be a featured case study. Alex Vlack from Eko will be there. We get a cheesesteak for lunch and deep dive into all the cool shit Eko is up to with their interactive VR storytelling platform. Suddenly our 360 VR component is seeming like small potatoes. When the time comes to talk to Alex, he pretty much tells us that our VR component isn't really VR and maybe we should just consider shooting it as a "flattie". Ouch.
Before we got to the lab, we sort of thought we knew what we were doing. We were excited to be the cool kids, the only project with a VR element, the only "transmedia series" on the slate. But VR is only a small element of our big picture and we don't want it to distract from our traditionally shot narrative episodes. By midweek, we are sitting in a breakout session with Amy and I ask for advice about our nutshell pitch. With a glint in her eye, Amy admits she finds the word "transmedia" nauseating. We all laugh. These are conversations we needed to have. While painful at first, we know this is why we came.
So, we're on a plane flying home now. I have a stack of business cards from executive producers, heads of series development, agents, studios, and fellow creators bursting out the seams of my too-small purse. I have a lot of follow up emails to write. But something has changed in me. I'm not the same woman I was a week ago. I can't quite put my finger on it, but I'm breathing easier. I am not needy or desperate anymore. We may have some fine-tuning to do and a pitch to nail, but we got this. Watch out world, Cleaner Daze ahead. See you at Film Week!