Back to selection
Mr. Robot, Man in the High Castle and More are Dissected at the Inaugural Split Screens Festival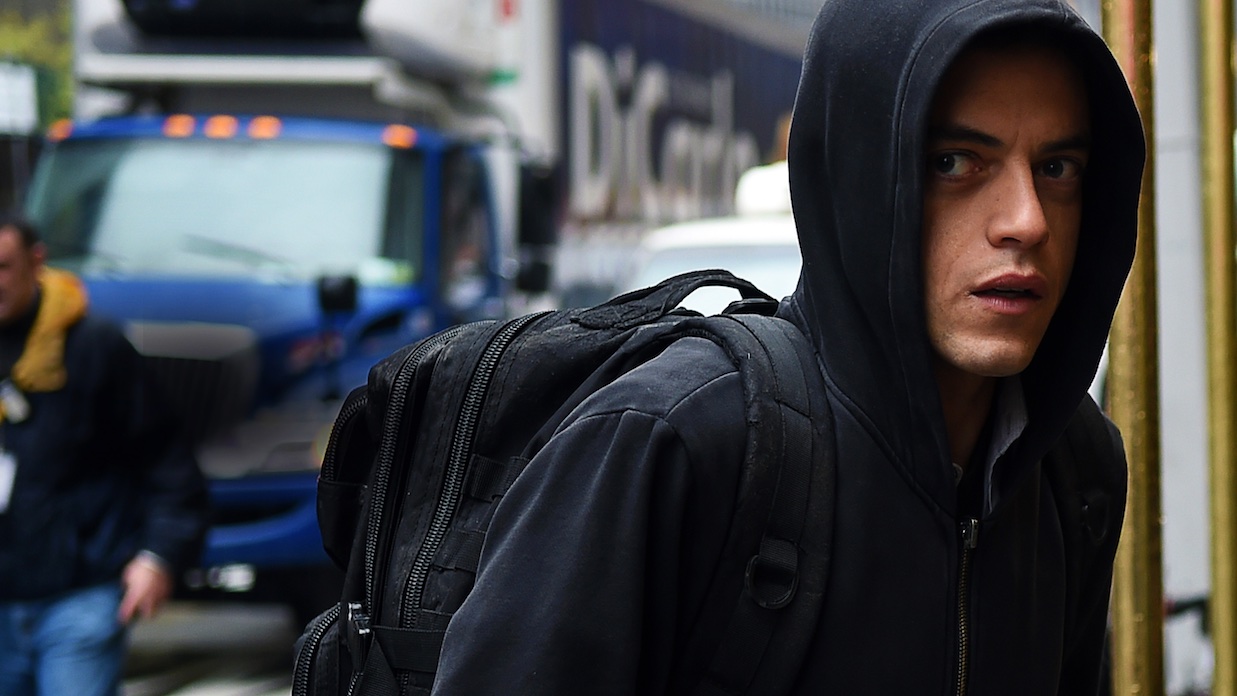 Mr. Robot
The inaugural year of Split Screens Festival, celebrating the art and craft of television, kicked off Friday night, June 2, at New York's IFC Center, and it runs through June 8. The festival's programming team is headed by Matt Zoller Seitz, Editor-in-Chief of RogerEbert.com, TV critic for New York Magazine and Vulture.com and author of several books on film and television.
I attended the first full day of screenings and panels on Saturday, and it was an incredibly varied line-up. Following "The Evolution of TV Criticism," which I'll cover in a separate post, there was a showcase of the behind-the-scenes world-building of Man in The High Castle, the Amazon Studios series based on the Philip K Dick novel of the same name. The show is set in 1962, in an alternate United States reality where the Germans won World War II. Giving an inside look at the crafting of that alternate reality were the show's production designer, Drew Boughton, costume designer J.R. Hawbaker, and executive producer Richard Heus.
Boughton ran through an eight-step breakdown of a sequence set in San Francisco's Union Square park. He first took a historical photo and then simply drew the characters on top of it, a simple sharpie-on-Xerox procedure first step. From there it's on to pencil drawings that detail the practical elements his team will need — a bench, hedges, a building, etc. — when this set is later built in an empty parking lot. Then the drawings become more and more detailed, with camera angles, notes, details, color, visual effects elements like billboards, and then reverse shots and other angles. By the time he showed us the actual shot from the series, it was that much more satisfying (and frankly fun – who doesn't delight a bit in this sort of thing?) for having seen the many stages of its evolution from historical photo to fleshed-out alternate reality.
Hawbaker noted that just as often, the decision is more about what to take away from an environment than what to keep. She said she always tries to make her costume design believable, so she roots it in historical research. She explained that her department goes through an intense research period, looking at everything from period buildings to clothing and the way people move, adding that, "these are all cultural cues, and culture is a river that flows." She also feels that she's holding up a mirror to us today, noting that as she looked out at the audience, she saw everyone with very individual style, and that's what you find in a democratic culture. But if you take away the democratic dominance in culture and it becomes fascist, you have to reflect that by taking away that individualism and optimism.
She told a fascinating story that once again began with a historical photo, this time of a packed 1939 Madison Square Garden Nazi Party rally. ("And so that's something that happened," said Bougton, echoing my thoughts exactly.) Hawbaker was fascinated by the image, so much so that she tracked down the New York company that historically made buttons for military uniforms; they at first refused to acknowledge that they'd ever made buttons for the American Nazi party. Once they'd finally confirmed that they had in fact done so, she learned that the machine that made those buttons was long broken. So Hawbaker got that machine fixed, and those buttons are now part of the show's wardrobe, swastika and all.
After a quick lunch it was time for a conversation between Seitz (who moderated all panels) and Rami Malek, star of USA Network's Mr. Robot. Malek is clearly someone who is passionate not just about his craft, but also about the projects he chooses to work on. In Mr. Robot, he plays computer expert and secret vigilante hacker, Elliot Alderson. The character is socially anxious, to say the least, but he's also someone who is trying to be heroic, to step outside of himself, and to step outside of the monitor and interact in person, despite his anxiety. Malek wanted to give him a sense of gravitas that would make the character believable, the sort of person who anyone who knows what it's like to be on the outside of society could relate to.
"I think what people relate to is they see themselves," he said. "Deep down in all of us [there's] this person who wants to change their core but also to ultimately seek justice for the world around them." Seitz pointed out that Alderson isn't a superhero, he wasn't bit by a spider. Malek agreed: "He's a hero for our time." He added that the character has a strong voice, without looking like the typical hero we've all seen for the last 15 to 20 years on TV. He has flaws, he's socially anxious, and he still strives to improve the world around him: an unconventional hero.
Rounding out the day were full episodes and discussions with the creators of two very different series: Search Party (TBS) a comedy-noir or, perhaps, a satire about a group of millenials looking for a missing girl, and The Sinner, a seemingly much darker exploration of the reasons behind a murder. The latter's pilot episode set up what should be a cut-and-dry case: a woman kills a man on a beach in broad daylight in front of 20 witnesses, including her husband and young son. But Seitz described it not as "who-done-it" but a "why-done-it." Tonally, it seemed to borrow from David Lynch or True Detective's first season, with a slightly dreamlike atmosphere wrought in repeated slow camera moves in on patterned wallpaper, trance-like music, and long takes, like a lingering shot following Jessica Biele's character, pre-murder, into the altered space of the underwater world. It also features multiple characters (including Bill Pullman as a sad detective/BDSM submissive) who don't seem quite clear on what's motivating their own actions.
Series creator and showrunner Derek Simonds relayed that the creators wanted to find a line between surrealism and reality and to infuse the show with a sense of metaphor. He described it as "essentially a character study in the frame of a mystery" and said that in the course of the show, they pull back the layers of Cora's (Biele's character's) psyche. "It's all about the layers of self," Simonds said. He added, "We're taking into account how memory works and how, when you revisit a memory, you can re-contextualize it."
Simonds developed the project with Biele and two executive producers for about two years. Director Antonio Campos came on when Simonds saw Christine, his recent film about another female character (in that case, a newscaster who does something shocking on-air) who's "not dealing with reality in a normal way." And it was the complexity of both characters that drew Campos to these projects.
It's hard to know for sure whether a show will work after just seeing one episode. It didn't seem to have the kind for standout performance — like Matthew McConaughey's in True Detective — or the existential and philosophical (and some say, heavily borrowed from author Thomas Ligotti) angst that made that series such a pleasure, though they're obviously going for some of that (with an added dash of quirk and kink), with Pullman's character and what felt to me like a heavy-handed backstory with an abusive mother. Time will tell.
The last event of the day was a mid-season episode of Search Party. I haven't seen any of the series' first season, but it was still easy enough to pick up on the characters and plot, though both creator Sarah-Violet Bliss and and executive producer Lilly Burns said it was not a typical episode. They agreed that in fact, it would be hard to pinpoint what such a typical episode would be because the show doesn't really try to balance its disparate elements: comedy, satire, thriller, character study and noir. And while Seitz enthusiastically vouched for the effectiveness of this blend, I just found the characters annoying. But you know what other show has annoying characters but which I ended up really loving? Girls. And that's worth noting because Burns credits part of the impetus and inspiration behind Search Party as both Fort Tilden (Bliss' earlier film with series and film co-director Charles Rogers), which is millennial satire, and Girls. So the concept for Search Party was to place a Brooklyn-set millenial satire within a totally different genre framework, such as a noir.
Speaking of seemingly annoying characters, Burns noted that you can't have a whole season where you're poking fun of your characters: "You need to invest in them emotionally for it to work." Some of the ideas in the show sound pointedly relevant and current: performative grief in a social media age, with characters who don't even know the missing girl but co-opt others' misery and take it on as their own, or about the way people regularly post to social media as a replacement for taking actual action.
The show shoots on real New York locations, and Alia Shawkat's performance as Dory is a nuanced portrayal of a young woman for whom the search for another woman is a way of finding herself without needing to have the self-knowledge to acknowledge that fact.
I'm interested in following Search Party to see if it actually goes to the dark places it hints at. But, on the other hand, time is tight, and a television series asks for a lot of it. My one day at the festival offered much variety, shed some light on the how and why of several series and raised several questions about the blurring of the boundaries between feature and episodic production. With the series continuing this week, there are several more panels and events coming up that will potentially be of interest to filmmakers. You can see the whole schedule here at the link.