Back to selection
The 12 Most Desired Final Cut Pro X Features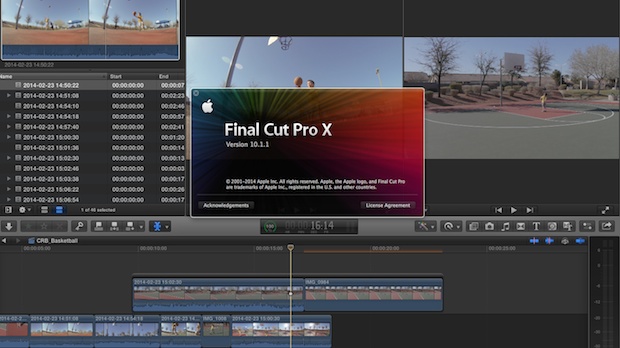 Final Cut Pro X (FCP X) was announced in April of 2011 and released in June of the same year. In the nearly three years since its release I have slowly increased the amount of work I do with it. As of this writing I am in the early stages of editing a feature-length documentary using Final Cut Pro X. I agree with the post-production masses that say Apple should have handled the launch of FCP X much better than it did. I could go on and on about what I wish they would have done differently. I won't. That is not the purpose of this article. It is also not a point-for-point comparison of editing apps. And I'm not here to debate whether it's a pro tool or not either. Many people have been cutting great things with FCP X just like with Avid, Premiere and previous versions of FCP. What I do want to do here is look at where FCP X currently is and what I hope Apple does to continue to grow it and make it better.
The FCP X update that was released along with the new Mac Pros in December of 2013 was the most important update since the launch of FCP X. As much as I am extremely grateful for the benefits of that update I still think there are big improvements that can be made. Here are 12 of my most wanted FCP X features in no particular order.
1. Make the Event viewer useful. It would be nice to be able to do more than just hit play, view, and stop from this window. I want to be able to scrub, set in and outs, markers and keywords in this window.
2. Add visual timeline navigator. A smaller overall view of the timeline, an aerial view of sorts. I'm sure you've seen this kind of thing before. On big projects this could be very beneficial.
3. Add ability to lasso select edit points. Having choices of how we do things is a great thing. I would love to have another option to select an edit point and enter the trim tool or apply a transition. I'm sure there is some way Apple can make the lasso tool do this.
4. Allow timeline locked markers. I love a lot of things about the way that markers currently work in FCP X but I don't understand why we can't have markers that are locked to a specific place in time in the project and not just to a clip.
5. Allow more flexible sharing of timeline sections. Thanks to some feedback I've changed this item a bit from its original posting. On big projects sometimes it's easier to send just a section of a timeline to the audio guy rather than the entire timeline every time you make a tweak. So being able to send an XML of only part of the timeline would be nice. That way they can mix only one section if need be. Also, it would be nice to see the timeline section where the timecode is displayed near the top of the window.
6. Add the precision editor in secondary story lines. The precision editor in FCP X is a great tool but we need to be able to use it in secondary story lines, not just the primary.
7. More keyword choices in the keyword shortcuts editor. Adding keywords to clips is like adding metadata tags. It's an extremely powerful tool that helps present your media in a variety of ways. It also makes searching for a specific kind of clip very easy. The keyword editor is the window where you type in these keywords to create them. This window also stores 10 keywords for easy access. I want to be able to add more than 10 to this window. It would be nice for the amount of keyword shortcuts to increase automatically when I enlarge the window. Having a slider to adjust the amount would work too. Either way, add more keywords please.
8. Longer more detailed view of clips in Events. This one also about options. Currently, in the event browser you have two views, list view and filmstrip view. In the film strip view your clips can be represented by one frame or you can see multiple frames representing different parts of the clip. In list view no matter how long or short the clip is it is represented in the same way. I would like an added option to viewing clip details. When I click on a clip to view it I would like it to be shown below the event viewer where the projects are displayed. Here I would like to be able to get a detailed view of each frame and audio details. Garageband and Logic Pro have something similar to this for audio.
9. Add a "Send to Motion" option. I love using Motion to create custom text templates, adjustable backgrounds and custom transitions for FCP X. What makes me scratch my head is the fact that I can't send a project to Motion or even a just a clip. Motion has the masking tools that you expect from a compositing application and FCP X does not. Give me the option to send a project or a clip to Motion for access to better effects and compositing tools.
10. Treat projects like clips. The addition of libraries in the 10.1 might be the most important change we've seen in FCP X. I like being able to organize projects in a similar way that I do media but I want Projects to behave like video clips in other aspects as well. I should be able to scrub through a project in the browser just like a clip. I should be able treat that project like a compound clip and insert it into the project I'm currently working on.
11. Ability to save custom window layouts. Although FCP X actually has only one window (if you're only using a single display that is), there are many layout combinations depending on what you have open and what size you have each section set to. It would be nice to be able to save custom layouts so we could easily switch to a better color correction layout, a better editing layout and a better layout for graphics, etc.
12. Add an AAF Export option. The built in XML export is great but it doesn't carry media with it. Yes, you can consolidate all media from a project for easy sharing and archiving. If you want to get your project to an audio guy (industry term) purchasing a third party app called X2Pro is currently your best bet. It takes the FCP XML and the associated audio and makes a Pro Tools compatible AAF file. We are all grateful for X2Pro but this should be built in. Again, XMLs are great for most things, except for your Pro Tools audio guy (industry term).
With each update of Final Cut Pro X my wish list has changed. I will revisit this list after each update and see what has been addressed and what hasn't.
What do you wish Apple would fix or add to FCP X? Give me some feedback. Let me know how you are using FCP X on your current projects. Help me keep this list evolving as things change.