Back to selection
Inclusive Feelings at the Oak Cliff Film Festival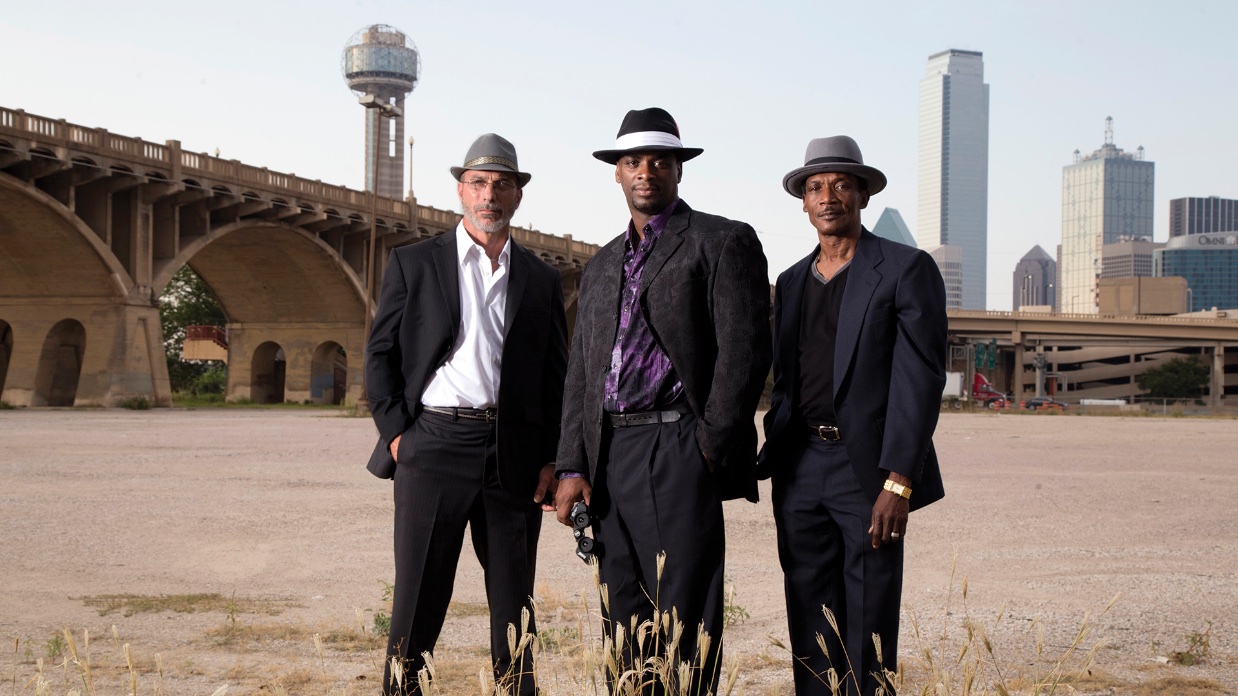 True Conviction
There's an argument happening at the bar of the Texas Theater. No, it's not about politics, as one might guess with a liberal film crowd taking over a small pocket of Texas. This is Oak Cliff, the blossoming cultural community north of the Dallas Trinity river, and no, the conversation is not about karaoke either. The Oak Cliff Film Festival opening night party was at Barbara's Pavilion, a dive bar in a re-purposed home. As the film festival crowd rolled in around midnight, badges and conversations about Lemon and 35mm making the nerd fumes quite potent, the argument was about whether or not the karaoke night should move to a new spot next year — a more "exclusive" venue where the festival could control the crowd. But it was Texas Theater owners and festival co-founders Adam Donaghey and Jason Reimer who were the ones pushing back on the idea: we want to include the locals because that's the whole point.
Most festivals like to pamper their VIPs (filmmakers, talent), elevating them above the local crowds who buy the tickets and fill the seats. But at Oak Cliff, there is just as much emphasis on the audience as the creators — which is not to say they don't treat their filmmakers and guests with unbeatable Southern hospitality. Closing night of the festival, a line wrapped around the block of the Texas Theater for David Lowery's A Ghost Story — Texas-shot and a family affair (and boasting Donaghey as a producer). I stood next to Dallas Film Festival Director James Faust at the bar and ask, "Are they coming out for Casey Affleck? For Rooney?" He chuckles and sips his beer. "They're coming out for David Lowery." At the Q&A afterwards, Lowery says, "The goal with this was to make a movie with our friends." He says it was "liberating" for everyone to make a movie in secret and without the added pressure of other cooks in the production kitchen.
When I grew up in Dallas, there weren't indie theaters like the Angelika or Landmark Magnolia. Independent cinema took effort. I went to Premiere Video to rent Nosferatu and Woody Allen on VHS and often kept them and paid the fee. So I appreciated Oak Cliff's nostalgic flourishes, whether those were a showcase of films projected on 35mm that included Gabe Klinger's Porto, or simply films like Person to Person, Dustin Guy Defa's gentle, introspective NYC drama, and Infinity Baby, Bob Byington's odd portrait of coupledom and procreation — films that evoke an affection for the past and are sprinkled with cinematic inspiration from the '60s and '70s.
Elsewhere in the program, Peter Vack returned with his debut feature, Assholes. The film has been dubbed disgusting, and while it isn't for sensitive stomachs, it is a refreshingly honest and hilarious depiction of love and sex. Indeed, Oak Cliff this year didn't shy away from films that had polarizing premieres elsewhere. Janicza Bravo's Lemon, like Assholes, was one of them. People I spoke to loved or hated it. I was in the former category. In Bravo's debut, Brett Gelman (Bravo's real-life partner) plays Isaac, a down-on-his-luck acting coach/wannabe actor, flirting and fucking it up in L.A. Bravo's talent for milking humanity from each frame and Gelman's knack for awkward humor creates a brutal yet amusing portrait of lives lived in quiet emotional chaos. I met Gelman outside the historic Turner House where the festival was having a happy hour and told him that I get asked a lot why I left L.A. for New York. "I'm going to start responding with, 'Watch Lemon,'" I said. The film creates a filmic version of the depressive fog that hangs over the city, giving us the space to either laugh or cry. Later at 3:00 AM, I would find myself leaving a house party in a car crammed in with Bravo, Vack, Gelman and director Jeff Baena, who teamed with Aubrey Plaza for The Little Hours, a clever tale of nuns and suppressed sexuality, adapted from one story in The Decameron and featuring Nick Offerman in a medieval banged wig.
For every more comedic film, there were others with a bit more gravitas. Alex Ross Perry's Golden Exits, Jodorowsky's Endless Poetry and Dallas-made documentary True Conviction were highlights, the latter of which took home the Jury award for Documentary Feature. (Another Texas-centered film, La Barracuda, won the Narrative Feature award.) There was a subtle thematic throughline across the slate as a whole — an examination of failure and expectation. You see it in Golden Exits, where married men spiral into an undefinable obsession with a young woman named Naomi (Emily Browning). Their wives wait at home, silently suspecting they've been betrayed by their partners — emotionally if not physically. Perry creates a sensitive exploration of modern coupledom and how desire is stifled and also exacerbated by the pressures we put on each other and ourselves. The film may not be as compelling as Listen Up, Phillip and focuses almost entirely on upper-crust New York culture, but, like Person to Person, it encapsulates intimate stories within skillfully braided vignettes.
Matthew Salton's Richard Twice and Joseph Sackett's Pregnant were shorts that also carried the same delicate but determined themes. Richard Twice profiles a musician whose success never came to be but who still writes hauntingly beautiful music. Pregnant follows a man who, yes, is having a baby. Seeing the emotional turmoil of a man in a woman's shoes is strangely satisfying and empowering. For him, is having a baby the pinnacle of "success?" And then there was centerpiece Endless Poetry, directed by Alejandro Jodorowsky. "Life does not have meaning, you have to live, live, live," the 87-year-old Jodorowsky tells his younger self in the film, which unfolds as a journey through the filmmaker's youth. The film is successful in every other moment, aided by Jodorowsky's eye for vibrant visuals and flair for personal musings — the director making love to a little person on her period, or to a woman with a skull-painted spine. The female objectification was admittedly distracting, though, and at this point in Jodorowsky's career, it seems like he was more interested in finishing some of his poems for the screen, especially the one to his father, before the clock runs out.
Texas filmmaker Byington's Infinity Baby doesn't quite weave together rhythmically, but Kieran Culkin's character is nonetheless a most glorious depiction of the modern "dick" — a man-boy who can't commit while being surrounded by women waiting for him to grow up. Jamie Meltzer's documentary True Conviction was a surprising and profound experience. The film follows three exonerated men who have dedicated their lives to freeing other wrongly-accused prisoners. The men are superbly charismatic, and their passion combined with the film's depiction of jaw-dropping corruption within the Texas judicial system makes for a rousing piece of work. "You can't imagine what they went through, what we went through. It was a message that needed to be foretold," said Johnnie Lindsey, one of the film's "freedom fighters," during the Q&A. I sat next to a very young child during the screening, 3 or 4 years old, wondering what he thought of such a dark film. But at one moment, he pointed to the screen and squealed, "Daddy!" He was freedom fighter Christoper Scott's grandson. Local film festivals supporting local films reminds communities of their shared culture and unites them in their battles. "Do your research on [elected officials] — micromanage them," Lindsey urged the audience after the screening.
When the house lights came up after A Ghost Story on that closing night, the energy was kinetic. Afterwards, the crowd spilled into the lobby where the after party was held. There were no ropes or VIP sections. People sipped their free beer, elated, and talked about film — the ones they saw and the ones they wanted to make — or had. It was a supportive space in which to talk about process and product. The film industry can be such a cool kids club –and one that so few are invited to. At Oak Cliff, the club is one of inclusion.