Back to selection
"Women Don't Always Get to Play the Funny Parts": Julie Klausner Talks Making Difficult People Herself at IFP Week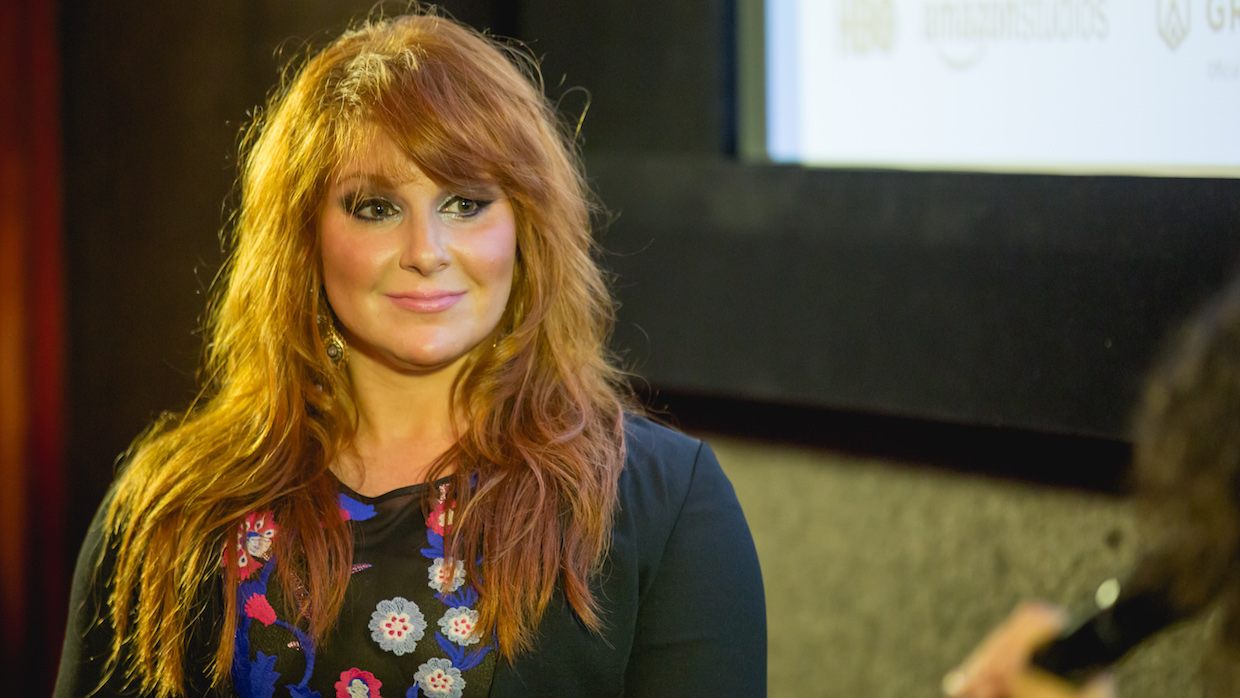 Julie Klausner stops by IFP Week 2017 to talk about her show Difficult People
If there's a common thread that runs through any truly original work, it's this: The creators saw something that wasn't in the world, so they created it themselves. You hear that a lot in independent films. You also hear it, increasingly, in TV now too. The lines separating cinema and television are getting blurrier. For further proof, witness Julie Klausner's appearance at IFP Week 2017. Klausner is the creator of Difficult People, which is not a movie but a hit TV show on Hulu. But the way she approached her TV show sounds a lot the way indie filmmakers talk about their passion projects.
For starters, the thing Klausner wasn't seeing in the world was not just bigger roles for her. Before Difficult People was born in 2015, she'd made a mark. She was an actor, a performer, a writer for both TV (Best Week Ever, The Big Gay Sketch Show) and online (Vulture, The Awl). She had a podcast (How Was Your Week?) and had written a popular book (2010's I Don't Care About Your Band, which was nearly turned into a movie by Will Ferrell and Adam McKay). The other thing she wasn't seeing was the kind of characters she'd like to play.
"The funniest roles are jerks or morons. Women don't always get to play the funny parts," Klausner told moderator Lara Zarum, a staff writer at The Village Voice. "When it comes to comedy, roles for women are either supporting or quirky. They're need-filling objects or one-note, or else they supplement the male character, who is funny. I took inspiration from Danny McBride on Eastbound & Down. He gets to be so funny, and he's such a horrible fucking person. People aren't writing thinkpieces about how unlikeable he is. They just really enjoy him because he's super funny. As a woman, I wanted to do something like that."
Difficult People is far from the first show to feature an entertainingly hateable female protagonist. Klausner cites The Comeback, starring Lisa Kudrow as a hissable former sitcom star, which aired in 2005 and 2014. "Everyone likes to say it was ahead of its time. Well, it was so ahead of its time. People were completely turned off by it," Klausner explains. "I loved it. I remember thinking, 'People are just not used to seeing a narcissistic female character being despicable. But guess what? That's the best role.'"
Difficult People, whose third season is about to end, revolves around both Klausner's Julie and her bestie, Billy Eichner's Billy — both aspiring stand-ups with lots of horrible opinions and no filter between them. Klausner was careful to twist a tired cliché, giving Julie a boyfriend (played by James Urbaniak) who plays the "supporting" role usually offered to women.
"He's directly modeled on any Kevin James sitcom, where the guy is crazy and the women is like, 'Honey, why did you do that?'" Klausner said. (She added that Curb Your Enthusiasm, which she adores, also falls prey to this annoyance with the Cheryl Hines character.) "I wanted to have my understanding version of a guy who stuck around and was like, 'Why did you do that?' At the same time, he loves me because I ain't boring — or whatever the fuck reason he stays with her."
Klausner got into the comedy by joining up with Upright Citizens Brigade. "[It's] a great environment for people who aren't necessarily sure on how to get started or what they want to do," Klausner explained. "It lets you do a lot of different things and be supported."
When she started pitching Difficult People, she took what was then the standard TV route: She went to a major channel, in her case USA. USA gave her money to make a 10-minute pilot. She stretched that money to shoot the entire 30 minutes. By the time they were done, USA had shuttered their scripted comedy department.
"The good news was now we had a 30-minute pilot," Klausner recalled. They could take that around, which they did. Hulu picked it up based on the pilot they had at the ready. "It was really satisfying, because they knew what they were getting. It wasn't like, 'I have this idea for a show, will you help me make it?' It was, 'Here's the pilot. Do you want to see more?'
"I don't want to say pitching is obsolete, but the more you can show what you want to do, the better," she added.
Hulu has been hands-off too. "They let us make the show we want to, no matter how obscure or dirty or mean or weird or gay or Jewish or female," Klausner said. "This is an incredibly specific niche show, and they've let us run with it. They give us credit to be like, 'You know what's funny.' They love some of the weirdest stuff. Their favorite episode this season is when Billy's character's sister is convinced she has a dybbuk in her house, which is a Yiddish demon."
Klausner isn't gung-ho about every aspect of DIY TV-making. The more you do, she worries, the more you'll be expected to do. "That puts the onus on writers to be producers as well, which is my least favorite part of the process," Klausner explained. "I don't want to know that you have a Kodak Six. All those logistics, I'm bad at."
Difficult People's origin story can help indie filmmakers, especially because it suggests another option: turn your pet project in to a TV show instead. In fact, Klausner isn't really thinking about movies these days.
"There's not that many big movies that big studios make a year, and when they do they're built to be sold overseas," Klausner said. "That lends itself to stuff that's more visual, to more superhero stuff. I hate to be the snotty person that's like, 'I don't like Marvel movies!' But I don't like Marvel movies." She isn't above making films. "I would love to write a screenplay. But I don't know much about that world. When I was growing up, I was like, 'I'm going to write movies.' Now I feel so much luckier that I have a TV show."