Back to selection
Documentary in the Time of Fake News at The 21st Annual Full Frame Documentary Film Festival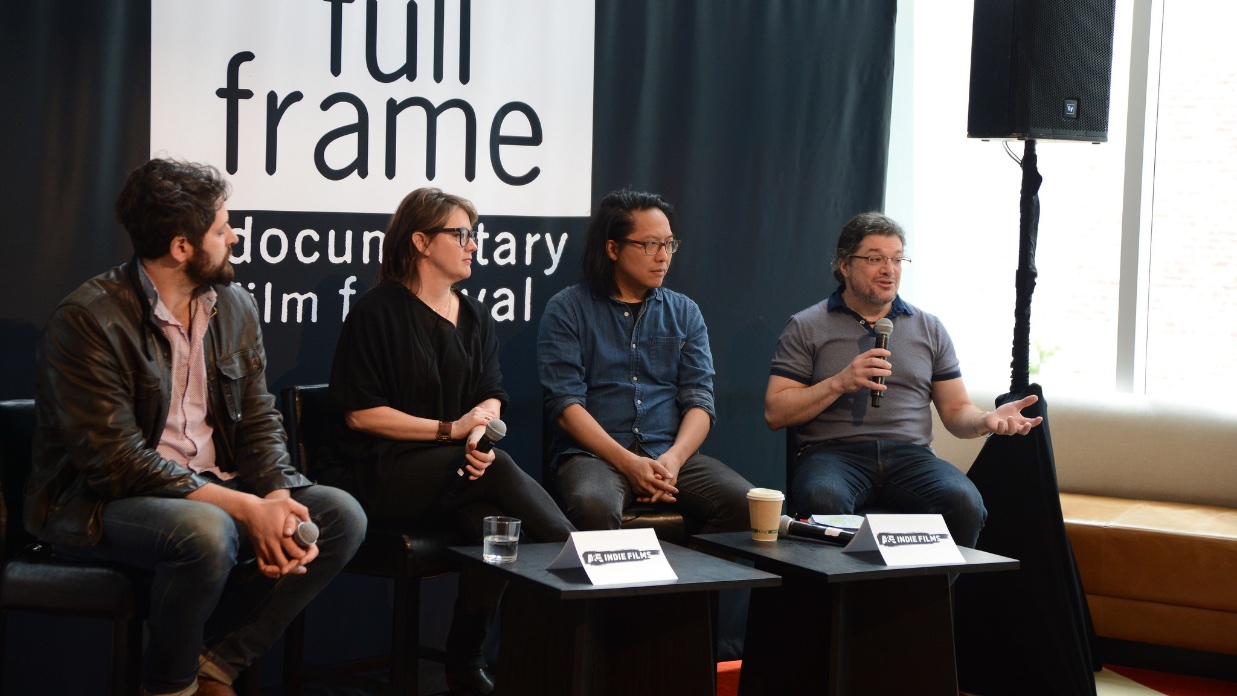 Maxim Pozdorovkin, Laura Nix, Stephen Maing and Christopher Clements (l to r)
This year's 21st edition of the Full Frame Documentary Film Festival (April 5th-8th) boasted everything a doc geek would want in a top tier fest — strong selections, a nurturing southern hospitality, and many easily approachable big-name documentarians. And, as in year's past (seven to be exact), the not to be missed, A&E Indiefilms Speakeasy conversations, which bring together some of the deepest thinkers in doc-making to discuss career and craft — and also to wrestle with some of the most pressing issues facing filmmakers (and the general public) today.
Such was the case with one Friday afternoon Speakeasy I attended titled "Documentary in the Time of Fake News." Moderated by Christopher Clements (The Cleaners, Inventing Tomorrow), it featured Stephen Maing (Crime + Punishment), Laura Nix (Inventing Tomorrow) and Maxim Pozdorovkin (Our New President). As the audience that had gathered at the Durham Hotel settled in with coffee and cocktails, Clements began with a decidedly Trump-era question for the panel: "Does truth exist anymore?"
Pozdorovkin — whose film follows Trump's election entirely through Russian propaganda — was first to chime in with a response. "The pursuit is more important, the process," he asserted. Maing seemed to agree, and spoke of how he'd struggled with his own film, which follows the whistleblower cops of color known as the NYPD12, as "the storyline is nothing new to people." "How do you create a new narrative strategy?" was the question he had to answer for himself. Cops, he also realized, were able to clearly see the systemic view, and yet, more than in most professions, their very identity was forever tied to their job.
Which prompted Clements to broach the subject of "personal identity." Pozdorovkin reflected on the user-generated content he employed in his film. He was interested in showing how "disinformation created a character." The pro-Trump YouTubers he found online in his research had actually "created their identities through lies." Nix then noted, quite incisively, that fake news allows us to ignore big problems, to avoid addressing difficult issues. It's a salve that allows us to easily and lazily turn a blind eye. Pozdorovkin nodded, and also praised Inventing Tomorrow as an "anti-cynicism pill."
Since traditional methods of pursuing truth were now gone post-Trump, Pozdorovkin had decided to search for a new way. As a means of accessing the truth, he landed on the idea of making a movie in which everything is false. Maing mentioned that he didn't want to get mired in a policy debate while making Crime + Punishment, so he purposely avoided all labels. Nix, too, was acutely aware of how the subject of man-made environmental destruction — valiantly tackled by her film's bright young students, competing in the world's largest high school science competition — is being politicized. She noted that she couldn't even use the words "climate change" in her impact campaign proposals to certain parts of the country. Indeed, she purposely took politics out of her doc altogether – which was new for her. (Nix's last film was 2014's decidedly not apolitical The Yes Men Are Revolting.)
"As filmmakers we're not journalists," Pozdorovkin then emphasized when the subject came up. He actually wanted to create a "broad sense of disorientation" with his work, to capture a "feeling" above a "truth." Clements posited that Maing was more "agnostic" about journalism. Maing agreed but then recalled the Mussolini line, "The cinema is the greatest weapon." He also wondered about the consequences of the current trend of "immersive filmmaking" (living with subjects for years at a time, that is). Did that get at a deeper truth or simply muddy the waters?
Nix also didn't consider herself a journalist. Indeed, all of these filmmakers expressed a desire for the artistic "freedom to create something subjective" and the "experience over information." As Pozdorovkin reiterated, "Film is a terrible medium for saying something, but a great medium for feeling something." While working on Our New President he'd ask himself, "How do you make people feel 'this is bad' as opposed to showing them 'this is bad'?" Then he said he'd been calling his film a "78-minute lobotomy" (to the horror of his publicist!).
Clements pondered whether "longevity" and deep-diving docs might be the remedy to fake news. Maing added that he thought mainland China's hold on news was bad — but now with the recent Sinclair broadcasting revelations he wondered if we're all that better off here in the US. Pozdorovkin offered a tale of his becoming friends with a janitor during grad school, an avid reader, specifically of "alternative history." The filmmaker said he'd been both shocked and disturbed that this was even a genre. While I understood Pozdorovkin's point, I also couldn't help but wonder if "alternative history" could also be a positive antidote to the straight, white male POV we're taught in American schools. Why wasn't the panel addressing the one-sided "truths" we collectively learn as facts? It also occurred to me that both Maing and Pozdorovkin had personal experience with state-run-media societies — China and Russia, respectively. I waited hopefully for Clements to follow up on my thoughts.
But instead, unfortunately, the moderator had to wrap things up and did so by summarizing the trio's varying approaches to facts. Maing, Nix and Pozdorovkin were "resisting, testing and ignoring," he proffered. And they all preferred to present humans, not to present facts. Which, in this age of fake news, may turn out to be the most reliable means to a truthful end.