Back to selection
"You Have to Forge Your Own Path": Rick Linklater Headlines an Austin Film Society Tribute in Karlovy Vary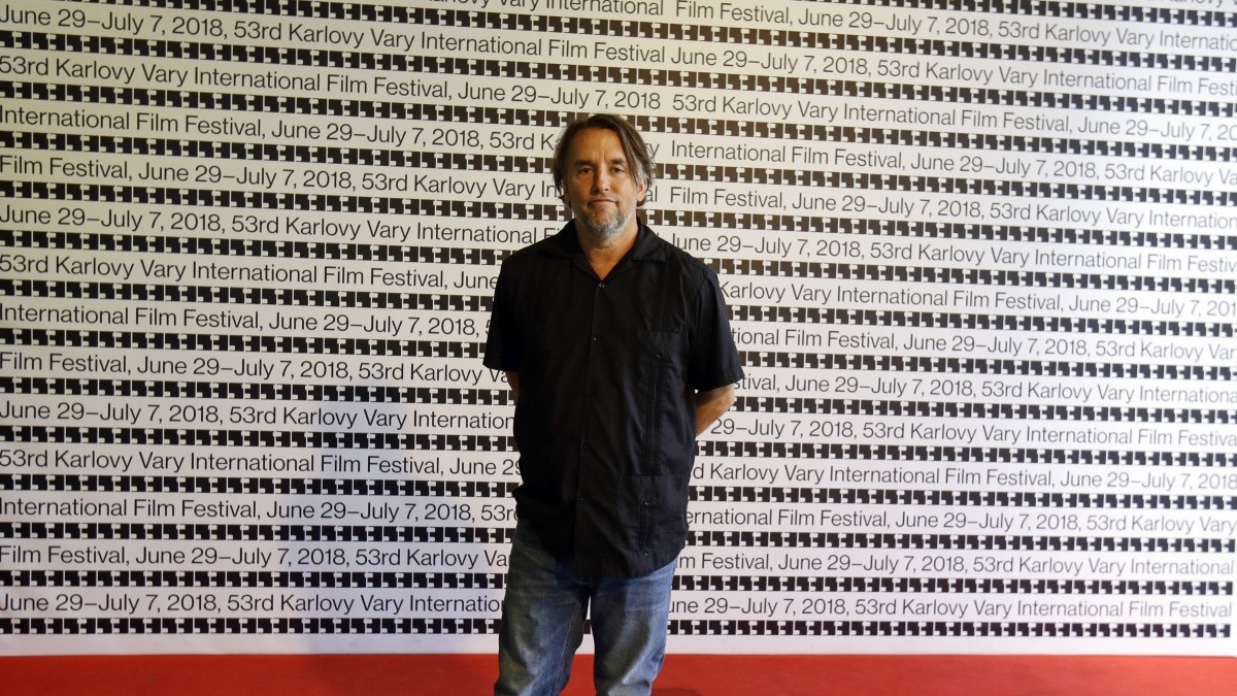 Rick Linklater (Photo: Film Servis Festival Karlovy Vary)
As a native Texan and dutiful SXSW attendee traveling to the Czech Republic, I was thrilled to hear that Richard Linklater and the Austin Film Society would be the subject of a Tribute at this year's Karlovy Vary Film Festival. The 53rd edition of the Czech-based event that concluded July 7 screened an early print of Linklater's $23,000 indie phenomenon Slacker (of which he introduced wearing an Astros baseball jersey); Eagle Pennell's 1983 cult classic Last Night at the Alamo; Robert Rodriguez's inaugural low-budget hit El Mariachi; and Tom Huckabee and William Van Overbeek's surreal, image-laden doc Death of a Rock Star, depicting events from Jim Morrison's life. Several short film strands were also screened, among them Yen Tan's affecting 1985 that tells the story of a dying man and a make-up saleswoman (the feature-length version screened at this year's South by Southwest); David Lowery's 16-minute Pioneer; and my personal favorite, Annie Silverstein's gutsy female-driven Skunk that was awarded prizes from Cannes Cinefondation, Chicago Film Festival, BAFTA, and the American Short Film Awards. Austin-based filmmakers Andrew Bujalski and David Zellner were also on hand to introduce, respectively, Computer Chess and Kid-Thing.
In total, the Made in Texas showcase screened nine features and 13 shorts, many of which were made possible by The Austin Film Society (AFS). Founded by Linklater in 1985, the non-profit society has thus far dished out $2 million in grants to over 495 film and video projects since the funding program began in 1996. The grants support short films, narrative and documentary features and offer financial assistance for production, post-production and distribution, and via the AFS Travel Grant program, cash stipends to Texas filmmakers traveling to film festivals.
While Linklater pointed out this figure pales in comparison to what European countries can offer, for example the Czech Republic's annual film fund is comprised of €30.8 million for production incentives and €14.2 million for selective support, he was pleased he could help boost Texas's filmmaking community with modest financial packages ranging from a few hundred to $10,000 per project. Benefitting filmmakers include Zellner, who recalled receiving approximately $1,200 for finishing his first feature Plastic Utopia. Said Bujalski, "When you're making films for a low six figures, a four-figure hit is a real help. You owe everybody all the time, so it makes a difference."
Linklater himself remembers the struggles he had in financing Slacker, where he maxed out credit cards as well as his family's money. Thanks to a works-in-progress screening at the IFP Market in 1989, he secured German TV rights that allowed him to pay off family member and friends. On the postproduction side, he received a $2,700 National Endowment for the Arts fund based on an administrative grant out of Houston. Once that grant was discontinued, he realized he could create his own means of funding through the capitol's growing population. "The Austin that I once knew in the '80s, where the economy was non-existent and nobody had any money, transformed in the '90s to bigger, wealthier corporations. For instance, when AFS first started, we held special screenings at the Dobie next to the University of Texas campus, where we would usually charge between $2-$3 per ticket. Real cineastes would come along, like Wes Anderson, who I tried to talk to a few times. I didn't see him again until we locked eyes at the New York Film Festival in 2001," laughed Linklater. He continued, "But when we screened Pulp Fiction in '94, we realized we could charge up to $10 a ticket, in fact we could have charged more."
Through special premieres and festivals, the AFS began making a profit. Films such as Ed TV, starring local Austin resident Matthew McConaughey, brought in around $50,000 and Tarantino raised the revenue bar with his QT Fest that was comprised of screenings of his own collector prints. The profits ultimately allowed the society to open the AFS Cinema in 2017, a two-screen art house theater that includes a full bar, café, and an event hall available for rentals. Linklater's favorites such as popular '80s films King of Comedy and Born on the Fourth of July are included in the programming as are French New Wave and New German Cinema series. "We are one more theatre in Austin that can show any repertory film title, whether it's a first-run film or films that I want to revisit," proudly said Linklater.
The AFS has further expanded its offerings, taking on a former disused airport in the city center, including several hangars that are now air-conditioned, soundproofed, and available for film production. "I had just finished a big film in Austin, and the crew were scattered all over the city, so a projectionist friend and I thought, 'If Austin really cared, they will put their money where their mouth is. There is no infrastructure for larger films to be made here.' We had to go around to different funders and the local city government, and within five years, everyone was surprisingly on board," explained Linklater. With a lease that runs through 2080, the 20-acre space allows for full production shooting and equipment hire, with filmmakers such as the Coen Brothers having already used the facilities. The filmmaking hub also consists of an adjoining space where Rodriguez has his headquarters. Linklater was quick to announce Rodriguez's latest film Alita: Battle Angel is Texas' biggest film to be made in the state.
Linklater also briefly discussed his upcoming film Where'd You Go Bernadette that happens to be one of his larger-budget films to date. Starring Cate Blanchett, Kristen Wiig, Billy Crudup and Laurence Fishburne, the film, as Linklater describes it, is about a middle-age couple drifting apart, a mother/daughter relationship, and an artist who has quit practicing art. "I like to explore things I am curious about, or something that I am trying to find an answer to, and all of these things I was interested in," said Linklater.
When asked about working on studio films, the director said the last and probably final time was for films such as Dazed and Confused that was made for Universal in 1993, "back when they still made low-budget films for around $6 million, and were still trying to figure things out" and School of Rock in 2003 that "you work hard to put your own individual stamp on." But for now, he is content on writing his own films that he says are "too abstract" for the studios. He adds that even after the success of Boyhood, the studios still don't approach him as they know him too well. "I turn down everything they give me, you have to ask yourself what you as a director can bring to the table. A James Bond or Harry Potter film is not for me. You ultimately hope they will want to make your own films, but they don't often do that either."
Intent on increasing local Texas-based filmmakers, AFS also offers training & professional development via filmmaking classes and workshops, some of which utilize the society's three local access channels where filmmakers can have a platform to screen their films. Works-In-Progress is another AFS program offered to filmmakers who have a rough cut of a feature film and are seeking feedback. AFS's filmmaker advisory committee reviews the submissions and works with the submitting filmmaker to determine their readiness for the program. Once a filmmaker has been selected, a rough cut of their film is screened and they receive feedback in a moderated discussion following the screening, as well as written feedback from the attendees. Additionally, they are paired with a peer-mentor from the filmmaker advisory committee.
Labs are also part of AFS's services, which include multi-day workshops that take place once annually for Texas filmmakers. The Artist Intensive is a narrative lab that includes three writer-director teams each session. The most recent success stories are Augustine Frizzell's Never Goin' Back that screened at this year's Sundance and Julia Halperin and Jason Cortlund's Barracuda that screened at last year's SXSW. The Doc Intensive had its first session this spring. Mentors for the labs have included the late Jonathan Demme, Charles Burnett, Athina Tsangari, Jamie Babbitt and Jay Van Hoy. .
When asked about offering advice to budding filmmakers, Linklater said to just go out and start making films. "Everyone is going to try and stop you, including the conservative government in Texas that defunded our incentive program. They think we are a bunch of liberals. So you have to forge your own path. Nobody is going to do it for you." He added that the current world of filmmaking is like science fiction, compared to how he started. "If you made a film by 30, that was something. Now kids in school are making feature films and finding international platforms online. It's incredible."