Back to selection
TIFF 2018 Critic's Notebook 1: Boy Erased, Burning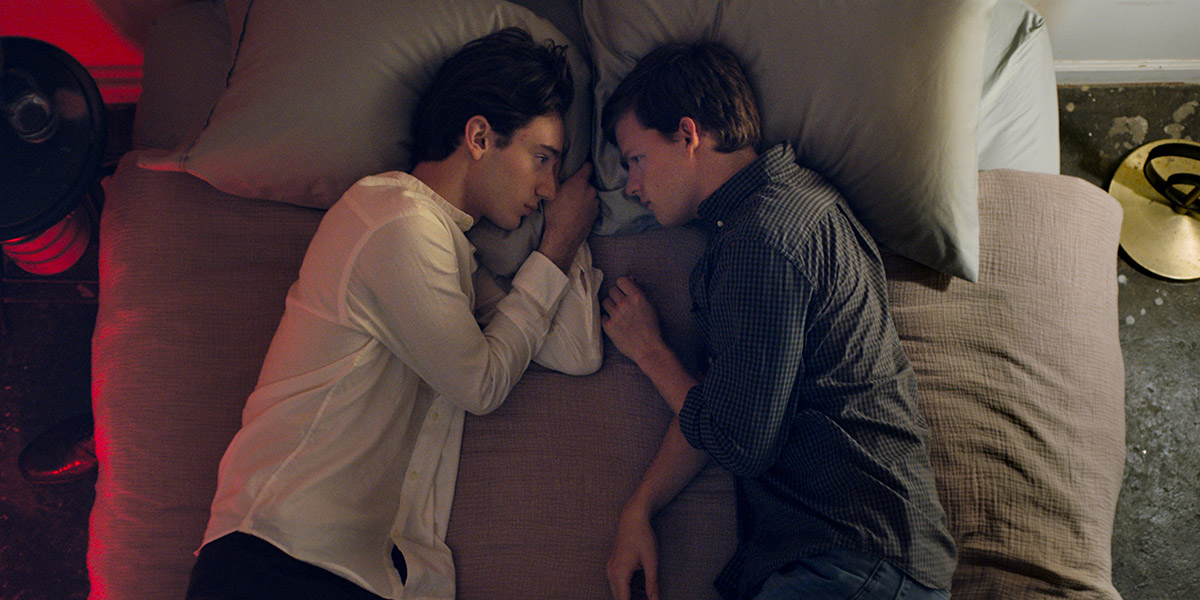 Théodore Pellerin and Lucas Hedges in Boy Erased
An adaptation of Garrard Conley's memoir (which I haven't read) about attending a "gay conversion" camp at age 19, Joel Edgerton's Boy Erased scans as, and turns out to be precisely, textbook Oscar-bait: it's topical, its heart is in the right place, the cast is stacked, and despite all good intentions the final effect is very meh ("powerful" is a word I expect to see used a lot). Edgerton's directorial debut, The Gift, was (minus its vile ending) a tautly commendable thriller; visually, Boy Erased looks very much in the same pocket at the outset, all nighttime darkness and tightly composed frames. Edgerton is admittedly visually influenced by Michael Haneke, but he's taken the oppressive impressiveness of his shots while junking the specious Moral Lessons normally attached to them; as shot, once again, by Eduard Grau, Boy Erased looks terrific, and initially seems like it might be a thriller itself. Introduced en route to camp (after an endearing montage of what appear to be very real home movies of infant Lucas Hedges), Jared Ealy (Hedges) is the son of a preacher father (Russell Crowe) and housewife mother (Nicole Kidman). When Jared arrives, he's walked from the reception area through a yard to a back building; the shot is a traveling oner, which sweeps the outdoor area, panning left and right to register the fences hemming in the area. Perhaps this will be a race-against-time jailbreak (A Boy Escaped)?
This year's othergay conversion camp movie, The Miseducation of Cameron Post, made the counterintuitively productive decision to use the site as an unlikely locus for queer teens to bond, spinning a mostly laid-back hangout movie out of a wretched setting. Edgerton's decision to go full nightmare is complementary, and the opening stretch–including some wretched lessons in inculcating heterosexuality via military-type drills in sufficiently masculine handshakes and batting practice (it's hard to make something this dumb up)–is tense. But the movie has other, less productive places to go. Not having read Ealy's memoir, I don't know if the back-and-forth flashback structure is taken from there, but the repeated redirections, rather than amplifying and clarifying how Ealy got here, are momentum-sappers; as we repeatedly return to the camp, the walls no longer feel like they're closing in.
The cast is uniformly solid, minus Kidman in a rare bad turn; what I'm assuming is a wig (or follicle method acting?) is glaringly distracting, and her Stepford-wife tight smile is easy physical shorthand for a reductive Devout Housewife struggling to believe everything is normal and fine. Hedges is very good, which is not a surprise; as far as the representational issues involved, I have zero desire to touch that particular rail (fortunately for me, Conley himself addressed them last summer, so I'll punt). Against my better judgment, I'll note that I found the film's presentation of Ealy's queerness to be a little reductive: it's the sum of his religiously-instilled shame and the trauma of having his first sexual experience be rape, with no other carnality underneath it. I know they can't (and shouldn't) all be Gregg Araki or João Pedro Rodrigues films, but we're dangerously close to constructing queerness as, first and foremost, a traumatic experience. By film's end, we're firmly in awards season territory: Crowe and Kidman get one Oscar clip-friendly speech apiece, and there are end title cards with statistics along with an obligatorily string-heavy score. I ended up amusing myself by thinking about things that are completely irrelevant to the film's agenda, like the fact that Aussie Edgerton cast his fellow nationals Kidman and Crowe as the parents of  archetypally all-American Hedges, or that casting Xavier Dolan but not as the Canadian-raised character named Xavier seems like a missed opportunity for a weird inside joke, or that both this and Cameron Posttake place elsewhere but were both shot in upstate New York, where the tax credit situation is good.
I've seen Lee Chang-dong's 1999's Peppermint Candy and 2002's Secret Sunshine, neither in the last 15 years or so; I might not as well have seen them at all given how little I retained, and I missed 2010's Poetry. So I was vaguely startled to see that his Burning almost immediately emerged as a highly-rated consensus favorite from this year's Cannes; now that I've finally seen it, I'm even more surprised, because there's nothing about it that's immediately, or even by the end, obviously appealing about it. Shooting mostly in super-handheld digital, Chang-dong spends nearly two and a half hours on a simple plot divided cleanly in two. Part one: menial worker Jong-su (Yoo Ah-sin) meets not-cute, in extended opening shot single-take, former childhood acquaintance Hae-mi (Jeon Jong-seo). He's making a delivery to the store where, cheerleader-style, she and colleagues sing-song call to passersbys to check out the discount offers within. They hook up, then she leaves for an extended trip to Africa and asks him to look after her cat in her absence. When she returns, she asks for a ride from the airport, arriving unexpectedly with Ben (Steven Yuen); they met-cute as the only two Koreans stranded for three days at the Kenya airport. Part two: Hai-mi disappears, seemingly violently abducted while on the phone with Jong-su (only seen, not heard; we watch him listening, no objective confirmation is available). Jong-su starts trailing Ben, who he suspects of killing Hae-mi, and at certain points Burning seems like it's burlesquing Vertigo. Instead of a man obsessively tracking one woman, he trails her suspected killer in parodic ally mediocre fashion–no hypnotic rides up and down hills, just catching up and repeatedly falling behind a subject of fixation in really bad two-lane overpass traffic. (Decidedly not subtle: putting in Our 45th President, via a TV on the left side of the frame while the protagonist takes a leak—that political commentary scans pretty quickly.)
There's many more bridging parts to the plot, but in essence it's an obsessive-male-stalker story with a L'avventura removal of its female protagonist in the middle which sends the story in an expectedly unexpected direction. That structure is far from new, but Burning revels in mundanity for a good opening stretch. In the absence of conspicuous formal polish to focus on, the introduction of some form of supplementary drama is to be expected, but for the longest time I had no idea what form this might take, which was first boring, then fascinating. And even though what happens does, eventually, become more or less clear, it's also totally ambiguous on another level. Jong-su's suspicions of Ben are motivated first by jealousy, compounded by his growing awareness of how wealthy (and therefore impossible to edge out) his romantic rival is; when Hae-mi disappears, there are good reasons to suspect Ben, but all the evidence is circumstantial. The film arrives at a place where everything Jong-su does is sort of explainable, but also possibly just a fevered mind working overtime and constructing rationales after the fact to justify acting off id; at day's end, he seems like a "nice guy," with all the misogynist overtones that comes saddled with. (Ah-sin's IRL activities rhyme nicely with his character.)  I emerged pleasantly confused and remain so.