Back to selection
Sundance 2023: Cat Person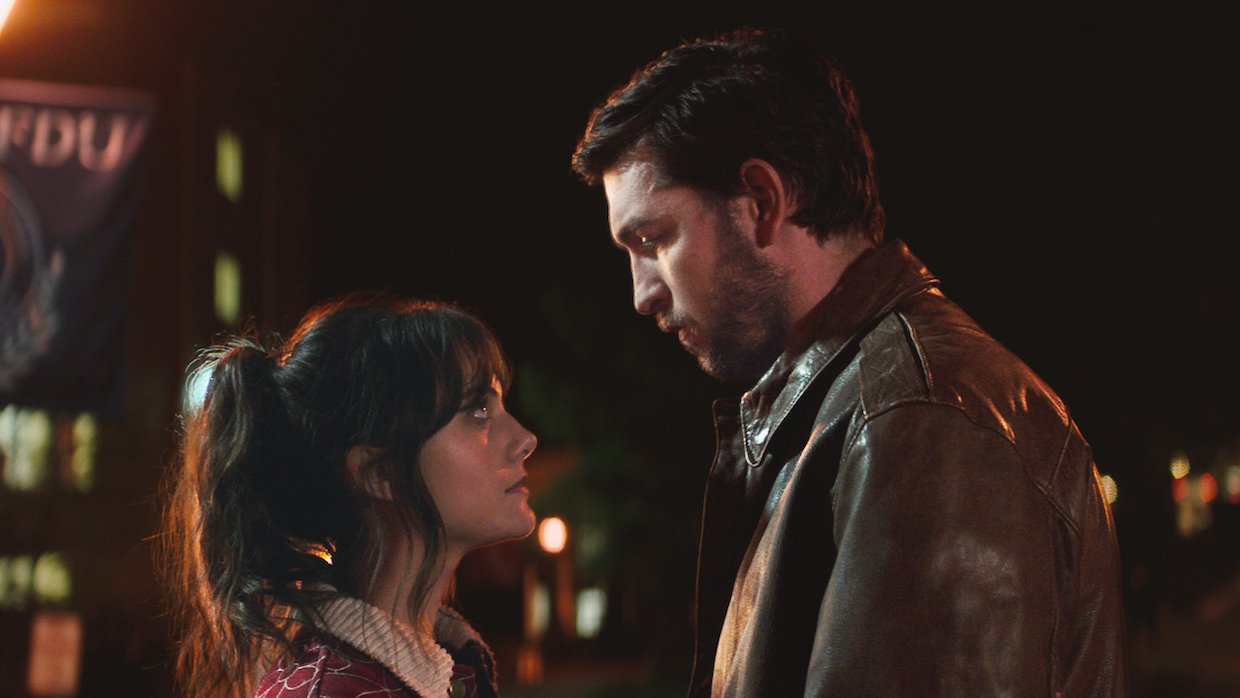 Emilia Jones and Nicholas Braun in Cat Person
To recap recent internet history: Kristen Roupenian's short story "Cat Person" is about a first date between younger undergrad Margot and older man Robert that ends with them having bad sex. After, she—via a friend's intervention—texts him that she's not interested and, to her pleasant surprise, he leaves her alone. Later, after seeing Margot in a bar, he (presumably drunk-)texts her and the story ends with her being called a "whore." Rouopenian presents two initially equally but differently flawed characters—Margot's vanity is gratified by Robert's desire for her, he's a little pathetic—but their ethical imbalances are ultimately resolved in a predictable way: every heterosexual man without a bed frame is a toxic misogynist. The story went viral, a term that doesn't normally apply to New Yorker lit, and a friend has described its appeal as essentially similar to the dress that broke the Internet: was it black and blue or white and gold? Was it just a mediocre sexual encounter capped off by regrettable drunk texting, or actually a traumatic test case for #MeToo? Four years later, Alexis Nowicki wrote a Slate essay about her real-life relationship that, without her awareness or permission, was harvested for Rouopenian's story. Nowicki's actuality was more complicated: the biggest terror of her time dating an older man wasn't the sex specifically or him generally but the stigma she felt she was courting because of their age gap.
Written by Michelle Ashford and directed by Susanna Fogel, the film of Cat Person is definitely an adaptation of the short story that resolutely ignores that complicating follow-up essay, toggling between overt comedy and horror while literalizing its opening, similarly internet-familiar Margaret Atwood epigraph: "Men fear that women will laugh at them, women fear that men will kill them." (In keeping with the general motif of "treating factual distortions as emotionally true gospel," this is not precisely what Atwood said.) Fogel's first feature as a co-writer/director, the weirdly violent comedy The Spy Who Dumped Me, is exactly what its title says: a woman's unceremoniously dumped by her boyfriend, an act of rudeness foreshadowing the fact that he's literally trying to kill her. In that sense, Cat Person is a logical follow-up, another comedy with unwieldy horror interpolations that creates a similarly questionable slippery slope of male pathology. (Fogel isn't credited as a writer, but this Hollywood Reporter article makes clear she helped significantly shape the screenplay.)
Fogel repeatedly exploits the height difference between movie theater concession stand employee Margot (Emilia Jones) and the absurdly looming Robert (the 6'7″ Nicholas Braun) to underline his latent threat. In place of the story's start-to-finish stilted interactions, we get an initial meet-cute sense of chemistry, couched in the rapid-fire patter of the contemporary comedy, alternated with snippets of Margot's fearful interior imagining of violent assaults, like when she and Robert get locked in at her student job—maybe he's done this on purpose to trap her in a room where no one can hear her. And, repeatedly, Margot's relieved  to find out that he's actually not trying to to harm her, he's just awkward. The unmissable point is that Margot's internalized misogyny leads her to constantly apologize for herself, ignore danger signs, have bad sex when she doesn't want to "disappoint" Robert and otherwise produces a variety of scenarios that are Not OK, even/especially if they don't fit the legal definition of a threat—there's no such thing as "just awkward." The third act goes past where the story ends, requiring both Margot and Robbie to act like complete idiots in order to justify the film's predetermined thesis; the movie theoretically takes place in the world of realistic psychology, but it would've been more honest staged a la Dogville.
Male or female, nearly every single person in this movie except for Margot's bestie Tamara (Gerladine Viswanathan) tells Margot to suck it up in extremely literal ways. (Cf. Margot's mother [Hope Davis]: "Things aren't always comfortable, get over it.") Before Cat Person goes for the horror jugular, it repeatedly demonstrates what a creep Robert is, in ways that are extremely clear and sometimes very weird. Margot's movie theater job (at a rep house!) allows for a film-related subtext when, on their first proper date, Robert takes Margot to see The Empire Strikes Back, a movie she's skeptical about rewatching. She states that she's more of a fan of Spirited Away, thereby creating an especially odd binary where boys love Star Wars (violent, imperialist war-mongering, Han bullies Leia into a kiss) and girls love Hayao Miyazaki (nurturing, eco-conscious, chaste). When she tries to talk to him during the movie, he shushes her. (Honestly, not seeing the problem here—we should be quiet at the movies!) It turns out that Robert, who initially rolls up to the theater to watch American Graffiti, is a huge Harrison Ford fan, with a poster for Witness in his house no less; is the actor a metonym for toxic masculinity?
The soundtrack is packed with presumably expensive tracks used in ways that should be forbidden. In Nowicki's account, her boyfriend introduced her to Real Estate's "Beach Comber"; in the film, Robert's mixtape instead includes the Beach Boys' "In My Room" (boys will literally identify with the notoriously unstable Brian Wilson and sublimate their fears into music rather than go to therapy), while Pulp's "Pencil Skirt" is heard in a bar for maybe 15 seconds as a reminder of the predatory male gaze. The ending manages to crossbreed a variation on the climactic part of Paul Haggis's Crash (the storyline involving Thandiwe Newton and Matt Dillon) while subsequently restaging the final shots of Donnie Darko. Fogel explicitly wants to create Discourse (per that THR profile: "I don't need everyone to like the movie […] but I do want people to talk about it"); I ended up feeling like maybe we should follow the instructions of the "ban heterosexuality" voices often heard online, less to rectify imbalances and more to nip another round of dumb virality in the bud.