Back to selection
Five Questions for Twenty Feet from Stardom Cinematographer Nicola Marsh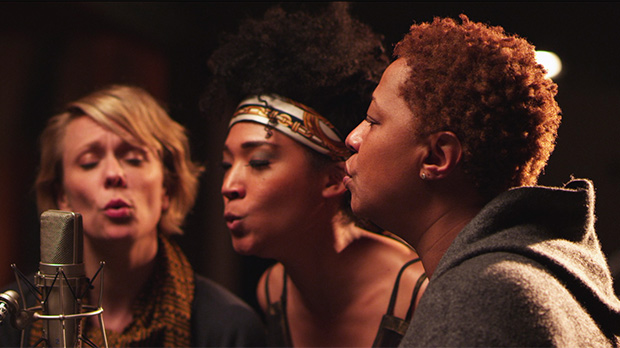 Nicola Marsh was one of two cinematographers for Twenty Feet from Stardom, this year's Oscar winner for Best Documentary. She's worked with director Morgan Neville on a number of projects, including Troubadours and The Night James Brown Saved Boston as well as other directors including Cameron Crowe on Pearl Jam Twenty and The Union.
Marsh, who has just finished shooting a reality show in the Caribbean, spoke to us about shooting Twenty Feet from Stardom, the different cameras used on the project and the hidden strengths of older lenses.
Filmmaker: For Twenty Feet from Stardom you were shooting with a variety of cameras. Why was that?
Marsh: That is the way of documentary. Budget is always tight so for every shoot the first question is "how much do we have for this one?"
And it's always difficult to know how much actual screen time the interview is going to have. You're kind of fishing, and you're probably going to use a cheaper camera in that situation where you can afford to shoot as much as you like and spend as much time with that person, until you work out whether they are really interesting enough to spend the money.
I used the Canon 5D and the 7D, and I also used the Sony EX3 with a Letus adapter and some old Nikon lenses. I was really surprised at how well that worked.  It really looked amazing. That combination is completely unsustainable as a rig because it sucks up two stops of light; you'd only use it on an interview which you can light. You could never shoot vérité in a club – it functions so poorly in low light, and the rig itself is very long and isn't very user friendly. But the images, for the right situation, are beautiful.
Filmmaker: Beautiful in what sense?
Marsh: I find with older lenses that they don't perform very well, but they have a really analog feel. It's sort of alchemy; they have their own personalities that you can't predict. I think that when you shoot with older lenses you bring back some of the softness and some of the lack of predictability…newer lenses give you sharpness and consistency and sometimes that isn't very interesting to the human eye.
People are so obsessed with resolution I actually think that's not really what makes a good image; you don't want a ton of resolution. It's great to have it when you need it, you can punch in or rotoscope, but lack of resolution is beautiful and elegant and more impressionistic.
I think that the softness and the space between the pixels is almost as important as the pixels themselves. And the more pixels you have and the more sharpness you have and the more crispness you have, the less there is for your mind to fill in the blanks. It's why books work really well, because you can imagine. And I think that when it's really soft and you don't see every single particle, you're creating something that's more impressionistic and you allow the audience to participate more in the work you are doing.
Filmmaker: Why the Canon 7D as well as the 5D?
Marsh: The reason we were using them at all was because their performance in low light is unbelievable. Even now it's unbelievable, and when you're shooting in a club where they've only kind of approved you to be there, it's low profile and you can really get away with being in the sidelines.
We shot 7D because I wanted to shoot some slow-mo for a couple of performances for behind the heads and lens flares, and obviously you can't shoot slow-mo on the 5D but you can on the 7D by putting the camera into 60p and then playback at 24p.
Filmmaker: What are you shooting with now?
Marsh: I own the C300 and I love it. I now shoot with it whenever I can. It has a reliability about it that I find really pleasing. Also, it's not like the 5D or 7D; it's really built to be a video camera and I love that about it.
I love Canon's color space – it's amazing. Whatever they're doing, the rendition of skin tones are true, it is rendering skin tones pleasantly. And the C300 has XLR's in and it can do slow-mo. I rely on it to make good images when I'm in a vérité situation where I can't light anything.
Filmmaker: What advice would you give to someone undertaking a project like Twenty Feet from Stardom?
Marsh: I think it's important that the technology doesn't get in the way of the story you're trying to tell. You might want to shoot a vérité scene with a ginormous camera with prime lenses because you think that's going to look beautiful, but if it doesn't allow you the flexibility or your subject's going to feel self-conscious….it's really important to make sure that as much as you're creating beautiful images, you're also creating the right vibe.
Morgan Neville, the director, is amazing at really connecting with the subject. I think he really knows their stories and really knows the music industry and knows their careers almost better than they know their own careers! So you have to make sure that you're in service of that and that you're not pushing yourself into the room and creating this fragile echo system that takes a long time to create.