Back to selection
Filminute Announces 2012 Competition Winners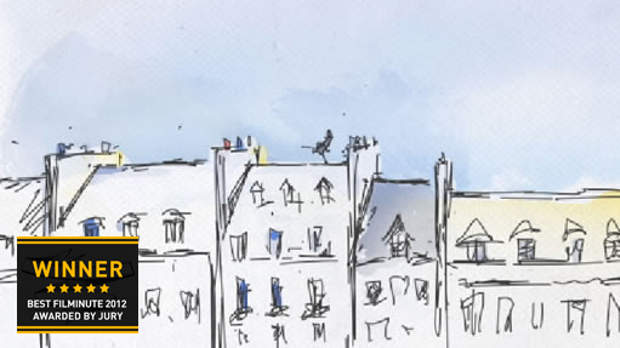 Earlier this week, Filminute — the short film competition which Filmmaker partnered with last month — announced the winners of this year's awards. On the site in September, we featured five one-minute films: Christian Fischer's Indian Mystery, Stijn Ghijsen and Tara Fallaux's Sarina, Rafael Morais and Vijessna Ferkic's Still Here, Ant Blades' Wildebeest and Jeanne and Louise Traon's Colloque Sentimental.
Here's the release:
LONDON/BUCHAREST/TORONTO, October 10, 2012 – Awards for the 7th edition of Filminute, the
international one-minute film festival, were announced today. UK director Ant Blade's dramatic and
hilarious animation CHOP CHOP took top honours with the jury, while fellow Brit Ben Jacobson's
comic thriller, CANDY CRIME, was the favourite selected by Filminute's voting public.

The 7-member international jury which included Prasoon Joshi, Radu Jude, Arjun Basu, Lenora Hume
& Gyorgy Karpati, gave animation its strongest year ever at the festival with Best Filminute as well as
3 of the 5 Jury Commendations going to the animations M/W 9/11 (USA), A HERO'S TALE (UK), and
Ant Blade's second film in the competition, WILDEBEEST (UK). The moving and beautiful Dutch
documentary SARINA and the darkly amusing Lithuanian film CUT! rounded out the jury-commended
films at Filminute 2012.

The race for the People's Choice award at Filminute 2012 was close right up to the finish with CANDY
CRIME emerging as the winner, followed by CIUDAD HELSING (Argentina) and THE KEY (Canada).
Audiences from more than 130 countries tuned into watch this year's collection.

The Top Rated film for 2012 was won by Georgian director Tamta Gabrichidze. Her stark and
provocative film LADY I received an impressive 4.8 rating (out of 5) from the public.

"Every edition of the festival has its mark and this year comedy-driven animations and films that
challenged the audience to fill in the blanks, stood out, " said Filminute executive director and head of
jury, John Ketchum. "It was also exciting to see the festival's footprint continue to grow with particularly
strong gains in the east – Lithuania, Georgia, Turkey and Russia – as well as in South America,
including Argentina, Colombia and Mexico. "

The 7th edition of the popular online-based short film festival saw social media again demonstrate its
power and reach. The festival saw a dramatic increase in the number of festival mentions, reviews of
films, and embeds of films on websites, blogs and online media around the world. "Increasingly,
independent filmmakers are grasping the power that social media gives them to market their films.
Filminute provides an ideal test ground — arguably what works for a one-minute film can work for a
feature film when it comes to social media. Both the filmmakers and our festival saw an incredible
return on our social media investments this year," said co-executive director Sabaa Quao.

Every year, throughout the month of September, Filminute presents an extraordinary array of 25 films
online and across a variety of media for festival-goers around the world to enjoy, share and discuss.
More information and full details are available at www.filminute.com. You may follow Filminute on
Twitter at http://twitter.com/filminute. On Facebook, follow via http://www.facebook.com/filminute.