Back to selection
Sidewalk Traffic: Interview with D.P. Dave Kruta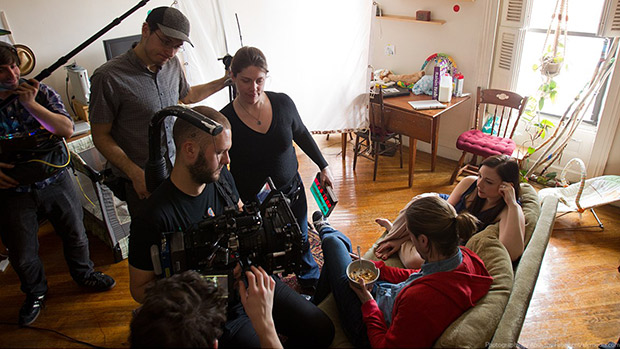 The last time we spoke to David Kruta [DP David Kruta on Shooting the Movie Concussion], he'd just finished DP'ing the independent movie Concussion, which was directed by Stacie Passon. Concussion went on to become an official selection at the 2013 Sundance Film Festival and has secured a distribution deal with The Weinstein Company's TWC_RADiUS division.
Kruta recently talked to us about his latest project, Sidewalk Traffic. Principal photography just ended, and the movie will probably be completed by the end of the year.
Filmmaker: What is Sidewalk Traffic?
Kruta: Sidewalk Traffic is Anthony Fisher's first feature film; he's a writer director here in New York. It's a story about a struggling and aspiring filmmaker who is balancing raising a family with writing and shooting his first film, so it's sort of self-reflective. It's almost a Woody Allen-esque type of film, but in a more modern sense along the lines of Sleepwalk With Me and Tiny Furniture. It's got a wonderful cast including Samm Levine, Heather Matarazzo, Dave Hill, Kurt Loder, Johnny Hopkins and Erin Darke.
Filmmaker: How did you get involved?
Kruta: It was produced by Robyn Bennett who I met on a film in Sri Lanka. Then I shot second unit for a project she was producing out in Philly called The Suspect. She offered me the job and it was a fast, organized, amazing 15-day shoot, so I'm excited to see what they put together.
Filmmaker: What were you shooting with?
Kruta: It was the RED Epic with Cooke S4 Primes.
Filmmaker: Where was it shot?
Kruta: It was shot all over New York. We had some locations in Midtown, some in the West Village, and some in Brooklyn. I'd say it was about 70% interiors.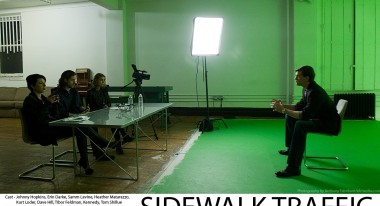 Filmmaker: What were the differences between shooting this project and Concussion?
Kruta: There were a few massive differences; the budget was a lot smaller for Sidewalk Traffic, so there were challenges monetarily.
The people involved in the shoot received participation. It was a very collaborative effort in which everyone was involved in a deeper level than just working a job, so that was exciting and empowering and I think it's going to be interesting to see where it goes.
Filmmaker: What was the most challenging part of the project?
Kruta: The most challenging thing was having to shoot that many pages with a minimal crew. There were a few nine-page days which were out of control. Many days I had only one G&E person. Many people on board were doing their first feature so there was definitely a learning curve, but I think we were successful in making it seem fresh and visually interesting and bringing a new perspective to films that normally would look a certain way. I'm talking specifically about the low-budget, mumblecore scene that tends to be more about performance than about technical achievements. They usually have a very doc style run-and-gun approach, so I used wide-angle cinema lenses and focused on lighting — or controlling light — to differentiate Sidewalk Traffic visually. I think we were able to create quite a different look and really get into the characters heads.