Back to selection
Cannes 2023: Jeanne du Barry, Monster, Youth (Spring)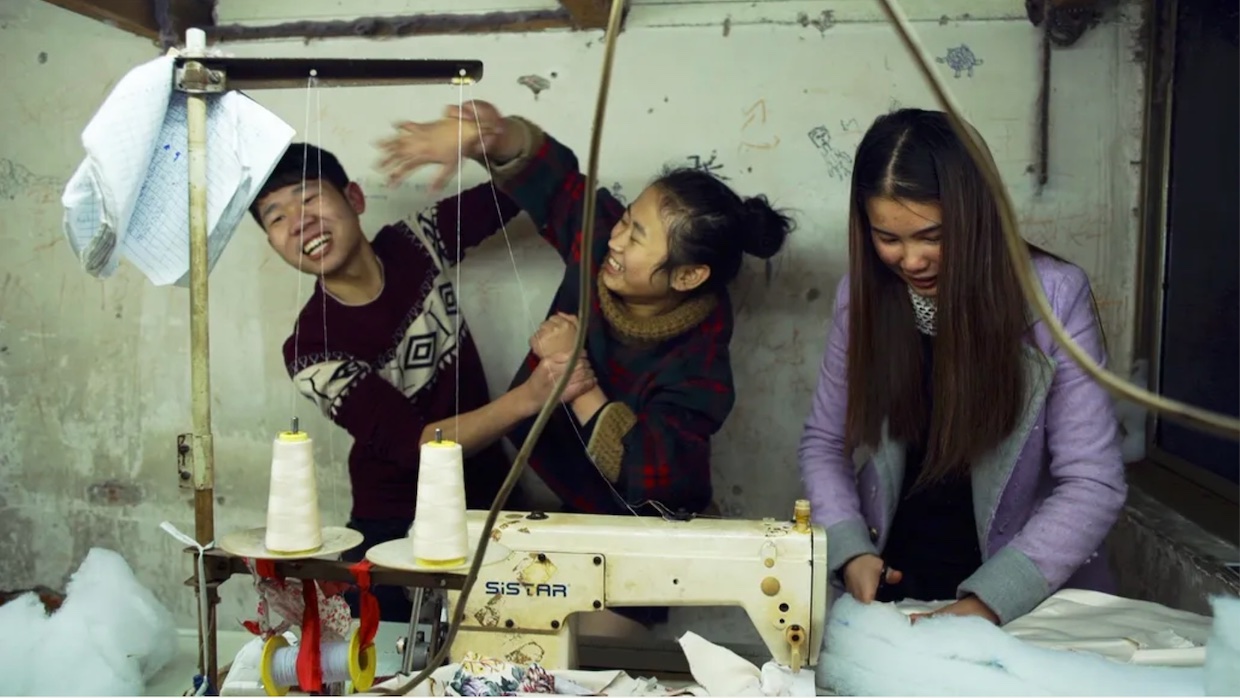 Wang Bing's Youth (Spring)
Maïwenn's Jeanne du Barry, the opening film of this year's Official Selection, is at least the eighth feature-length biopic to center around Louis XV's final maîtresse-en-titre, and the first significant film to feature her as a prominent character since Sofia Coppola's famously booed 2006 Palme d'Or contender, Marie Antoinette (portrayed therein by Asia Argento). As with most Cannes openers, Maïwenn's film is most notable for its cast: Johnny Depp, stunt-cast as Louis XV; Melvil Poupaud as the Count du Barry; and Maïwenn herself as the titular titillator. The film screened amidst ongoing national protests over pension reform, which almost certainly factored into the festival's decision to use it to open this edition—an edition that was at one point threatened by the country's electricity workers with an event-halting power outage. A commoner's infiltration of aristocracy should, in theory, resonate, and what is the historical drama good for if not an opportunity to interrogate present day rulers, laws, and social politics?
Unfortunately, the film is a textureless, PG-13 and obvious opportunity for its maker to grandstand. Maïwenn fills the screen with cheap, ironic winks at her assumed liberal viewership, most off-puttingly when Jeanne's young black servant, Zamor, is introduced, and every minor and major character in the room gasps in horror except for Maïwenn's Jeanne, who welcomes him with ostentatious ease. As with the director's Polisse (2011), the most interesting element of Jeanne du Barry is Maïwenn's insistence on casting herself as an object of desire and usher of sufferance. There's a pathology there that holds my attention and curiosity much more than any other detail or decision, which surely isn't the point. As for whatever said point is, the movie feels primed to be shown in French high schools for decades to come, hitting historical beats with Wikipedia levels of clarity and efficiency. Despite readying a page in my notebook and buying a new pen on my way to the screening, I took no notes during this movie. 
Hirokazu Kore-eda's Monster represents a modest improvement over the prolific director's last (and worst) film, Broker (2022), paying homage to Akira Kurosawa's Rashomon (1950) by approaching the same narrative crescendo from three distinct vantage points. The structure does a serviceable job of piling up various points of visual and conceptual mysteries in the opening act, namely stemming from the image of a burning hostess bar; talk of kid's brains being swapped out with pigs'; a young boy named Minato's sudden, seemingly random suicidal urges; and accusations of senseless classroom bullying, perhaps performed by a new teacher. There are some cuts to characters mid-gesture that recall some of the more chilling moments from Kiyoshi Kurosawa's oeuvre, and I found that the mysteries laid out in Monster's opening act dutifully sustained interest in the entire film's project, even as it fell apart. Kore-eda's tender preoccupations and soft mise-en-scene have never been to my liking and I've learned to accept and live with that, but I still struggle to discern what he thinks he's doing lately with character psychology and general logic. Why, for example, does Minato's mother behave with such lack of urgency in the hours after her son leaps out of her moving vehicle? Why do faculty and staff withhold basic facts and information at the parent-teacher conference that would quickly resolve a simple misunderstanding before it spirals out of hand?
The answer, one supposes, is that it's because it's a movie, following a movie template. And Kore-eda isn't concerned with mystery or narrative tension, but rather with his standard grades of affection and sentiment. The latter preoccupations are not incompatible with the former, but Kore-eda crafts this film as though they are, making sure, in his film's second and third parts, that every unknown question, every withheld detail is re-visited and explained. If the man wants to make a film that skewers the patriarchal and homophobic tendencies lingering in contemporary Japanese society, all the power to him, but let's not let structural curlicues blind us to the fact that he merely threw Lukas Dhont's Close (2022), Thomas Vinterberg's The Hunt (2012) and Kurosawa's classic in a Cuisinart blender and pressed pulse for three seconds. It's sweet and chunky and only the least bit virtuous.
Chinese director Wang Bing is probably best known for West of the Tracks (2002)—his three-part, nine-hour documentary portrait of China's industrial center of Shenyang—and Youth (Spring) is the first third of what may end up being his largest-scale project to date. Shot in China's Zhili province between 2014 and 2019 (West of the Tracks, by comparison, filmed for only two years), this initial chapter hops between various twentysomethings who work at several of the region's 18,000 sewing factories that are used to produce a large percentage of the world's supply of children's clothing. At 212 minutes, Spring is characteristically grueling, immersing viewers in the dehumanizing hell of Chinese capitalism. Factory corridors are dank and endless, their work cells harshly lit, cluttered and claustrophobic. Long passages are devoted to subjects discussing and negotiating subtle inconsistencies in their wages, or ways to work in overtime hours so they can earn the extra 500 yuan (~$75.00 USD) to get by. 
Wang's Competition title coincidentally functions as a complementary piece with Daniel Eisenberg's FIDMarseille-winning, 203-minute documentary The Unstable Object II (2022), which trained its gaze on factories in Germany, France and Turkey to examine varieties of contemporary industrial labor, landing on automated blue jean production line that seems to have done away with human involvement almost completely. Wang's film also adopts an observational approach, and is marked by the saturated glimpses of humanity—the camaraderie, bickering, quarrels and flirtations—that pierce through the monotony of his subjects' livelihoods, which can appear so mechanized that I sometimes wondered if their movements were being shown with the video sped-up. There is, as is often the case for me, the question of duration for a work containing such imperative cultural value, which concerns the problem of balancing accessibility with comprehensiveness. Wang's work, though, continues to reside outside the demands of the film market, and is nobly far more concerned with documenting and archiving his subject's experiences as an act of generosity to their existence than he is with reducing them to an audience-friendly presentation.