Back to selection
Panasonic Commits to 4K, Announces the VariCam 35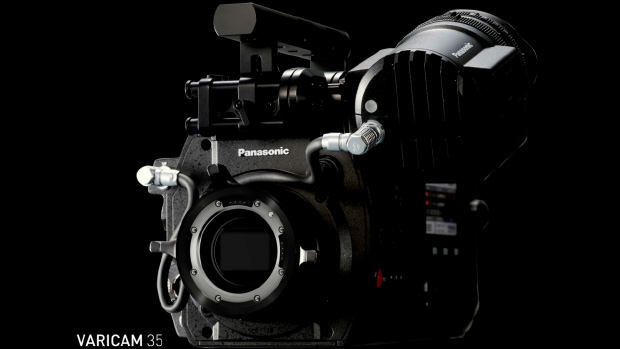 For the past couple of years, Panasonic has taken a backseat to Sony and Canon in the cinematography and indie movie world. While Sony and Canon raced to produce new large-sensor cameras in different configurations and prices, Panasonic was content to stick with the low-end AG-AF100, which was released at the end of 2010 and has seen few updates. They have also had some success in ultra low-budget production with the GH2 and GH3, which produce good quality video but are primarily stills cameras.
This year Panasonic seems intent on making its move. Or, as a product manager said at a pre-NAB announcement last week, "Every year we have new stuff, but some years there is really exciting new technology." This appears to be one of those years.
The big news at the event was the introduction of two new Varicam models, the VariCam HS and VariCam 35. Both cameras feature a new modular design, with the camera and recorder unit separate and connected by an umbilical chord. The recorder unit is common to both cameras.
The HS is an HD recorder using 2/3" sensors and can capture at up to 240 fps. Says Panasonic, "Customers have been asking us for higher frame rates, but we're making sure that at the higher frame rates we're not sacrificing video quality."
Perhaps of most interest is the VariCam 35, which has a new Super 35mm sensor for native 4096 x 2160 (17:9) 4K recording. It supports multiple AVC-ULTRA formats as well as a RAW workflow and can record at up to 120fps. You can record 4K Ultra and simultaneously record 2K and low-resolution AVC proxy. The side panel is also removable for remote control of the camera. With PL mount, a claimed 14+ stops of latitude and support for ACES (Academy Color Encoding System) workflow, this camera will clearly rival the Sony F55 and Canon C500.
Both cameras are expected to start shipping in the fall, and pricing will be announced "very soon." When someone asked for a ballpark figure on the VariCam 35, they jokingly said that it would be "over $10,000 and under $1,000,000."
Panasonic also announced a $6,000 2/3" shoulder-mount camcorder, the AJ-PX270 and highlighted the BT-4LH310 4K reference monitor. The latter was announced in December but is shipping now. It has a wide viewing angle (~178 degrees), a wide gamut (DCI P3) and supports true 4K (4096 x 2,160), but it is not cheap at $28,000.
Not to be forgotten — though not featured at last week's event — Panasonic has already announced the 4K capable GH4, which may be of interest even if you don't really want to edit or master in 4K. Recording to the camera, it should be possible to downscale the 4K image in post to HD and get 4:2:2 video without using an external recorder.