Back to selection
21 Films to Watch During TIFF 2023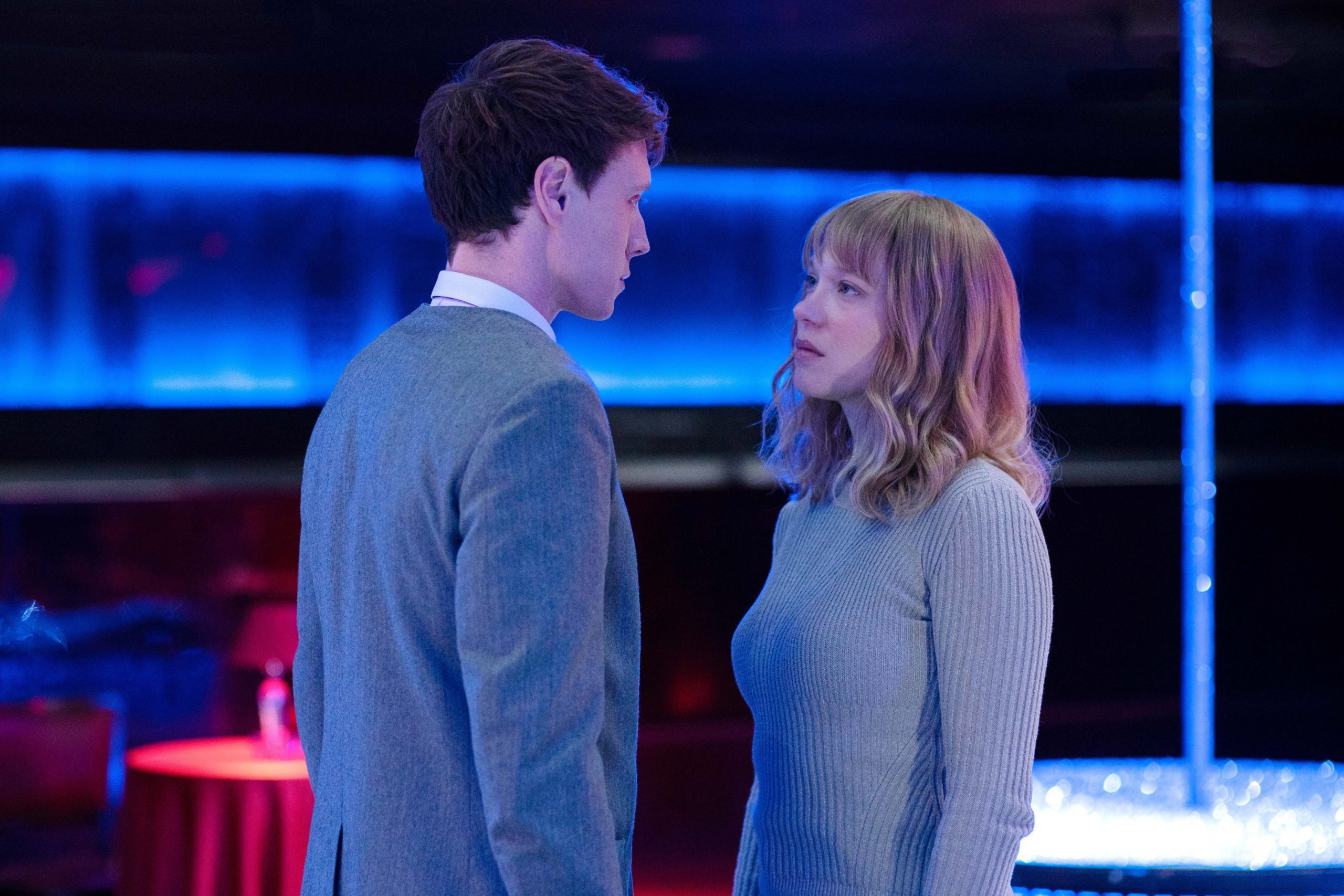 Léa Seydoux and George MacKay in The Beast
The Toronto International Film Festival is fully underway beginning today, and while the vibe will certainly be different without as many Hollywood stars on the red carpet — a number of films have qualified for SAG-AFTRA interim agreements while probably at least as many either were not able to or decided not to try — there's as always a strong lineup of films to look forward to. Below, Filmmaker's editors have compiled a list of 20 films to watch out for, many of which ones that have premiered at other festivals along with several world premieres we are hearing particularly good things about. — Editor
Pictures of Ghosts. Kleber Mendonça Filho's Pictures of Ghosts is the Brazilian director's first documentary, divided into three parts revolving around cinema. In the first, Filho tells the history of his apartment in Recife—bought by his parents long ago, in which he shot amateur VHS exercises as a kid and used more professionally for Neighboring Soundsand Aquarius (both of which this ends up acting as an especially personal annotation of), and where he still lives. Here, personal and film history have merged into one, like the night Filho heard Nico, a long-dead neighbor's dog, barking outside—the seemingly resurrected canine was audible from his appearance in Neighboring Sounds, being broadcast on TV that night. In Ghosts' second part, Filho turns his attention to downtown Recife, and specifically the numerous theaters that used to be there, before a shorter third part focusing on cinemas-as-churches in a specifically Brazilian context, considering both in their architectural overlaps and how some of Filho's childhood venues have since transformed into megachurches. —VR 
The Beast. French visionary Bertrand Bonello's The Beast makes its North American premiere at TIFF, and so far critical reception from its Venice world premiere proves promising. Co-written by Bonello, Guillaume Bréaud and Benjamin Charbit, the script is very loosely inspired by Henry James's novella The Beast in the Jungle. Specifically, it depicts a future where people's emotions have become some sort of vague threat. In an attempt to wipe the slate clean, so to speak, a woman named Gabrielle (Léa Seydoux) plugs into a machine that will destroy all recollection of her past lives and the intense feelings they evoke. Yet during this process, she encounters Louis (George Mackay), and can't deny the strong sentimental urge that overcomes her, complicating the process. —NK
The Royal Hotel. Kitty Green's follow-up to her 2020 Me Too drama The Assistant once again stars Julia Garner in another chilling scenario involving violent men. Hanna (Garner) and Liv (Jessica Henwick) have been traveling together on an extended backpacking trip, but find their funds and travel options depleted as they arrive in an Australian Outback mining town. They opt to take hospitality gigs at the titular Royal Hotel, but mysterious circumstances (that are increasingly suspected as sabotage) keep stalling their departure. It's totally fair to expect Green to deliver another thrilling commentary on patriarchal power dynamics, hopefully with some grim Australian genre conventions to boot. —NK
Reptile. Top music video director Grant Singer, who has directed clips for The Weeknd, Taylor Swift and Future, makes his feature debut with a twisty neo-noir produced and co-written by Benicia Del Torro. The plot involves the killing of a real estate and the case's entanglement with the life of its investigating detective. A stellar cast — Justin Timberlake, Alicia Silverstone, Michael Pitt, Ato Essandoh, Frances Fisher, and Eric Bogosian, among others — it's described as "a pitch black procedural… brim[ing] with odd and intriguing details: recurring dreams, secret alliances, and unexplained injuries, all components of a larger mystery in which the worlds of real estate, narcotics trafficking, and police work merge ominously." — SM
Last Summer. French provocateur Catherine Breillat's remake of the 2019 Danish film Queen of Hearts is bound to contain  ample erotic intrigue to comfortably situate itself within the filmmaker's wheelhouse. This isn't a particularly difficult task considering the film's general plot synopsis: Successful lawyer Anne (Léa Drucker) and her husband Pierre (Olivier Rabourdin) live a seemingly charmed life in Paris with their two young children. However, when Théo (Samuel Kircher), Pierre's 17-year-old son from a previous marriage, moves in, Anne begins an affair with the teenager at the risk of her reputation and marriage. —NK 
Anatomy of a Fall is less straightforward and more detour-prone than its straightforward courtroom drama premise—even if a lot of it does take place in the courtroom, just like its titular reference point, Otto Preminger's Anatomy of a Murder…Here, Hüller is writer Sandra Voyter, whose autofiction is inherently ambiguous: the film's first conversation is between her and Zoé (Chloe Rutherford), a university student writing a thesis on Voyter's work. Zoé asks if the challenge and seduction for the reader is indeed to untangle truth and fiction, foreshadowing the film's main narrative question: Hüller is put on trial for the murder of her husband Samuel (Samuel Theis), a situation where determining actuality versus fiction is the entire point.
By its very nature, a murder trial can lead to examining the entire lives of both victim and suspect, meaning Anatomy of a Fall has a natural excuse to be capacious in the myriad subjects it takes on, and the movie gives a sense of continually opening up to new possibilities—it's the rare film that's more, not less, surprising as it approaches the end. —VR
His Three Daughters. There's strong word on Azazel Jacob's (a 25 New Face from back in 2007) newest, an acquisition title premiering in Toronto. After directing Michelle Pfeiffer in one of her best late performances in French Exit, Jacobs directs a trio of great actresses — Natasha Lyonne, Elizabeth Olsen and Carrie Coon — in a film about the titular daughters forced to navigate their relationships to their father and each other when the patriarch's health begins its decline.
We Grown Now. Minhal Baig was last in Filmmaker's pages in 2019 when her Hala premiered at the Sundance Film Festival. One pandemic later she is back, with a story of young friendship set in 1992 in Chicago's Cabrini-Green public housing complex. According to the program notes, "Baig spent significant time with former residents of the now-demolished Cabrini-Green homes, gathering their stories and garnering support for the telling of them." In addition to the two young kids (Blake Cameron James and Gian Knight Ramirez), the film boasts a strong adult cast (Jurnee Smollett and S. Epatha Merkerson) and is produced by New York's Symbolic Exchange (producer Joe Pirro and executive producer James Schamus, whose writing has appeared here in Filmmaker over the years). — SM
Songs of Earth. Writing as part of her 2023 CPH:DOX report, Lauren Wissot described Margreth Olin's Songs of Earth as a "stunning cinematic love letter to both her elderly parents and the dramatic topography that shaped them (and her). Indeed, infused with a palpable sense of wonder—equaled only by the reverence Olin shows for her mamma and pappa (further enhanced by a mesmerizing yet subtle soundtrack)—the film is, as the spot-on synopsis says, 'a magnificent, existential journey' that eschews all the usual yawn-inducing trappings of the climate crisis-centered doc." — Lauren Wissot
Dream Scenario. Kristoffer Borgli's feature debut, the Norwegian body horror satire Sick of Myself, only released back in the spring (garnering buzzy, if somewhat muted, general acclaim), but the hype for his sophomore effort has been considerable. World premiering at TIFF, Dream Scenario stars Nicolas Cage as an unremarkable English professor who suddenly becomes a recognizable cultural figure when his visage appears in countless people's dreams overnight. Executive produced by Ari Aster and set to be released by A24 later this year, it's well worth checking out if Borgli's first English-language feature translates into an overwhelming success. —NK
Memory. Following his Tim Roth-starring Acapulco-set existentialist family nightmare, Sundown, Michel Franco returns just two years later with a new picture, Memory, that boasts another top-notch cast (Jessica Chastain, Peter Sarsgaard, Merritt Weaver and Josh Charles). Memory, set to premiere tomorrow in Venice, takes place in New York, where Chastain's mental health worker is destabilized when she's followed home by Sarsgaard's old high-school classmate. The film received one of SAG-AFTRA's interim agreements, so presumably cast will be on hand. — SM
Together 99. Expanding on his 2000 film Together, Swedish director Lukas Moodyson returns with Together 99, which follows a cult (aply named Together) that, in the film's 1999 setting, only contains two dedicated members. Reflecting on how much nicer things were when they had a marked following in 1975, the two decide to orchestrate a reunion with Together's former followers. Together 99 revisits Göran and Klase (still played by Gustaf Hammarsten and Shanti Roney, respectively), as well as their former collectivists (with several actors also resuming their previous roles), 24 years after the events depicted in the original film. —NK
Evil Does Not Exist. Winner of the Oscar for Best International Feature Film in 2022 for his adaptation of Haruki Murakami's short story Drive My Car, Ryusuke Hamaguchi makes a highly anticipated comeback with Evil Does Not Exist. Set in the small, rural Japanese village of Harasawa, the film centers on single father Takumi and his young daughter Hana, who live a peaceful life amid the serene landscape of remote mountains and lakes. Their peace—and that of all Harasawa villagers—is disrupted when the Tokyo-based company Playmode arrives, hoping to build a "glamping" site for yuppie tourists to indulge in the previously uncrowded vistas. Obviously, Playmode's proposition heralds ecological consequences for all living creatures in Harasawa, and it's up to the villagers to take back their land. —NK
Silver Dollar Road. Mining from reportage conducted by ProPublica journalist Lizzie Prosser, documentary filmmaker Raoul Peck's (I Am Not Your Negro) most recent effort delves into the North Carolina waterfront property known as Silver Dollar Road, which has been passed down within the Reels family for many generations. As with Hamaguchi's film, Silver Dollar Road explores the greed and corruption perpetrated by developers; this film chronicles the harassment the Reels family experience in the developer's attempt to take over this coveted property and the land it resides on. —NK
Fallen Leaves. The skeletal plot is a romance between an alcoholic construction worker, Holappa (Jussi Vatanen), and a minimum-wage service worker, Ansa (Alma Pöysti), whose father and brother died of drink; for her love, Holappa cleans his act up. It's a startling thing to see in a Kaurismäki movie, whose work contains alcohol intake so nonstop that labeling it as a bad thing is totally unexpected. Training his focus on both the drunks sitting at the bar and the workers behind it, Kaurismäki re-affirms his status as one of the most service-industry oriented directors of our time, an interest presumably stoked by his status as the owner of a complex containing several bars that recently closed during the pandemic. The pool hall had a poster hanging for Bresson's L'argent, a piece of art seen here in a movie theater Holappa and Ansa go to on an early date. (They see and enjoy The Dead Don't Die, and it's very sweet to see Kaurismäki pay earnest tribute to one of Jim Jarmusch's least-loved films, even if in my opinion the student exceeded the teacher—who, granted, made possible his entire stylistic mode—a long time ago.) —VR
Dumb Money. After two docs and countless explainers/post-mortems, is there more to be said about GameStop and its collision with the retail speculators of the Reddit forum Wallstreetbets? If there is, then perhaps it's in dramatic form, in which case who better to try than Craig Gillespie, who found a sharply ironic way of energizing another pop culture story with his 2017 film, I Tonya? Seth Rogen plays a hedge fund investor and Paul Dano the titular dumb money in a Wall Street story that began as a populist crowdpleaser and ended as a cautionary tale.
Working Class Goes to Hell — Though its title is clearly a riff on Elio Petri's 1971 film The Working Class Goes to Heaven, Serbian filmmaker Mladen Djordjevic leans far more into overt class warfare—and horror-twinged ghoulishness—than his Italian predecessor. World premiering in TIFF's Midnight Madness section, the film takes place five years after a factory fire claimed the lives of five union workers in a small Balkan town. The remaining employees harbor a suspicion that the fire was started by management as a ploy to privatize the factory, which hasn't been lucrative (for the workers, at least) since the tragedy. When a new employee boasts a pagan spiritual connection, her fellow union co-workers concoct a plan to consult the spiritual realm in a last-ditch attempt to receive adequate compensation for their labor and justice for those who perished. —NK
Poolman — Little meaningful information is available about Chris Pine's directorial debut, which TIFF's official blurb essentially says is "Chinatown but droll." That remains to be seen—certainly the title indicates that this movie, too, is concerned with water, which may not precisely be enough to merit that comparison. What is known, though, is that Poolman appears to be the only new feature screening at TIFF on 35mm. The reason for this is unknown—perhaps just the increasing fashionability of analogue film? In any case, it's the rare time a simple format listing got my attention. — VR
When Evil Lurks — Another Midnight Madness world premiere not to miss is the latest from Argentine director Demián Rugna (whose 2017 film Terrified served as an excellent Spanish-language horror breakout), which posits that demonic possession can act as both a viral pestilence and environmental plague. Those afflicted with this strain of evil are called "rotten"; when brothers Pedro (Ezequiel Rodríguez) and Jimmy (Demián Salomón) discover that one of these hell-bound souls is residing in a farmhouse in their rural Argentine town, they decide to take matters into their own hands and perform a shoddy unofficial exorcism. When their Catholic rite flounders, they find that they've unwittingly allowed the "rotten" possession to spread to other townspeople, livestock and the land itself. Their only hope is locating a "cleaner," or some sort of spiritual sage, to stop the carnage and destruction. —NK
Flipside — Chris Wilcha's The Target Shoots First, a first-chronicle of his time as a fully employed, yet still fully slacker, worker at the Columbia House mailing record house boom days of the '90s, is a definitive document of its time—the tail end of the '90s, when "selling out" was still a concept with some kind of anti-currency, amongst earnest musician types. He has since moved into the world of professionalized filmmaking but Flipside is his return to the personal documentary realm. It boasts Judd Apatow as an executive producer and, while ostensibly about a record store in New Jersey, promises to answer a lot of questions about what, exactly, Wilcha has been doing all this time.—VR