Back to selection
Cannes 2023: Anatomy of a Fall, Fallen Leaves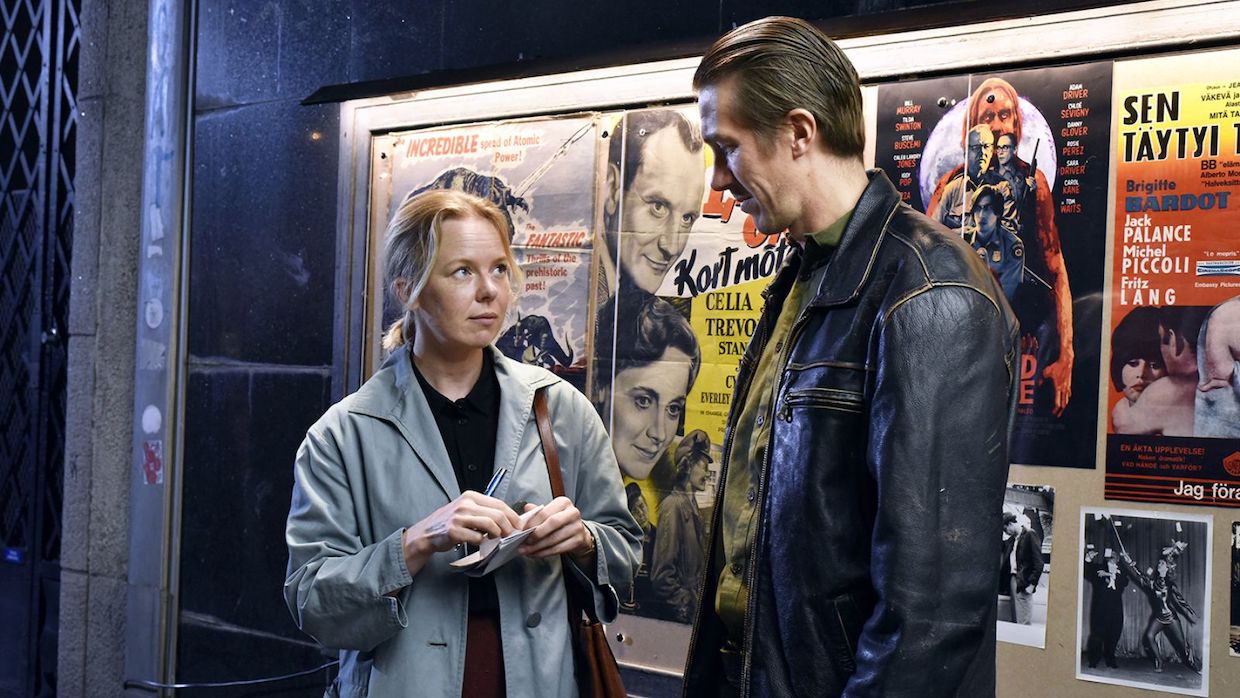 Alma Pöysti and Jussi Vatanen in Fallen Leaves
Sandra Hüller enters Justine Triet's Sybil midway, as the hilariously frazzled director of a European co-production who keeps barking in English while trying to keep the set moving. Hüller's appearance is unexpected in several ways: a film about a therapist-client relationship suddenly shifts focus to The Shoot From Hell, and while the expected reference point for a European movie shot on an island would be Contempt, Triet instead pays homage to Roberto Rossellini's Stromboli. Nor is this the film's final narrative slight-of-hand, as Sibyl's final act is a drama about alcoholism—throughout, the thematic emphases are always slightly off from where you'd expect. So it's not a huge surprise that Triet's new collaboration with Hüller, Anatomy of a Fall, is less straightforward and more detour-prone than its straightforward courtroom drama premise—even if a lot of it does take place in the courtroom, just like its titular reference point, Otto Preminger's Anatomy of a Murder. That film is relevant at least two other ways: the running time (10 minutes shy of Preminger's) and [SPOILERS ABOUT GENERAL STRUCTURE FOLLOW] in both films the trial reaches a conclusion without the ambiguity of what actually happened being resolved. Here, Hüller is writer Sandra Voyter, whose autofiction is inherently ambiguous: the film's first conversation is between her and Zoé (Chloe Rutherford), a university student writing a thesis on Voyter's work. Zoé asks if the challenge and seduction for the reader is indeed to untangle truth and fiction, foreshadowing the film's main narrative question: Hüller is put on trial for the murder of her husband Samuel (Samuel Theis), a situation where determining actuality versus fiction is the entire point.
By its very nature, a murder trial can lead to examining the entire lives of both victim and suspect, meaning Anatomy of a Fall has a natural excuse to be capacious in the myriad subjects it takes on, and the movie gives a sense of continually opening up to new possibilities—it's the rare film that's more, not less, surprising as it approaches the end. These topics include English as lingua franca, a subject that's always on my mind at European film festivals because it's almost everything you hear around you. English is also presumably a way to make a film more sellable worldwide, and for a while it seems like Anatomy has reverse-engineered a lot of character traits to provide Anglophone cover from the very first (English-language) conversation. In part, that's because German Sandra was married to a French man and English was their "middle ground"—or is communicating in it an imposition, as one partner refuses to learn the other's language? In a flashback to a vicious fight, the couple's use of English itself becomes an object of contention, denying the language its putative neutrality as a communication platform and putting into meta-foregrounded relief some of the potential financial reasoning behind the film itself.
Midway through, Sandra's son Daniel (Milo Machado Graner) asks court-appointed monitor Marge (Jehnny Beth)—onhand to make sure he isn't tampered with as a witness by his mom—for help to figure out what to think. Marge's fairly remarkable response is about the necessity of choosing what to believe when you have two options and no way to empirically decide which one is correct, a complicated truth the preteen considers deeply and recapitulates back to an understandably flabbergasted judge: "If we can't understand how something happened, we have to understand why it did." That exchange reminded me of Abbas Kiarostami's Where is The Friend's Home?, in which the title initially appears to be the subject but which unexpectedly becomes an inquiry into epistemology that could be more precisely titled How Do We Learn the Ways in Which We Can Figure Out Where the Friend's Home Is; it surely wasn't the tonal reference point I expected.
Triet has made multiple excellent films, but this is a step above and beyond, visually presenting as unostentatious in ways that conceal the clarity and thoughtfulness of its craft. I might be overrating Anatomy, as so rarely do I respond to something this script-based that I might be hyperbolizing due to the sheer novelty of the experience for me But the screenplay (co-written by Trier with her partner Arthur Harari) is indeed excellent, and the resulting work immaculate on first viewing. This is Triet's second time in competition at Cannes; her debut, Age of Panic, was an ACID selection, before she was promoted to Critic's Week with In Bed with Victoria and then competition with Sibyl. The odds are looking good for Triet to become one of Cannes's perpetually-programmed regulars—Almodóvar and Michael Haneke aren't going to be around forever, (relatively) new blood is required and her elevation strikes me as a best-case scenario.
Representing the grandfathered section of competition, Aki Kaurismäki arrived for the premiere of his latest, Fallen Leaves, immediately lit up a cigarette on the red carpet and got to mugging—hiding behind Thierry Frémaux in photos, grabbing a camera from one of the red carpet operators and turning its gaze on them—thereby generating as many laughs from the audience watching inside as the film that followed. This broad demonstration of silent comedy is the opposite of Kaurismäki's films' tonality—deadpan Finns expressionlessly cracking morose jokes—of which Fallen Leaves is another similar-but-different iteration, just like basically Kaurismäki's entire body of work going back to the mid-'90s (minus the silent film melodrama pastiche of 1999's Juha, a valiant but definitely failed attempt to do something different). His films change in their tonal emphases (more/less melancholy) but rarely in overall visuals or feeling; Fallen Leaves is more overtly funny than his previous two films—the bummed-out, surprisingly didactic (in a nice way) migrant-crisis dramas Le Havre and The Other Side of Hope—even as the performances remain in the tamped-down range that Kaurismäki once described as his "revenge on Bresson."
If Kaurismäki seems incapable of change (or simply averse to it), Fallen Leaves is directly about it. The skeletal plot is a romance between an alcoholic construction worker, Holappa (Jussi Vatanen), and a minimum-wage service worker, Ansa (Alma Pöysti), whose father and brother died of drink; for her love, Holappa cleans his act up. It's a startling thing to see in a Kaurismäki movie, whose work contains alcohol intake so nonstop that labeling it as a bad thing is totally unexpected. Training his focus on both the drunks sitting at the bar and the workers behind it, Kaurismäki re-affirms his status as one of the most service-industry oriented directors of our time, an interest presumably stoked by his status as the owner of a complex containing several bars that recently closed during the pandemic. The pool hall had a poster hanging for Bresson's L'argent, a piece of art seen here in a movie theater Holappa and Ansa go to on an early date. (They see and enjoy The Dead Don't Die, and it's very sweet to see Kaurismäki pay earnest tribute to one of Jim Jarmusch's least-loved films, even if in my opinion the student exceeded the teacher—who, granted, made possible his entire stylistic mode—a long time ago.)
Shooting on 35mm as ever, Kaurismäki's sense of vibrant color remains extremely pleasurable; he can make a supermarket's employee locker room pleasing just by painting the lockers in shades of red, green and orange. Change is visible around the edges—the bar chalkboard offers IPAs, the Ukrainian invasion is always being discussed on the radio and the music expands beyond the usual parade of weepy balladry and rockabilly to include, to my genuine surprise, keyboard-based indie rock  (the band is Maustetytöt). But ultimately Kaurismäki reaffirms his mastery of a world he's made familiar, and I don't think I'd have it any other way.