Back to selection
Venice Film Festival 2023: What is a Festival?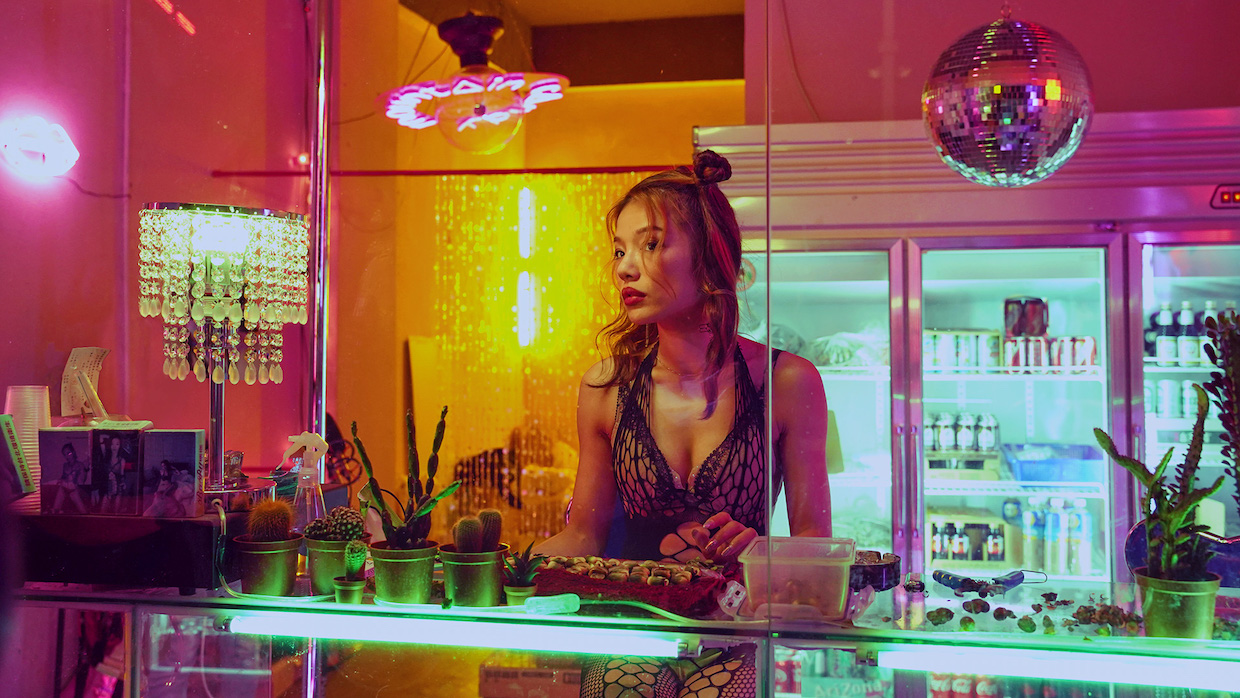 Love is a Gun
Nothing I heard or saw at the 80th Venice Film Festival felt more momentous than the news that came from Berlin after four days of screenings. On September 2, Berlinale artistic director Carlo Chatrian announced he'd step down after next year's edition, citing issues with the new management structure proposed by Germany's minister for culture and media Claudia Roth. His premature departure will mark the end of a five-year journey that turned the festival into an event miles away from the tacky extravaganza of its Dieter Kosslick era. Shepherded by Chatrian and executive director Mariëtte Rissenbeek, the Berlinale had found a way to reassert itself as one of the most essential events of its kind, a festival that had finally reacquired prestige without genuflecting to commercial sensibilities. There are all sorts of rumors as to why Chatrian walked away; an exposé at The Wrap describes him as too "artsy," a curator who "cares too much about filmmakers" and whose taste "was too effete for the government folks" who run the festival (it bears stressing that Roth's ministry grants the Berlinale a reported $12 million a year). This is both infuriating and just plain stupid (an effete taste?) but when I'm done venting I'll admit the basic point holds true; Chatrian's approach, sooner or later, was bound to clash with an establishment seemingly determined to market the event as the place where megastars and mega-pictures are found. The question is, is this what the Berlinale should be? 
If I kept thinking about Chatrian's farewell all through the two weeks I spent on one particularly overpriced stretch of Adriatic coastline, it's because the news seemed to sponge something of the identity crises most festivals, the biggest and glitziest especially, are now grappling with. Venice's eightieth edition was also my ninth trip to the Lido; long, long before my first, the fest had metastasized into a launchpad for Oscars contenders and blockbusters (something that was evident in 1972 already, when Manny Farber called the Mostra del Cinema "a pointless hodgepodge" stashed with "mostly box office films"). Where other A-list festivals try to smudge their big studio proclivities, under artistic director Alberto Barbera Venice has proudly worn them on its sleeves: over the last ten years, four Best Picture winners premiered on the Lido, and Venice titles have routinely crammed the awards shortlists. 
The Oscarization of the oldest film festival in the world may have made it easier for Venice to attract money and sponsors, but there's no denying the suffocating effects it's had on its programming, with the official competition often reduced to a showcase for staid big studio drivel. Airless biopics littered this year's list of Golden Lion hopefuls too, from Bradley Cooper's Leonard Bernstein tribute Maestro to Pablo Larraín's El Conde via the festival's opener, Edoardo De Angelis's Comandante, a portrait of a WWII submariner made in collaboration with the Italian Navy that stripped its characters of their fascist affiliations to peddle a grating "the Nazis were worse anyway" reminder. For a festival established under Mussolini's rule in 1932, at least that was on brand.
Even in the official competition, however, there were a couple of notable exceptions. Bertrand Bonello's The Beast more than made up for the platoon of mediocre films that came before and after it; based on a 1902 novella by Henry James, The Beast in the Jungle, it layers onto its ur-text some very 21st century concerns, turning a doomed romance into a thought-provoking snapshot of our screens-infested zeitgeist and the dangers of artificial intelligence. The year is 2044, and in an A.I.-ruled society that's banned human feelings as anathema to work efficiency, Gabrielle (Léa Seydoux) submits herself to a surgery that will clean her DNA of all emotions—except the process sends her back in time to rub shoulders with different reincarnations of her soulmate Louis (George MacKay), another young man who's chosen to undergo the same treatment to avoid unemployment. This is technically Bonello's first sci-fi project, but the future he imagines is neither hyper-technological nor post-apocalyptic rubble. There are no screens in sight, Paris looks like Paris and an air of antiseptic calm hangs over the film—arguably its most disquieting feature. As The Beast's jumbled chronology shuttles Gabrielle across 1910s France, 2014 Los Angeles and her anemic present, Josée Deshaies's cinematography switches formats and footage, mixing celluloid and digital, widescreen and 4:3 ratios, and opening up the frame to different moving-image sources: laptops, TV programs, social media reels. For all its warnings against A.I.'s dehumanizing consequences, The Beast is nonetheless alive to the creative potential of the devices we handle daily, and that rebellious freedom is the film's greatest asset. 
Bonello left Venice empty-handed, but the jury, led by Damien Chazelle, redeemed itself by handing the second prize to the official competition's other standout, Ryusuke Hamaguchi's Evil Does Not Exist. Born out of a collaboration with composer Eiko Ishibashi (who scored his 2021 Drive My Car), the film was first conceived as a silent piece to accompany one of Ishibashi's live performances before Hamaguchi reworked it as a narrative feature. It's a stark departure for the director; where his sprawling previous projects were all to various degrees dialogue-driven, Evil is much quieter, the loudest thing about it Ishibashi's lachrymose strings-heavy score, fitting for a story of a community on the verge of collapse. A single father lives with his eight-year-old daughter in a rural hamlet where people exist in perfect harmony with the woods around them, until the construction of a new glamping site by a Tokyo developer threatens to shatter things forever. Conversations around Hamaguchi's cinema often orbit around his two cardinal leitmotifs, fate and duplicity, but his latest fleshes out another trait that makes his films so engrossing: their spiritualism. Evil doesn't seem to originate from visuals so much as sounds, and Ishibashi's music exists in a state of symbiosis with nature and its soundscapes. Time and again, Yoshio Kitagawa's camera tilts skyward, floating under trees and gliding through the forest. In the hands of a lesser filmmaker this would have turned into kitsch Malickian parody; in Hamaguchi's, these passages radiate the same mysticism he wrings out from the chance encounters and conversations between strangers that pave his cinema. Confounding but never hermetic, Evil operates in a register far different from its predecessors, but its otherworldly aura feels like a distillation of emotions Hamaguchi has long evoked. 
It is hard to convey the overwhelming experience which is the Venice Film Festival, the fatigue that comes from a one-meal-and-four-films-a-day routine, or the despair that seizes you once you realize the overarching majority of the things you've watched will stay with you for roughly the lifespan of a common cold. Whenever that anguish kicks in, I leave the official competition and venture into the fest's parallel sidebars. That's where some of the most exciting stuff was found this year, like Harmony Korine's Aggro Dr1ft. Shot entirely in infrared and graced with augmented reality and A.I. flourishes that give characters an exoskeleton of bionic-seeming tattoos, the film isn't driven by its archetypal plot (a killer is haunted by his life choices and the looming threat of an arch-nemesis) so much as its images. Drenched in iridescent colors—a palette of bright cyan, magenta and gold—and scored to deafening techno, Aggro Dr1ft is in turns assaultive and seductive, a feast and a battering for eyes and ears. Yet its intellectual pleasures are no less gratifying than its sensorial ones. As characters and bodies blended into the neon-soaked environment around them, Korine tipped his hand: Aggro Dr1ft doesn't just seek to immortalize a gamecore aesthetic that's become so pervasive in today's moving images, it also tries to interrogate its scope and texture. I can empathize with those who'll find the ride stultifying; for me, Aggro Dr1ft was less a provocation than an electric encounter with the screen and what can be expressed through it. 
It was also the only film that made me think I was wading into an uncharted territory, a feeling that was fitfully evoked (in a very different setting and for very different reasons) by another out of competition entry, Ibrahim Nash'at's Hollywoodgate. In 2021, a few days after the last US soldiers left Afghanistan, Nash'at was allowed to film a group of Taliban as they took control of the titular US military base in Kabul. Reputed to have been a secret CIA station, Hollywood Gate still housed a portion of the over $7 billion in military equipment the US abandoned on their way home, and Nash'at, who followed the Taliban for a whole year, charts their rise from loose militia to a fully operational military regime. Hollywoodgate exists at the intersection between what the new gun-toting elite wanted the director to show and what he did in fact see. But for all the death threats should the doc "bring shame" on them the Taliban hiss at the intruder, the only genuinely disgraceful thing Hollywoodgate uncovers about its subjects is their non-existent arithmetic. For the most part, Nash'at captures the Taliban as a gaggle of wide-eyed children tiptoeing into a forbidden amusement park (few scenes in Venice could rival the odd charms of watching a group of them break into the base's gym and use a treadmill for the very first time). To be sure, this is no hagiography, and though I can't entirely shake off the suspicion that the film's genesis may be more riveting than the footage Nash'at's assembled, the documentary is never more insightful than in its most amusing or unassuming interludes. Hollywoodgate doesn't just wield these as glitches in the Taliban's official records; it juxtaposes them to a chilling chronicle of how they ossified into a war-thirsty order built on the selfsame image of the one before it.    
One film I did not expect to bring me back to the Taliban was Frederick Wiseman's Menus Plaisirs—Les Troisgros, a four-hour vivisection of the titular three Michelin-star restaurant headquartered in southern France. Yet curation, a structuring principle to Nash'at project, is also a good way of thinking about Wiseman's 47th film, whose protagonist, chef Michel Troisgros, is portrayed as an avuncular presence presiding over an establishment that remains surprisingly conflict- and screams-free. Then again, performance is what Menus Plaisirs is all about. This anfractuous film rests on a number of chasms—between kitchen and restaurant, chefs and waiters, between behind-the-scenes work and its public presentation. Wiseman's camera flutters with magpie curiosity between distinct realms, dogging cooks as they craft mouth-watering delicacies and then tracking waiters and sommeliers as they discuss them with clients, all in a carefully studied choreography of words and gestures. But cooking itself is a performance, and Menus Plaisirs paints Troisgros and his chefs as artists. No shot here feels superfluous. Wiseman captures the restaurant's routines, the minutiae of work, the sand-grain many-ness of all the details needed to bring these plates to life; this is, among other things, a stupefying account of the act of creation. And while Troisgros and his restaurant remain suspiciously drama-free, Menus Plaisirs is nonetheless shot through with anxiety. Everyone in it—from the chefs to the farmers that have long supplied the Troisgros family—speaks of their work as an anachronistic art on the brink of oblivion.  
I'm yet to attend one of Wiseman's premieres where the Lido audience hasn't erupted in thunderous applause at the sight of his name onscreen. Only the late William Friedkin this year triggered so much reverence; his swan song, The Caine Mutiny Court-Martial, tackles Herman Wouk's 1951 novel-turned-play of the same name, already the subject of a 1954 Humphrey Bogart vehicle, which Friedkin's iteration subverts significantly. Not only is the USS Caine stationed in the Strait of Hormuz (as opposed to the Pacific) when a biblical storm forces Lieutenant Stephen Maryk (Jake Lacy) to relieve the ship's captain Phillip Queeg (Kiefer Sutherland) and commandeer the vessel to safety. The film also never offers a flashback to those fateful hours onboard, forcing the unseen events to grow in our head while dissecting them over pugilistic discussions that unfold in a Navy courtroom, a hallway and a hotel room. The Caine Mutiny never steps beyond those three locations, and it's all the stronger for it; Friedkin transforms a court procedural into an action film powered by verbal sparring and deft technique, with Darrin Navarro's editing giving a breezy rhythm to each confrontation. But The Caine Mutiny ultimately thrives on the strength of its cast. Lance Reddick (who also passed away earlier this year, and to whom Friedkin's last is dedicated) brings gravitas to his role as chief judge, and Jason Clarke a twitchy magnetism to defense counsel Barney Greenwald. Still, the film belongs to Sutherland, whose turn as captain Queeg—straddling arrogance and vulnerability with such effortlessness it's hard not to feel for him in the end—is of a piece with an opening quote by Friedkin on his fascination for "the thin line between good and evil." Countless are the shades between the two, and it's a testament to the director's mastery of craft that The Caine Mutiny Court-Martial can make that tug of war feel so explosive. 
Wiseman, Friedkin, Hamaguchi… it's easy to get excited over new works by august masters, but it's the mirage of a genuine discovery that keeps one schlepping back to the cinemas at 7:30 am. Sadly, a crammed schedule means each year I leave the Lido with the lingering doubt of not having seen enough "young" voices, which is why I made it a point to catch the winner of the Giornate degli Autori (a sidebar loosely modelled on Cannes's Directors Fortnight), Ariane Louis-Seize's beautifully titled Humanist Vampire Seeking Consenting Suicidal Person. Part coming of age, part comedy, part bucket list drama, Louis-Seize's first feature follows its titular guilt-ridden vampire, teenage Sasha (Sara Montpetit) as she strives to tame her blood-sucking urges, until a chance encounter with depressed teen Paul (Félix-Antoine Bénard) offers her a way out of starvation. It's a promising set-up, but Louis-Seize squanders much of its potential by turning everyone outside her heroine into a caricature, even and perhaps most problematically Paul. We know her backstory, not his, which makes for a lopsided experience. Easy as it may be to connect with Sasha's life-or-death dilemma, Paul is so vaguely sketched he remains a cipher—a mouthpiece through which Humanist Vampire can dish out some well-meaning if rather unimaginative lessons on female empowerment. 
I had more fun with Lee Hong-chi's Love Is A Gun, a Critics Week highlight that took home the Best First Feature award. Lee (who appeared in Bi Gan's 2018 Long Day's Journey into Night) writes, directs and stars in this Taiwanese neo-noir centered on a former thug trying to start anew. Gradually, the film sheds the observational grammar and diluted pace of its earlier sections for a more conspicuous approach to sounds and visuals. Cinematographer Zhu Ying Rong trades static shots for some sinuous and strikingly long Steadicam segments, but however mesmeric, these sequences are often undercut by Lee's decision to drown them under Bruce Su's loopy electronic score, which siphons out the pathos it should ramp up. Love Is A Gun is an auspicious debut, though I couldn't help but wonder if Lee fully trusted the power of his images; as it stands, the film was more intriguing than entrancing. 
A month ago, as Venice unveiled its full slates, I remember thinking the menu looked stronger than it had in years—a hype that petered out soon after the first weekend in town. Abutting instantly forgettable titles (Ava DuVernay's Origin,Luc Besson's Dogman) and minor disappointments from some of the biggest names (Fincher's The Killer), the finest entries all seemed designed to subvert their own genres. So did Bonello, Korine, and brothers Bill and Turner Ross, whose Gasoline Rainbow was a standout in an otherwise hit-and-miss Orizzonti section. As with Bloody Nose, Empty Pockets before it, the siblings' latest also hangs in the liminal region between scripted and unscripted cinema. Loose as its plot may be, the structure is a straightforward A-to-B journey that tracks a quintet of recent high school graduates as they hop on a van and leave their sleepy Oregon town to head 500 miles west to the Pacific, which none of them has seen. The teens are first-time actors who all met during the shoot; that Gasoline Rainbow should trick you into thinking they've known each other forever is because the whole film emits a naturalism that sometimes nudges it close to ethnography (when the five take turns to reflect on the journey through post-trip interviews in voiceover, I half expected them to pop up as talking heads). But subverting expectations is part of the film's design. What's remarkable about Gasoline Rainbow is the ease with which the Ross brothers build on the tritest of formulas—the road movie—for a tale that feels joltingly alive. Its quest for authenticity means the camera is attentive to all kinds of moments, never mind how dull. And even if the exchanges between the five may not always be illuminating, there's something both heartrending and fresh about the way these drifters open up to themselves and each other. 
"Searching for scraps of surprising art," Farber wrote of his trip in 1972, "a critic can feel as unnecessary, shunted to the side, as the small, hunched Venice cat with his absorbed, haunted gazing, a remnant looking for a remnant pizza crust." Fifty years later, the alienation still rings true, fueled now by the gnawing fear that "surprising" art will find it harder and harder to pierce through commercially-minded programming. But in an era of IP smut and algorithms dictating which images we get to consume, is it too much to ask for festivals to hold on to their prerogatives—to act as sites of resistance, that is, and champion a cinema that's not afraid to push the art form toward new paths? This is all hopelessly naive, I know. But I also know that the best films that screened on the Lido this year all shimmered with that subversive energy, and the festival never felt more necessary than when it allowed them to challenge what the medium can do, and what it can be.