Back to selection
Blood Money: Tze Chun on Cold Comes the Night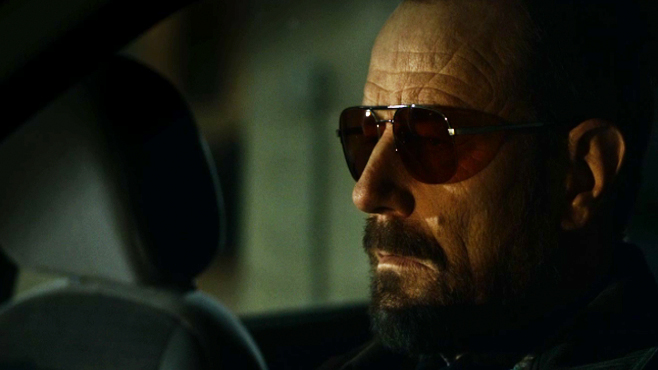 The sophomore effort from Tze Chun (Children of Invention), thriller Cold Comes the Night, uses invigorated noir conventions to evoke the betrayed modern social compact in a dreary, post-industrial strip of upstate New York. Chloe (Alice Eve), a poor widow and single mother, manages a fleabag motel, the type that charges prostitutes and johns by the hour. Social Services is on Chloe's case for providing such a rotten environment for her eight-year-old daughter Sophia (Ursula Parker), giving her two weeks to straighten out their circumstances before they intervene.
Then things get worse — a Slavic drug runner named Topo (Breaking Bad's Bryan Cranston) employs a careless driver for his latest bout of international dope transporting and ends up with his money and vehicle in police custody. (That's due to said driver's lethal tryst with a prostitute at Chloe's motel.) The scheme he concocts to retrieve the missing bag of cash involves forcing Chloe to help him by kidnapping both her and her daughter. As it turns out, she could use some of that money too. As Chloe's choices grow more and more morally ambiguous, the lines separating victim and perpetrator become murkier, especially when her ex-boyfriend Billy (Logan Marshall-Green), a corrupt cop, gets involved.
The 33-year-old Chun, a 2007 alumni of our annual "25 New Faces of Independent Film" following the debut of his short film Windowbreaker at that year's Sundance Film Festival, finds himself once again, as in his previous feature Children of Invention, ruminating on the desperate choices of a single mother imperiled by forces outside her control, and he wins a sly, dexterous and sympathetic performance from Eve at the film's center.
Cold Comes the Night is available on video on demand and in theatres this weekend from Samuel Goldwyn Films.
Filmmaker: You had a pair of writing partners, Nick Simon and Osgood Perkins, on this film. What were the mechanics of that collaboration like versus writing scripts on your own in the past?
Chun: Nick and Oz had co-written a psychological thriller called Removal with each other that Nick directed. Coming from Children of Invention, a film that is very much a character-driven drama, I think the idea was to pair me with some people who had already worked in genre. We all collaborated on it. I think I may have come up with the idea, the seed, of having a single, working mother as the protagonist. But it really came from a long conversation involving all three of us.
When I was writing with Nick and Oz, I was living in New York and they were living in L.A. We would talk on Google Hangout, working on the story and sending drafts around to everyone, but I didn't come out and meet them until six or nine months later, toward the end.
Filmmaker: This film is a significant leap and budget in scale, and a project that I imagine in which the financing was contingent on the casting. How did that process unfold?
Chun: With Children of Invention, we knew we were going to be casting non-actors who were very much going to be ordinary people. With Cold Comes the Night, we knew that if we were going to make the movie at the budget level that we wanted to, we would have to attract name actors. So I think that in terms of the script, Oz, Nick and I kept on talking about how we create three characters that you normally don't see in a thriller like this. That's what we needed to do to attract name actors.
We sent it to all the agencies. We got covered by them. UTA really responded to the script. They were the ones who championed it internally, and that's how we got Bryan and Alice to sign on. He's a real straight-shooter, he doesn't really play around. He called me one day at 3pm — I think he had just wrapped a day of shooting on Breaking Bad — and said he really liked it and he wanted to talk. So I talked to him on the phone and he was really excited about the character. He didn't take much convincing.
Filmmaker: Did he have a coach for the Slavic accent?
Chun: He had a coach. The accent was one of his ideas. From the very first time I spoke to him he sensed that in the script this guy is nearly blind, that there's a loneliness to him, and so he had this idea of him as an immigrant. I thought about that and it appealed to me so we did it. He worked with a dialect coach for a couple months leading up to it.
Filmmaker: Alice Eve goes the other way — she is British and you ask her to play a working-class, upstate American woman on the fringes, and you got her to pull it off with aplomb.
Chun: Alice is British from London and she hadn't spent a lot of time in rural America, so she came to set a couple weeks early. She went to a lot of motels and interviewed motel owners. She went a lot of places that were pretty dicey that our location scout had found. One was a meth house. We'd read in the newspaper about someone dragging two bodies of people who had overdosed out of one of them. So [Alice] drove over there with the officer who was investigating and interviewed them. It was nice of her to do all that work. I think it really helped her build the character and embody that location. She did her upstate New York upstate accent throughout the film, even when we weren't shooting.
Filmmaker: You chose to shoot in desaturated tones throughout the picture. There is a grim realism to the whole affair that's quite palpable.
Chun: One of the strengths of Children of Invention was the naturalistic quality that it had visually and we thought it would be interesting to bring that sort of naturalism to a film like Cold Comes the Night. We wanted to take advantage of the actual atmospheric quality of the places by shooting on location and relying on the feel of the spaces as opposed to simply creating an artificial, noir-ish look.
Filmmaker: Once you were in production, were there aspects of what the film evolved into that surprised you? Were there any sea changes at with what the film was doing or what you were trying to say with it?
Chun: At first when we were writing the script we wanted to write a character-driven thriller. As I was shooting the movie and talking to the actors, there were things that occurred to me — similarities between this and Children of Invention — even though they are very different films. The thing I kept coming back to is both movies take place in a world where everyone is opportunistic, and both movies are about the fallout from a single opportunistic act. It's one of those things you might not realize at first. When I was writing the movie I was kind of just writing the movie I wanted to write, but as we were shooting, I certainly felt like there was a relationship between the two projects that I hadn't understood at first.
Filmmaker: Did you feel constrained or liberated by having a bit more money, a larger crew, well-known actors and all the things that come with them at your disposal? It's an odd question to ask perhaps, but I've talked to several directors who have made that leap and felt constrained by the demands of a larger-scale production.
Chun: I'd say that's true. Windowbreaker, my movie that played at Sundance in 2007, had a budget of $600. Children of Invention was a tiny movie but for me it was a big leap. And this movie also. It's not a big-budget movie by any means, not even a medium-budget movie, but certainly it's a much bigger leap than Children of Invention. The freest I've ever felt shooting a movie was still Windowbreaker because it was just me, the camera, my non-actors. My producer was around and also held boom for the shots, and we were shooting from a script where a lot of the scenes were mere sketches, ones without any dialogue in them. So yes, I think you lose some breathing room to a degree.
Filmmaker: But unlike those movies, you didn't have to take it to a festival to sell it.
Chun: With Children of Invention, Mynette [Louie, producer] and I did 50 festivals after Sundance. We had to invent certain aspects of self-distribution that hadn't existed before. On this film, having a distributor behind it is a big difference. It's not just a handoff though; Mynette and I are still doing work on the distribution side. We're still talking to Goldwyn about strategy, doing interviews, things like that. But we're certainly not doing all the heavy lifting we had to do on the other film.