Back to selection
Chris Tucker in Toronto: "I Don't Do a Lot of Stuff, Because I've Seen Everything"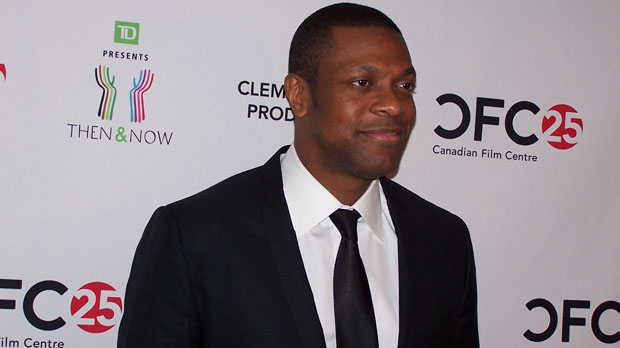 Chris Tucker in Toronto
Earlier this week, Chris Tucker braved the latest polar vortex to be honored at Black History Month in Toronto, presented by the Canadian Film Centre and Poor Boy's Game director Clément Virgo. The 41-year-old co-star (with Jackie Chan) of the hugely popular Rush Hour franchise was revered as an elder statesman by the mostly young, black audience of filmmakers, actors and fans. Though known as a rapid-fire comic on screen, Tucker this evening was alternately funny (raising the roof by dancing like Michael Jackson) and thoughtful as he reflected on his his two decades in a Hollywood where non-whites have traditionally struggled to be seen.
Like last year's BHM honouree, John Singleton, Tucker was part of the Black New Wave of the early-90s. Tucker made his name in the stoner comedy Friday, and played a damaged Vietnam war vet in the Hughes brothers' Dead Presidents. "We were all just young and happy to be in a movie," Tucker fondly recalled of Larenz Tate and his other co-stars. "We were supporting each other. It was definitely a brotherhood and sisterhood thing."
Tucker drew inspiration from his heroes Richard Pryor and Eddie Murphy in Blue Collar, Stir Crazy and 48 Hours. All of them entered film through live comedy, which Tucker didn't discover until an epiphany struck him when he hosted a high school talent show and cracked "something about teachers couldn't read." Comedy wasn't the only bug that bit him that day: "Once I realized I wanted to become a comedian, I knew I wanted to act too."
Ironically, Tucker's never taken formal acting lessons. "There's nothing wrong with taking acting classes," he answered a young woman who asked about his training, "but I developed and honed my skills on stage….I do a lot of acting onstage when I get into different characters. That's my practice and rehearsal."
Stand-up helps Tucker improvise on films like Silver Linings Playbook where writer-director David O. Russell gave him the license to "black it up" in the light-hearted scene where Tucker teaches co-star Bradley Lawrence to dance. "You're never going to have a perfect script," said Tucker, who advocates improvising on set, likely upsetting screenwriters across the land. "You gotta make it work." One exception was his role as a motormouth informant in Quentin Tarantino's Jackie Brown. "That was all him," Tucker recalls of his dialogue.
The bigger problem with scripts, he admitted, was that black actors receive such few great roles. Tucker lamented the dip in quality and quantity since the heyday of the mid-90s. "We need more independent films like 12 Years a Slave," he declared.
Indeed, one young man during the Q&A said he wanted to see a wider range of roles for black performers, such as a black samurai or brothers in space: "You're a huge star. You've seen it all. I'm sure you get all sorts of scripts coming your way. Do you find other black filmmakers trying to develop that stuff or encounter pushback in L.A.?"
Tucker confessed,"I want to do different stuff, and that's the reason why I don't do a lot of stuff, because I've seen everything." Since commanding $25 million to co-star in 2006's Rush Hour 3, Tucker has appeared in only Silver Linings Playbook (and has done stand-up instead).
"Hollywood is probably not thinking about it unless somebody comes around and makes a whole lot of money out of it," he added. He hoped that young filmmakers will come up with fresh roles and new ideas that will entice black stars like him. "It's going to come from somebody in the audience."
Picture by Allan Tong.