Back to selection
TIFF 2023: Wavelengths, Arthur & Diana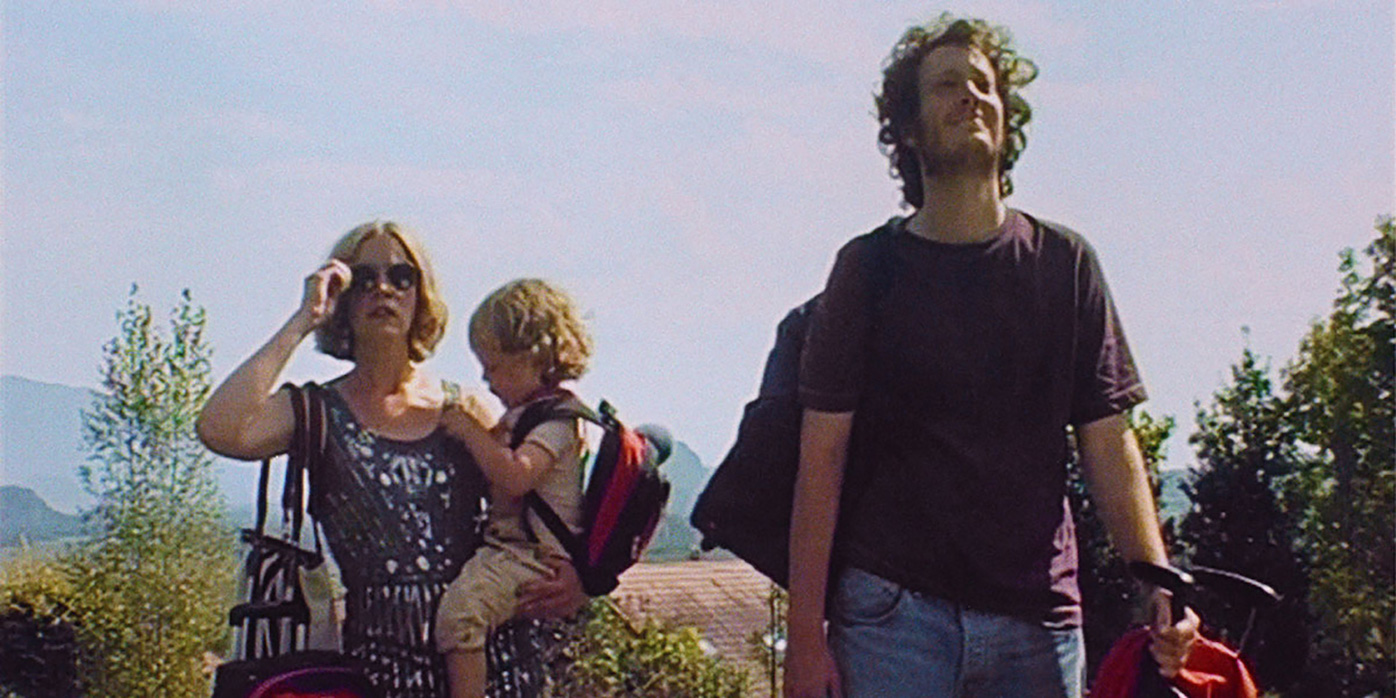 Sara Summa, Lupo Summa and Robin Summa in Arthur & Diana
"You're here for an experimental shorts program, so you know," said filmmaker Shambhavi Kaul. "You know." Her latest was premiering as part of the second Wavelengths shorts program of TIFF 2023, the section-within-a-section of the festival I value most—once a rejuvenating four sessions when I started attending TIFF in 2016, subsequently pared down to two in a smaller auditorium and back to three in this year's edition. In his overview of this year's Wavelengths, Michael Sicinski walks through its history and how, over the years, it's enfolded other, more fleeting sections for adventurous work; now, there can only be one, and we need it.
In the last few years, the shorts section's slimming down has put greater strain on each work selected to represent an entire swath of experimental film, with a proportional downturn in the purely formalist experiments for grain freaks that I crave. Program two, "Sundown," was almost panderingly a throwback to that mode, beginning with Viktoria Schmid's small and lovely NYC RGB, as compact and fully-conceived as its title. After filming Manhattan cityscapes on 16mm, Schmid had those shots printed with red, green and blue removed on three different prints, then layered the images on top of each other. Lines in those colors sometimes overlap imprecisely, sometimes layer out in symmetrical mirroring shadows—gently destabilized images that are both pleasing to look at on their own formal terms and just different enough from many, many similar such shots to render familiar views afresh. Other highlights included Simon Liu's Let's Talk, which I'd seen previously in its excellent installation form but whose vertical striations compliment and amplify the structures of Hong Kong cityscapes, and Sundown, from which this program took its title. The latest from previously-unknown-to-me veteran Canadian video artist Steve Reinke, it takes its own name from the late Gordon Lightfoot's biggest hit, and I didn't laugh harder during the festival than when, during a condensed voiceover monologue about How Things Are Going For the Artist (not well!), Reinke describes the song as telling the story of a "horny alcoholic in northern Ontario." Bleak!
As far as How Things Are Going For TIFF, on my last night of the fest I got outside perspective from a doorman working a bar, near fest central but ever so slightly out of the usual foot traffic path. His assessment was likewise bleak: thanks to the SAG-WGA strike, the number of parties being held for individual films was way down. He was working at two venues, but neither called him in to work extra shifts and one had shut down on a peak night at 2:15 am, by which everyone was voluntarily and uncharacteristically out the door. Both from optically scanning lines for public screenings and hearing colleagues grumble about how hard it was to get same-day tickets for even small titles, it seems like ticket sales were robust but that the trickledown ancillary effect for the city was greatly diminished. As far as the programming, it's difficult to quantify precisely what is lacking relative to previous editions—titles from a certain country? just a certain amount of arthouse excellence?—but nearly everyone I talked to seemed to be feeling it one way or another. That must be partially the brain drain from firings in recent years and, with the departure of 28-year major sponsor Bell following this year's festival, it's clear that TIFF's existential agita is ongoing. I have come to enjoy Toronto as a city (a casually great one for food, nearly on par with LA) and am rooting for a turnaround but continue to fear for the festival's status as an essential fall cornerstone. There's no such thing as too big to fail in this context.
The one time I took a chance on a truly unknown-to-me quantity, it paid off, a sign of hope. Arthur & Diana is the sophomore feature by French-Italian director Sara Summa; her first, The Last to See Them, premiered at Berlinale Forum in 2019. Arthur & Diana is Summa's film school graduate project, with her writing, directing and starring as the latter part of the title, sister to Arthur (played by, naturally, her own brother Robin; her real-life son Lupo is also on-screen). If the air of vague literary allusion in their names (a joke is made about Diana as hunting goddess) suggests the possibility of giving this contentious road trip a touch of mythological grandeur, a la Desplechin's similarly literary names for his squabbling siblings, Arthur & Diana stubbornly resists elevating itself. It's the most modest French-German-Italian co-production imaginable, as the drive passes through all three territories, but visual splendor is not on the agenda. Summa shot on a mixture of 16mm and outdated camcorders, printed all that out to 16mm and then exported the visually leveled mix of footages for the final file. The results look a little uncanny and unquantifiable: rather than the "timeless" quality often attributed to celluloid stock, Arthur & Diana registers as a late '90s/early '00s artifact that mysteriously includes GPS technology.
The indefinite visual texture is appropriate, as it's hard to pin down what makes Arthur & Diana pop with palpable eccentricity—the jokes don't rest in any particular lines of dialogue so much as a rhythm, a sensibility that's often five degrees left of where you might expect. My notes and attempts at isolating said effects don't help much. Consider a long shot where the siblings' car drifts slowly around curves in the French countryside, resembling precisely Kiarostami in its choice of distance and speed of transit—but shot on prosumer rather than 35mm, amidst flowers and greenery rather than his more arid landscapes, with dialogue that's overtly anti-capitalist and irritable rather than metaphysical and contemplative, ending not loftily but with the deflating punchline of being pulled over by a police car emerging from nowhere. The antecedents are clear, the results tweaked enough to be new, which can also be said of the look and the music—there's one real, pre-existing song amidst a sea of tunes by Ben Roessler, composed for the film, that sound uncannily like real '90s/'00s Europop, an idea as cost-saving as it is perversely difficult to do and laudable in the execution. In short, it's the kind of small auteurist cinema where a small degree of difference has an outsize impact; programming a film like this is doing the work.