Back to selection
AMAZONAS FILM FESTIVAL: "THIS TEMPLE OF ART"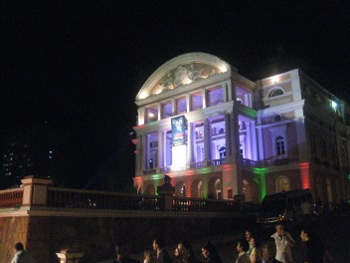 The 7th annual Amazonas Film Festival Brazil opened last night with a mixture of culture and cinema in the heart of the Amazon Rainforest.
The festival kicked off with a screening of Lucy Walker's Waste Land, which looks at Brazilian artist Vik Muniz who uses the garbage from a landfill in San Paulo to transform the lives of some of the people who work there.
But for those of us who came over from the States it was the setting of the screening that was more eye catching: the Teatro Amazonas, where the opening scene from Fitzcarraldo was shot.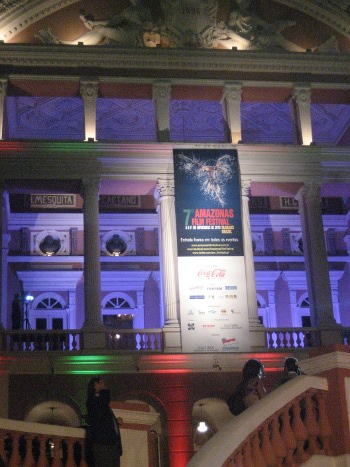 One of the last symbols of the wealth this area of the country had during the "rubber boom" in the late 19th century, this 700 seat opera house that was brought over from Europe brick-by-brick has survived because of the state's love of the arts. And in 2001, after 90 years of not having an opera in Teatro Amazonas (because of the difficulties to keep up renovations and in the early 1900s half of an opera troupe that showed up to perform died from yellow fever) the Amazonas government put in millions to revitalize the site and the arts scene. Since the festival's existence, the Teatro Amazonas has been the main site of its screenings.
"This temple of art" is how the State Secretary of Culture (and the festival's director) Roberio Braga described the opera house in his remarks to the audience last night. And with the opera house thriving from the efforts of those in the Amazon, it was fitting that before Waste Land a powerful short from Amazonas native Junior Rodrigues played. Titled UaYNA: Tears of Poison, which with little dialogue tells the story of a man finding love and his origins set in the Amazon, it deservingly had one of the largest ovations of the evening.
The Amazonas Film Festival runs through Nov. 11. Stay tuned for more posts and follow Jason on Twitter (@JasonGuerrasio) for more from the Amazon.


More photos from the night below.