Back to selection
A SHORT TRIP TO CPH:DOX
Invited to deliver a master class seminar on doc/fiction hybrid films at the CPH:DOX Labs, I attended the festival for the first time this year. At the Labs, now in its second year, filmmakers from the Nordic countries and around the world were brought together in teams and charged with collaborating on a film. Because I was teaching the day-long seminar, which took place days before the well-attended Forum (a market for docs seeking financing) opened up, I missed the great majority of the festival's programming as well as business activity. So, I can't offer a detailed roundup of the programming. (Peter Knegt, however, has an excellent round-up here at Indiewire.) But I'm looking forward to going back in the future. Festival Director Tine Fischer and her team put together a provocative program that's ahead-of-the-curve when it comes to the elasticity between non-fiction and fiction film in today's media landscape. "Reality" is not a format but a subject for the festival as it includes work that purposefully transgresses the boundaries that compartmentalize work at almost every other festival.
As an example of the festival's iconoclasm, last year it awarded its Best Film to Harmony Korine's performance-oriented look at aging and America's decaying consumer landscape, Trash Humpers. This year, Korine returned, via a series of video introductions to a "Curated by Harmony Korine" series that featured work by, among others, William Eggleston (Stranded in Canton), Martin Bell (Streetwise), Cameron Jamie (BB, Kranky Klaus, Spook House and Massage the History), Peter Adair (Holy Ghost People) and his father, Sol Korine and filmmaking partner Blaine Dunlap (Hamper McBee: Raw Mash, Sometimes It's Gonna Hurt). Korine also debuted two new shorts — Mac and Plac and The Blood of Havana — both featuring characters from Trash Humpers.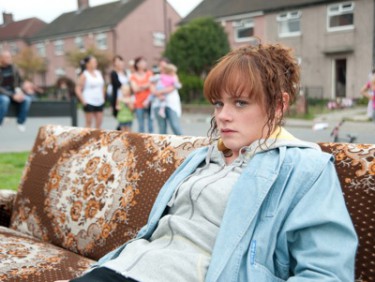 The main competition included Sophie Fiennes' excellent re-imagining of the artist documentary, Over Your Cities Grass Will Grow; the winning Le Quattro Volte; Jorgen Leth's sensual essay The Erotic Man; Casey Affleck's I'm Still Here; and Clio Barnard's The Arbor (pictured left). The latter was a theatrical/documentary/dramatic hybrid based on teenage playwright Andrea Dunbar's play of the same name. Dunbar, who went on to write Rita, Sue and Bob Too, penned The Arbor while in school, and it is a bracingly raw account of her account of her childhood and relationship with her mother while growing up in a Northern England working-class neighborhood. Barnard's film uses scenes from the play, acted "poor theater" style in the streets around their locations; acquired footage from the play's premiere at the London Royal Court Theatre; and, in its most formally radical touch, direct-address sequences in which actors playing a pregnant Dunbar, her sister, and others in her story lip-sync to actual interview tapes of the people they are playing. Blending the social realism of its source material with this distancing technique, the film is a strange cultural document that illustrates the period while also commenting on the fetishization of working-class life in much of that period's drama.
Also in the Competition was Eva Mulvad's The Good Life, a kind of Grey Gardens reimagined for a social democracy. The Danish Mette family's mother and daughter have had a privileged life, living off inheritances that have been passed down from generation to generation. But the money has run out, squandered by personal spending but also lost in the stock market collapse. Now living in Portugal's costa del sol, the mother and daughter bicker endlessly, trapped in a bleak circle of despair that perversely also seems to generate for fifty-something daughter Anne whatever life force she has left. Like Grey Gardens, the women's decision to accept the camera into their lives is queasily fascinating. Anne's refusal to get a job coupled with the scenes of her lolling around the beach or alone at a disco have a shock value at this time of economic crisis. Shocking also for American viewers is the realization that this low point for these two women, which includes medical care and a functional small apartment, is still levels above what similarly destitute people in the U.S. face.
In the New Vision section I caught Home Movie, Canadian experimental filmmaker John Price's lovely and aurally evocative depiction of his two young children playing at a playground, napping in a car, and generally just being as their images burned onto old Russian 35mm negative Price found in his cellar. Yellow Waste/Blue Heaven was Martin Kohler Jorgenson's was an odd and exaggerated portrait of the American West from the viewpoint of two Danish artists, Claus Carstensen and Peter Bonde, who don Richard Nixon masks as they drive the U.S.'s highways, sleep in its motels, and swim its pools.
John Price's work also popped up as acquired footage in Bruce McDonald's This Movie is Broken, a Broken Social Scene concert doc interwoven with a fictional character involving a young couple attending the show after their one-night stand. If you are a BSS fan, as I am, the band's performance is a treat, and the fictional storyline, which could have been corny, actually adds to the experience, particularly due to its unexpectedly playful conclusion.
Like I said, there was much I didn't see, including the international premiere of Pete Sillen's I Am Secretly an Important Man as well as an incredible series of "visual albums" — music and image mash-ups from the likes of Animal Collective and The Residents. Next time I'll stay longer and sample more of the programming at this truly imaginatively programmed fest.
The CPH:DOX awards are below:
DOX:AWARD: Le Quattro Volte (special mention to The Autobiograpy of Nicolae Ceausescu)

DANISH:DOX :Empire North and the Naked of St. Petersburg (special mention to Fini).

AMNESTY:AWARD: Pink SarisSOUND&VISION AWARD: Separado (special mention to Backyard)

NEW VISION AWARD: In Free Fall (special mention to Out)

POLITIKEN'S AUDIENCE AWARD: Lost Inside a Dream: The Story of Dizzy Mizz Lizzy

SHORT:DOX AWARD: Irma