Back to selection
THE 2011 EDINBURGH FILM FESTIVAL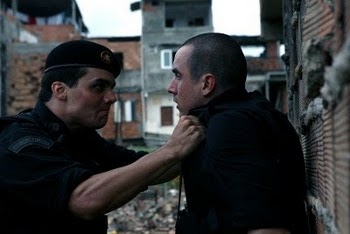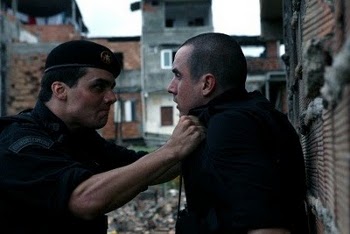 Spend even the shortest amount of time in the delightful and disturbing Scottish capital and you begin to read native Robert Louis Stevenson's Strange Case of Dr. Jekyll and Mr. Hyde as a metaphor for the city itself. Edinburgh boasts a warm and welcoming population residing in an atmosphere where an ever-present hint of menace hangs palpably in the air like its famous rainy mist. (This openness is evidenced by the fact that one early afternoon my sister and I were able to pretty much wander in to a Justice Committee hearing of Parliament debating that day's front page news – whether singing "God Save The Queen" at soccer matches should be made illegal.) Yes, this is the home of Harry Potter – and the café where J.K. Rowling birthed him proudly touts its pedigree – but it's also a city in which for centuries public executions were pretty much a local pasttime. Not to mention, its skyline of threatening, medieval fortress architecture heavy with spires and turrets practically screams, "Don't fuck with us." It's actually the opposite of Amsterdam, where I flew in from to cover this year's Edinburgh International Film Festival. That city's cozy atmosphere – the Dutch have a word for it, "gezellig," which has no English equivalent – reflected in its quaint canal houses and hole-in-the-wall coffeeshops, stands in stark contrast to its conservative insular population. (Don't get me wrong, the Dutch are very agreeable – just don't mistake "tolerant" for "welcoming.")
And atmosphere – every bit as important as the movies themselves – is also what makes or breaks a film festival. Interestingly, the buzz this year at EIFF had nothing to do with awards or red carpet premieres. In fact, this 65th edition jettisoned its Michael Powell Award for best British film along with the closing night flick and the red carpet. (Thus, Ewan McGregor had to set foot on the same ground as us common mortals for the screening of David Mackenzie's Glasgow-set Perfect Sense, which he stars in opposite Eva Green.) No, the drama surrounded newly tapped festival director James Mullighan, an Australian who was initially named "producer" last winter in the wake of a shakeup, and has a background in journalism and as the creative director of Shooting People. Mullighan, forced to contend with a loss of U.K. Film Council funding and Sheffield Doc/Fest's decision to move to June, launched some radical initiatives that included changing venues, nearly halving the number of films screened, and shrewdly teaming up with Sheffield's fest for joint premieres. He also gave free reign to cinephile-minded curators such as Gus Van Sant, Jim Jarmusch and Sara Driver, and Bela Tarr. While I'm certain longtime EIFF supporter Tilda Swinton (who along with two other producers originally conceived the festival revamp and tapped the guest programmers) appreciated Van Sant's Derek Jarman retrospective, one wonders whether this and panels such as Project: New Cinephilia (critics and journalists discussing the state of film writing) didn't alienate much of the general pub-going public. Attendees seemed more likely to flock to fare like the opening night, Sundance-premiered comedy The Guard, starring Brendan Gleeson and Don Cheadle and directed by John Michael McDonagh (Martin's brother) – or even to the world premiere of David Hare's Page Eight with Rachel Weisz and Bill Nighy – than to any of Tarr's choices of Hungarian classics.
Indeed, the post-festival rumor mill has it that Mullighan may not be returning next year. Which would be a shame. While it would have been nice to have had some happenings devoted to Scotland-specific history (although Polyester is perhaps my favorite John Waters film, midnight movies related to ghosts or even Sherlock Holmes would have made more sense than celebrating that American cult flick's 30th anniversary) Mullighan's outside-the-box thinking and willingness to take risks resulted in some thrilling one-of-a-kind ideas. In addition to the usual festival bar gatherings and music parties there were offerings such as the three-day Nokia Shorts Weekender. This sidebar was jam-packed with practically everything related to the short form, from master classes, to a Guy Maddin program entitled Anatomy of Melancholy, to a web-centric Vimeo in Residence event. The Conflict Reportage section included "Frontline Club: Martin Bell presents Salvador" (which, alas, I missed), in which Bell, who was in El Salvador covering what Stone's film portrays fictionally, delivered in-person insight into the movie. That certainly would have been preferable to Steven Silver's The Bang Bang Club, the Ryan Philippe-starring pap about four photojournalists – two of whom, Greg Marinovich and João Silva, co-wrote the book it's based on – covering the turmoil in South Africa leading up to the historic '94 elections. Silver's cliché-ridden portrayal of these heroic combat journos – whose mantra may as well have been "sex and drugs and point-and-shoot" – as characters straight out of an episode of Beverly Hills 90210 is not only laughable, but nearly offensive.
Smartly, the Reel Science section paired films exploring scientific themes with field experts in post-screening Q&As. I'm disappointed I didn't see Artificial Intelligence: The Terminator, in which Cameron's blockbuster was followed by a discussion with scientists from the Edinburgh School of Informatics. Instead I saw Brain Disorder: The Electric Mind, which used as a conversation starter Israeli Nadav Harel's straightforward (and graphic) doc that cuts back and forth between four diverse patients, each undergoing a different medical treatment, from Electrocondusive Therapy to Deep Brain Stimulation. Unfortunately, I can't say the discussion afterwards with the filmmaker and a brain specialist was all that stimulating (though kudos to energetic moderator Mullighan for trying to liven up the dry proceedings with challenging questions). Because Harel – who hails from a family of neurologists – and the somewhat defensive guest psychiatrist were both firmly on the same pro-procedure side of these controversial techniques, the talk proved tediously one-sided. Harel, referring to a quote from Darwin that he used in his film, argued that our narcissism is the only thing that prevents us from treating our brains the way we would any other vital organ. Why do we undertake operations on a limb without hesitation but are horrified when it comes to messing with the brain, he wondered rhetorically. A debate against researchers and doctors who take a darker but equally valid view of ECT and TMS would have been far more enlightening.
Fortunately, the narrative features were much more electric, living up to recent festival hype and then some. I managed to catch Romain Gavras's Our Day Will Come, which played in a beautiful and roomy, widescreen theater at the Filmhouse, which also offered scrumptious and cheap – food for a fiver lunches! – vegan cooking and a café bar. (And yes, you could bring your Scotch whisky or other nips in with you to any screening – it's hospitable Scotland after all.) In terms of sheer nihilistic excitement at EIFF this French flick was rivaled only by Jose Padilha's edge-of-your-seat sequel Elite Squad: The Enemy Within (pictured above), which continues to follow the fictional members of BOPE, Rio de Janeiro's ruthless special ops battalion of the military police, who make the CIA's questionable tactics seem wimpy. (If you haven't seen the first Elite Squad don't bother. This Brazilian box-office-record-setter stands alone and makes the original, an undeveloped homage to Goodfellas, look like a mere sketch.) Though the feature debut from Costa-Gavras's equally self-assured son was preceded by Born Free, the filmmaker's brutal, conceptual-art-as-war video for M.I.A. (that serves as a sort of short prequel), Our Day Will Come has little in common stylistically with anything made for MTV. In fact, Gavras, who shares a sense of humor with Lars von Trier, has crafted a "revenge of the redheads" tale as thrillingly subversive and laugh-out-loud hilarious as Yorgos Lanthimos's Dogtooth.
Yet unlike that Greek tragicomedy this poignant road-trip buddy flick about a bullied teen (a heartbreakingly gawky Olivier Barthelemy) and the dangerously unpredictable, disdainful guidance counselor (an ascot-wearing Vincent Cassel who could just be the next Peter Sellars) who takes him under his avenging wing, is less concerned with simply satirizing a culture than in broadening the theme to a more personal and also universal exploration of being an outcast in any society. No matter the country, misfits band together, often resulting in the abused becoming their hated abusers.
I also had the opportunity to finally see Chilean Pablo Larrain's Post Mortem, which begins on the chaotic day of Pinochet's coup, and stars Alfredo Castro, his lead actor in Tony Manero, as a morgue worker madly in love with a past-her-prime burlesque dancer. With his handheld camerawork capturing the subtleties of a pale, washed-out palette, and lovingly framed compositions in which the whole eerily still picture is not seen but inferred – a metaphor for the brutal era itself – Larrain has crafted less a character study than an atmosphere study. And the final scene is a tour-de-force unto itself.
As for the documentaries I'd already seen Project Nim (and interviewed its director James Marsh) at the Miami International Film Festival so I decided to try Lorenz Knauer's chimp-centric doc Jane's Journey, which could have more appropriately been called Long Day's Journey Into Jane. While iconic primatologist Jane Goodall has the mesmerizing presence of a movie star, what starts out as an intimate portrait of this seventy-something activist loses power as it expands to include everything from her public-speaking engagements to her Roots & Shoots organization. I'd also seen Jarred Alterman's Convento prior to the fest (and interviewed its director and subject for Amsterdam Magazine) so I chose to head over to Festivalhouse@Teviot, an imposing cavernous stone structure belonging to the University of Edinburgh (though I wouldn't have been surprised if it also served Hogwarts). There in a tucked away back room was an installation of Dutch kinetic artist Christiaan Zwanikken's computer-operated robots, constructed in part from the found remains of the dearly departed animals that once roamed the land around the ancient monastery in Portugal he and his family call home (and from which Alterman's art doc takes its title). Harry Potter himself could not have conjured up a more magical sight to behold.