Back to selection
THE 12th WOODSTOCK FILM FESTIVAL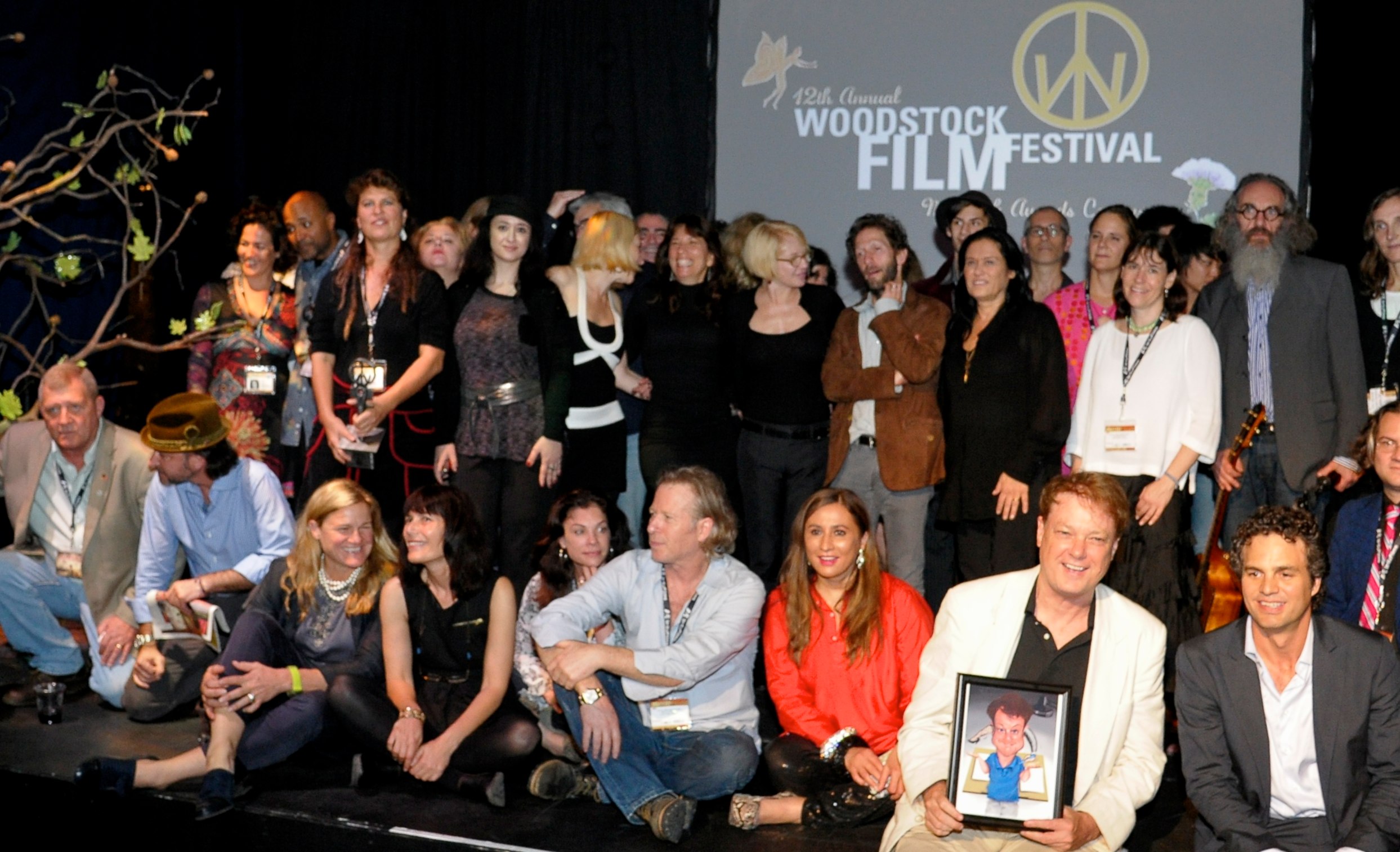 Looking @ Docs
Bookended by two of the world's most prestigious film festivals, the super-gala in Toronto and the cinephile delight in New York, the Woodstock Film Festival is set in a tiny village on the edge of the Catskill Mountains, and for a dozen years it has been garnering a different kind of prestige.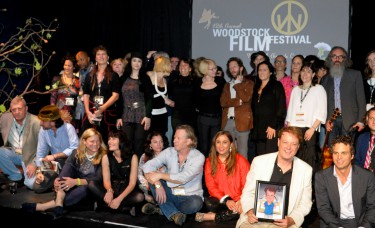 With a quality film program that's not humongous, filmgoers experience fewer film scheduling conflicts — a frequent irritant for film buffs. With plenty of film industry people in attendance, looking and enjoying instead of working and stressing, they're approachable, even friendly. People have always come to Woodstock to chill out. With nearly every screening attended by the filmmakers, unlike at many festivals these filmmakers are readily available to audience members.
"There's nothing more inspiring," Ina Mayhem told me at the awards ceremony, "than to see the film and be with the filmmaker."
Woodstock is reasonably sized, relaxed in nature, socially intimate, and has the motto "Fiercely Independent."
"Fiercely Independent is the spirit behind the festival," explains co-founder and executive director Meira Blaustein "It's the spirit that imbues our programming and guides our thinking on how to present the festival. It's also the filmmakers — their ideas, subjects, style. It's how our audiences approach film. It's our politics."
Self-determination and unconventionality define the Woodstock Film Festival, as they have defined the town of Woodstock, which for more than a century has been home to independent-minded artists and social mavericks, and more than a few oddballs.
The first to arrive in Woodstock, in the late 1800s, were the Hudson River School painters. They were soon followed by the Byrdcliffe Art Colony (which remains America's oldest arts and crafts colony) and then the Maverick Colony. When the Mavericks were not holding excellent music concerts they were holding excellent drunken orgies in the Woodstock woods. By the 1960s this weird village had embraced sober folk music and then morphed into a musical hotbed for rock that culminated in Woodstock being the genesis and namesake for the generation-defining Woodstock Music Festival. Today the town remains home to a free-spirited multitude of writers and filmmakers and musicians, and oddballs.
"It's a hug of a film festival," says filmmaker Lisa Gossels. "From all over the world people come to this place which is imbued with a unique history, and somehow, year after year, the festival lives up to its name."
"It's like being home away from home and coming home," says Rene Kock, the producer of Skateistan: Four Wheels And A Board In Kabul, which would receive an Honorable Mention. "I'm just wondering where they grow their weed and they surf."
The success of the Woodstock Film Festival is built upon screening quality films and presenting a dynamic festival. The balance enhances the screening experience as it enriches the social interaction. The synergism is dynamite. The intimacy is fantastic. At Woodstock you don't get lost, unless it's from your old self.
Of the 400 documentaries submitted to the 12th Woodstock Film Festival, 24 were screened at this year's festival. I reviewed, well, four. It's not a simple matter to remain focused on writing when kidnapped by moral nihilists and hauled into the infamous Woodstock woods as the autumn foliage bursts into gorgeous rainbow colors.
Born in New Jersey to immigrant Indian parents, Vikram Gandhi from an early age was immersed in the ways and beliefs of Hindu India. In his teens the 2nd generation immigrant became a religious skeptic. In his twenties he set out to prove gurus are fakes. This is the the strange story of Kumare.
Vikram moves to Phoenix and transforms himself into the fake guru, Sri Kumare. He wears a long red robe and carries a walking stick, creates a fake yoga program and invents several spiritual principles—the most important, "Kumare is an illusion."
With two attractive female assistants, Sri Kumare attracts disciplines. Lonely, confused, depressed Americans searching for guidance and tranquility. Yet, a strange transformation occurs in Sri Kumare, or Vikram. Increasingly he feels the weight of responsibility and is less concerned about proving the fakery of gurus and more concerned about the state of his followers. Finally Vikram understands he must reveal his true identity to his disciplines.
Kumare doesn't prove gurus are phony, only that Vikram Gandhi could be a successful phony guru. A delightful, odd story told with sensitivity and insight, the film leaves us with a thoughtful, weird conclusion that a fake guru can improve his followers' lives. It makes you wonder what is fake in this world.
The Welcome, produced and directed by Kim Sheldon, is about wounded U.S. military veterans, mentally wounded, locked in the grip of angry and anguish, substance abuse, isolation and alienation. About two dozen veterans and spouses and a few parents journey to Ashland, Oregon to a "healing retreat" where they engage in "the language of poetry, song, and ceremonies." There's nothing new in this, since the Vietnam War wounded veterans have come together to make the difficult transition from the war to peace
Some of their problems, however, transcend combat. A female soldier grieves about having had an abortion. Others complain about sexism and racism when in the military. There is guilt over leaving young children when deployed overseas. What is labeled Post-Traumatic Stress Disorder (PTSD) has roots in combat, and also outside. Again, nothing new in this.
Not new does not mean, however, not new for everyone. A new generation of Americans is returning from new wars as new causalities who are again struggling to make the transition from war to peace. The Welcome peels back their pain, and presents a route without drugs and isolation and perpetual grieving. This is a message that's as important today as it was 40 years ago, because like 40 years ago, we have a wounded military in need to make the transition from war to peace.
Cape Spin: An American Power Struggle chronicles a vicious political battle between two of society's white hats: renewable green energy and the preservation of a beautiful sound of water. But this changes quickly. And it becomes greedy capitalists Vs. NIMBY (Not In My Back Yard) aristocrats. The white hats turned black.
An energy company proposes to build 130 very tall (400 feet tall) wind turbines in Nantucket Sound, which is a popular Cape Cod water playground, including for America's rich and powerful on Nantucket Island. With both sides heavily bankrolled, shelling out many millions, the public "information" campaign degenerates into a free-for-all of half-truths and deceptions that obscure the facts and corrupt the public discourse making reasonable decision nearly impossible.
Meanwhile, the local media, which should be arbitrating this mad free-for-all by holding a lantern to the truth, appears overwhelmed, or simply jumps into the boat with one or the other side. If the essence of democracy is rational discourse based upon facts, this battle over wind turbines in Nantucket Sound has very little to do with democracy.
Directed by Robbie Gemmel and John Kirby, Cape Spin: An American Power Struggle is carefully balanced to present the unremitting spinning from both camps, focusing on the raging battle rather than untangling the truth. Although the pace is too fast — in the beginning it's somewhat difficult to follow — and at times the music is too much, Cape Spin reveals the absurdity of political issue-campaigns when personal profit and self-interest swamp truth and fairness. Unfortunately, Cape Spin tells us a lot about America today.
My final film was Kings Park: Stories From An American Mental Institution.  When the credits ended and the house lights came on the audience sat in stunned silence. After a few seconds there was a scattered applause, which grew into to a thunderous roar. Kings Park is an extraordinarily powerful film — or three films — superbly tiered with each poignant and insightful.
In 1967, Lucy Winer, a teenager, attempted to commit suicide and was committed to the mammoth and foreboding Kings Park State Hospital, a dehumanizing warehousing facility for the mentally ill — and everyone else who ended up there. To understand her troubled and painful past, Winer acquires her mental health records, meets with two former Kings Park workers, and then visits the abandoned hospital. It's an emotional trip, for her and us.
The documentary then branches out to include other voices, those of psychiatrics, ward attendants, and patients who were at Kings Park. Their perspectives add a richness and depth to the story. Finally, the film sheds light on the current mental health crisis, with jails and prisons now serving as our mental health holding centers.
Ten years in the making, Kings Park: Stories From an American Mental Institution travels from a single person's quest to presenting a multiplicity of perspectives to highlighting the current crisis. This is an astute, disturbing, yet riveting documentary.
Note: The winner for Best Feature Documentary at the 12th annual Woodstock Film Festival was Semper Fi: Always Faithful, directed by Tony Hardmon & Rachel Libert, which I reviewed. The Best Short Documentary went to Poetry of Resilience, directed by Katja Esson, which I hope to screen soon.