Back to selection
SHAMBERG'S TURTLE ARRIVES IN NEW YORK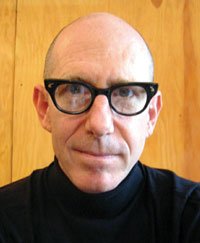 When Filmmaker last caught up with director and cultural impresario Michael Shamberg (pictured), he had just finished collecting the various New Order music videos he produced into a compilation. One of those videos, by Leos Carax, we wrote about separately and linked to not only the clip but also Shamberg's Kinoteca website, which is now re-energized with several new pieces.
All of this is to introduce Shamberg and his global artist "anarchic salon," Turtle, which arrives in New York this weekend at The Tank. Running this Sunday, April 27, from 1 p.m. to 6 p.m., the event is described like this:
TURTLE IN THE TANK brings the anarchic spirit of 1968 to Tribeca, where films by Chris Marker, Pierre Clémenti, Robert Frank, Jem Cohen, Jowan Le Besco, Marie Losier, Michael H Shamberg and many others will be projected with live music from New York artists Jeffrey Lewis and Christina Courtin.
Highlights include Jowan Le Besco's Yapo, introduced by his sister, director/actress Isild le Besco; the premiere of a short, The Tunnel, but Robert Frank; Jeffrey Lewis performing alongside a screening of Jem Cohen and Pierre Clementi's Revolution X; and short films by Marie Losier, including Jaye Lady Jaye, a portrait of pandrogynous couple Genesis P-Orridge and Lady Jaye, presented in tribute to Jaye, who died suddenly last October.
Admission is $10. For more, visit the links above.