Back to selection
WHERE FILM AND INTERNET COLLIDE (AT THE IFC CENTER)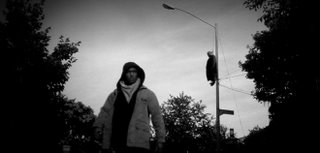 Thursday, June 5, Filmmaker, the IFC, IndieGoGo and the IFP are hosting an evening at the IFC Center that is part of Internet Week New York. It's called "Where Film and Internet Collide," and it's one of three events going under this name that are dedicated to the merging of filmic and web sensibilities when it comes to creating new work.
At the IFC we'll be screening a number of interesting works created for the web and then will be discussing these works and web production in general with their creators. There will be plenty of time for questions, so if you have an interest in taking your film production online, now's the chance to get tips from people who are already out there doing it.
Here's the official spam:
Filmmaker Magazine, the IFC Center and IndieGoGo present "Where Internet and Film Collide," a night of screenings and conversation centered around the convergence of filmmaking and web video, Thursday, June 5 at 8:30pm. Held as part of Internet Week New York and hosted by the IFP, the night will consist of a number of exciting short form works that could only have been created for the web and then discussions with their makers about their creative and production processes.

The program includes several of the most groundbreaking recent examples of this exciting trend, including: Green Porno, a series of short films about the sex lives of insects, conceived by and featuring Isabella Rossellini and developed for the Sundance Channel; work by M ss ng P eces, the Webby-nominated boutique video label that has developed original programming for online distribution, including a collaboration with the legendary Chris Blackwell and an award-winning documentary about the young African inventor William Kamkwamba; NYFF45: Part Two (pictured below), a mix of press conference reportage with original narrative and innovative shooting and editing that signals the re-imagining of film festival journalism; The West Side (pictured above), an urban western set in a unique, alternate universe presented free on the internet as a contemporary version of the serial novel; and Beyond the Rave, an online serial that heralded the resurgence of one of Hammer Films, one of Britain's best loved film companies.

In attendance to discuss these films and their unprecedented methods of production and distribution will be Christopher Barry, the Senior Vice President, Digital Media and Business Strategy for Sundance Channel; Ari Kuschnir and Scott Thrift, founders of M ss ng P eces; Jamie Stuart, director of NYFF45: Part Two; Ryan Bilsborrow-Koo and Zachary Leiberman, creators of The West Side; and Lance Weiler, who created an extensive game world around Beyond the Rave.

For over fifteen years, Filmmaker Magazine has been covering the most intriguing, independent films that will be released in theaters in the following season. IFC Center also partners with Filmmaker to present the ongoing "Dialogues on Film" series, which has featured screenings and discussions with directors DA Pennebaker, Bradley Beesley, Jem Cohen and Ronald Bronstein.

Tickets for the evening are $11.50 General Admission/$5 for IFC Center and IFP Members. Click here for advance tickets.
I'll be moderating the event and hope to see a bunch of you there.