Back to selection
Lady Vengeance: Last Minute Gift Guide for Genre Buffs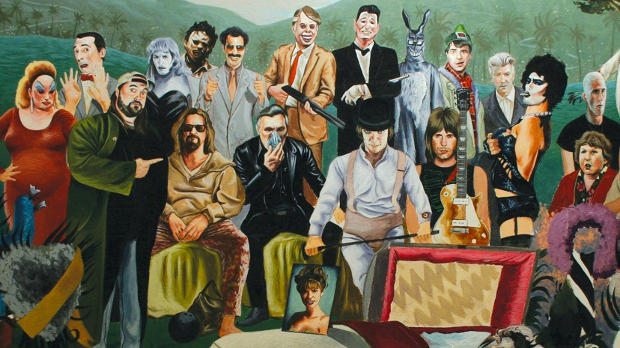 Still not sure what to get your comic-book-obsessed little brother? Forget to pick up something for mom that satisfies her cinematic blood lust? The following gifts are Lady Vengeance approved, and most arrive just in time for December 25th.
For the Low-Brow Art Lover:
Crazy4Cult: Cult Movie Art (Gallery 1988/Kevin Smith, $25)
The currently out-of-fashion but undeniably hard-working Kevin Smith has teamed up with the LA-based Gallery 1988 to collect the best in good, pulpy, sometimes downright dirty artwork inspired by cult films. The aesthetic style and subject matter is fairly diverse, meaning there's something for everyone.
For the High-Brow Art Lover
Stanley Kubrick Photograph (Stanley Kubrick, $250)
From 2001: A Space Odyssey to The Shining, Kubrick was the master of thoughtful, witty, and unnervingly beautiful genre film. VandM and the Museum of the City of New York show us he was also a damn good photographer, exhibiting that penchant for the bizarre, the menacing and the secret as he did in his beloved films.
For Those who Didn't Mind the Revised Spelling of Syfy:
Sharktopus Double Bill: DVD (Declan O'Brien, $8) and T-shirt (NBC Store, $26)
In honor of the DVD and Blu-Ray release of another fantastic low budget Syfy original revolving around a crazy beastie hybrid, give that special someone a one-two punch with a copy of the film (thanks, Anchor Bay!) and the graphic t-shirt they should obviously be wearing while watching it.
For the Thoughtful Comic Book Collector: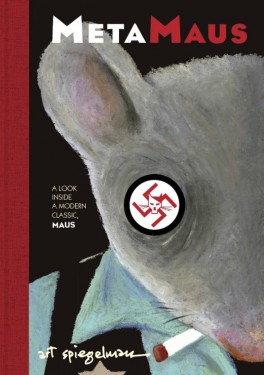 MetaMaus: A Look Inside a Modern Classic, Maus (Pantheon, $25)
Art Spiegelman's all-mouse graphic novel about the holocaust is legendary, and his reflections on the book and its influence are equally sharp and articulate. This behind-the-scenes book is also unique in that it comes with a DVD-R with related historical documents, audio interviews with Spiegelman's father, the artist's sketches, and more.
For the Politics Buff who Has Everything:
On the Art of Cinema (Kim Jong Il, $340)
Unlike the very recently deceased dictator's relatively inexpensive treatise on opera, On the Art of Cinema is out of print and costs a bundle, but would make for a rare and timely gift. Full disclosure: as the author does not, in fact, have $337.47 to drop on thoughts of the dictator who dared to make kidnap part of the cinematic process, she has not, in fact, read this, but assumes it must be pedantically delicious.
For the Young at Heart:
Harry Potter: The Complete 8-Film Collection (Various, $50)
The Harry Potter series is frequently lauded for growing more adult with its audience, but I also think the powerful combination of nostalgia, cutting edge technology, and one of the most lovingly crafted alternate worlds in fiction continues to prompt feelings of child-like wonder. Some of the early films are a bit of a slog, but any fan will love the complete set regardless.
For the Roger Corman Fan
The Women in Cages Collection ($13), Sword and Sorcery Collection ($13), Lethal Ladies Collection ($18)
A number of sweet anthologies from Roger Corman, arguably the most influential man in the B-movie universe, were released on DVD this year, and with one adorable theme after another (my personal favorite might just be the Sword and Sorcery Collection – or perhaps Women in Cages), who wants to choose just one?
For the Remix Afficionado
Fro Design Co. Poster (Fro Design Co., $30)
Fro Design Co. has a number of fantastic posters for genre films, like Cowboys vs. Aliens, as well as non-genre he's given a bit of an edge, like variations on Franco Zeffereli's Romeo and Juliet. I recommend the Don't Be Afraid of the Dark Poster, which perfectly captures Guillermo del Toro's primal, terrifying use of space.
The posters won't ship in time for Christmas, but are definitely worth the few days of delay – or you can just save them for the last day of Hanukkah.
For the Asian Film Fetishist
Studio Ghibli Movie Collection (Hayao Miyazaki, $50)
With the highly anticipated Secret World of Arletty release just around the corner, now is the perfect time to go back to the whimsical works of Studio Ghibli. Honestly this near-definitive Miyazaki extravaganza is not the most beautifully presented box set out there and doesn't have any extras or bonus features, but the actual film quality is good and at about $50 for 12 films is an incredible bargain.
Mayan Calendar Calendar
2012 Mayan Calendar (Zazzle, $25), 2013 Mayan Calendar (Zazzle, $25)
In choosing a calendar (a classic end-of-year gift) this particular holiday season, it is important to remember that some feel the extra bite of an impending apocalypse in the chilly winter air. Hopeful? Go for the version that features beautiful feats of Mayan architecture. Expecting the worst? Get the blacked out 2013 calendar. If things work out for the best creative types can fill draw in the dates with gel pens.
FARIHAH ZAMAN began working in film as a Programmer for Film South Asia documentary film festival before moving to New York in 2005, where she was the Acquisitions Manager at independent film distribution company Magnolia Pictures. In 2008 she coordinated IFP's No Borders program, the only international co-production market in the US, before becoming Program Manager of The Flaherty Seminar until 2010. Farihah currently writes for The Huffington Post, as well as online film journal Reverse Shot, among others.