Back to selection
LANCE HAMMER BLOGS BALLAST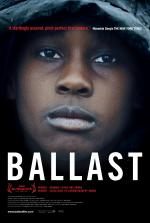 In addition to making a great film (and shouldn't that be enough?), Ballast director Lance Hammer has energized the growing DIY distribution community by turning down an industry deal and releasing his Sundance-winning feature himself. But it's one thing for all of us to applaud what Hammer has done; it's another to support him — and the filmmakers who follow in his wake — by going out and seeing his film. It's a great movie, and if you live in New York and haven't seen it, I recommend heading down to the Film Forum this weekend.
Below is the first of several blog posts Hammer will post to this site and to the blog at Film Independent.
Hello. This is the first of several correspondences that I will post from the field as Ballast makes it's way into cinemas as an independently distributed film. Scott Macaulay and Josh Welsh asked me write candidly of this experience for the purpose of disseminating information that may be of use to other filmmakers who are facing the prospect, either by choice or necessity, of independent distribution. Because I found some courage in the realization that others could conceivably gain some valuable information in this case study I have agreed to post to this blog as regularly as possible. I will do my best to convey information that is actually useful. Some of this may take the form of facts or figures and some may be my personal opinions or analyses of noteworthy occurrences. I will endeavor to be transparent and forthcoming.
It is not news that the traditional mechanism for distribution of independent films is in tatters. This has been a difficult year. There is no other way to look at the number of jobs lost this year with the closure of yet another distribution company than with sadness. No matter what you or I think of the corporations in question, these are good people who are now struggling to pay rent. However, in typical independent spirit, independent filmmakers are already responding with innovation, with action, with a fight (there are many this year – something I'd like to talk about in a future post). This is heartening to me because it proves that while this is certainly a time of loss it is also a time of transformation and of opportunity. For those who, by choice or by necessity, have jumped from the ailing airliner without a parachute, a net is already beginning to materialize. At least that what it looks like to me at 30,000 feet, hurtling to the ground. I may be wrong. So, to be safe, this is the point where I must pause to make a plea:
IF YOU ARE IN NYC, IF YOU WANT TO PROTECT INDEPENDENT FILMMAKING FROM EXTINCTION, PLEASE COME TO FILM FORUM THIS WEEKEND TO SEE BALLAST. WORD OF MOUTH IS OUR TRUE POWER. IT WORKS. IF YOU ARE NOT IN NYC, PLEASE COME TO SEE THE FILM WHEN WE ROLL OUT ACROSS NORTH AMERICA IN OCTOBER AND NOVEMBER. PLEASE EMAIL YOUR FRIENDS TO DO THE SAME.
I will post again tomorrow to discuss the basis of my decision to pursue this path and the mechanics of our approach. I will discuss the team that has been assembled in detail.
Back to the cinema now.
Best,
Lance Hammer