Back to selection
THE FILMMAKER GUIDE TO ASIA ARGENTO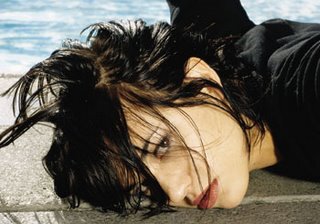 Filmmaker has been a big fan of Asia Argento — as an actress and a director — over the years, and on the occasion of her BAM retrospective, "Sexy, Scary and Often Naked: Asia Argento," which opens today, I thought I would throw up some links to our coverage of Argento over the years.
Back in 2000 Travis Crawford interviewed Asia about her directorial debut, Scarlet Diva, and the article was illustrated by original Richard Kern photos (one of which I've included here).
In 2005 Crawford interviewed Asia again in 2005 for her second feature, The Heart is Deceitful Above All Things, and, unfortunately, this interview is not online. However, if you subscribe to Filmmaker's new digital edition you can read it as subscriptions give you access to all interviews back through 2005.
This year Nick Dawson interviewed Catherine Breillat about The Last Mistress, and Brandon Harris interviewed Olivier Assayas about Boarding Gate. Both star Argento and are in the BAM series. And, finally, also this year, Travis Crawford interviewed Argento's father Dario, director of Mother of Tears, upon the release of his latest film, which starred Asia.