Back to selection
UNDER WRAPS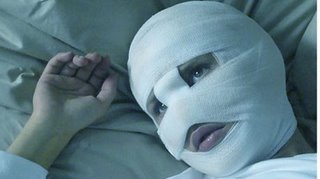 Director Maria Beatty last appeared in Filmmaker in 2002 when she interviewed Erin Cressida Wilson about her screenplay for Steve Shainberg's Secretary, and since then we've been hearing about her plans for a mainstream narrative feature. Now, reports Lauren Wissot in a "sneak peek" at The House Next Door, Beatty has finished Bandaged, which is executive produced by Abel Ferrara.
From Wissot, an excerpt:
Bandaged is S&M filmmaker Maria Beatty's foray into the indie mainstream – if one could call a flick best described as Mädchen in Uniform meets The English Patient meets Eyes Without A Face "mainstream." Fittingly, none other than Abel Ferrara is serving as executive producer, though it just as easily could have been David Cronenberg since Beatty's stunningly visceral cocktail of sex and bodily terror would surely merit that auteur's seal of approval.
Bandaged will have its world premiere at the London Gay and Lesbian Film Festival on April 3.